Now comes a Lincoln-based developer touting "mansion" townhouse-style rentals.
Perry Reid Properties, which manages about 8,000 units in nine states, plans to build a 266-unit apartment community on 20 acres in the Papillion area's Granite Falls subdivision.
Key to the project are seven mansion-lookalike buildings, each with 10 residences. Units come with one or two bedrooms, an attached garage, oversized patios or balconies and rent ranging from $950 to about $1,500.
Sign up for our Money headlines newsletter
Get the latest development, jobs and retail news, delivered straight to your inbox every day.
Seven other 28-unit structures with a more traditional apartment design also will be part of the Granite Falls at 370 Apartments, near 108th Street and Nebraska Highway 370. Rent for those is estimated at $700 for studios to about $1,400 for a three-bedroom unit.
The co-developer is Jerry Torczon's Papillion-based BHI Companies, which specializes in suburban single-family neighborhoods.
Construction is set to start next spring, and residents will share a clubhouse with amenities that include a business center, swimming pool, fitness center and bike storage and repair shop.
Units will be equipped with lofty ceilings, walk-in closets and glass recycled countertops.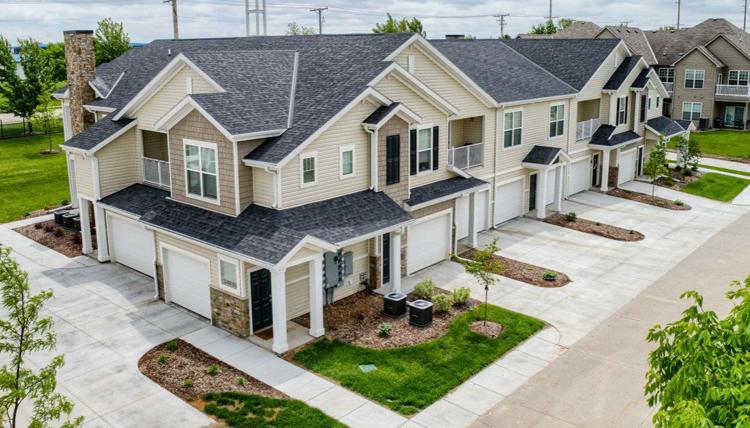 Alex Perry of Perry Reid Properties and Construction said his company is wrapping up a similar 130-unit rental community in Bellevue. The so-named Mansions at Tregaron, along the golf course near 25th Street and Fairview Road, has 13 buildings, each containing 10 residences.
That project has opened in phases. Even before the last building is set to be finished this month, it's nearly fully leased, Perry said.
He said the demand "speaks volumes" about an active local apartment market as well as high costs of land, labor and overall construction costs that have put newly constructed single-family houses out of reach for many.
Perry said lots of young people and empty-nesters are lured to the maintenance-free apartment lifestyle. But, he said, he also is seeing many young couples and families having to rent for five or so years while they save for a house.
"We are aware," Perry said, that rent prices also have shot up as apartment builders face many of the same issues as those constructing single houses.
At the Granite Falls complex, he said, the aim is to include a range of rents that make the site accessible to more people.
Changing Omaha: More than 50 stories of local development projects in the works
An ongoing list of some our development stories from 2018-20, with the most-recent stories at the top. 
The business news you need
With a weekly newsletter looking back at local history.