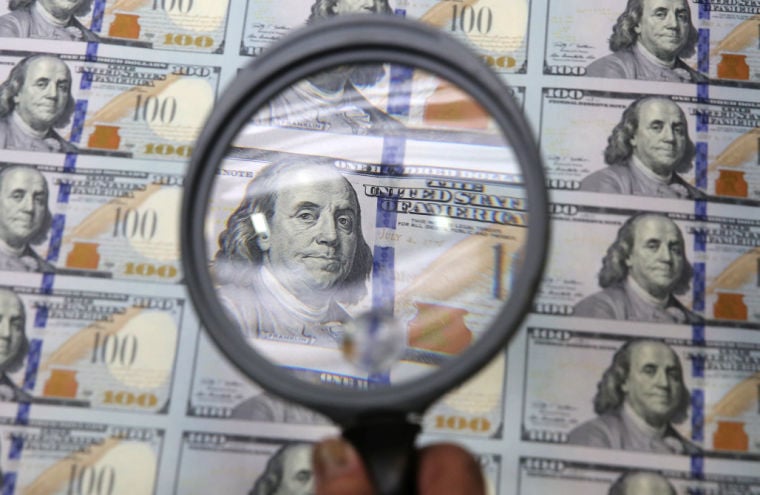 Omaha-area banks report no holdups in the introduction of the new $100 bill slated to enter circulation today.
A federal budget impasse has led to shuttered national parks, darkened federal websites and worker furloughs. But getting the new bill into banks and businesses and purses and wallets is moving forward unabated.
"I'm told that in our discussions with the Federal Reserve, there was no indication of a delay in delivery of the $100 bills," said Kevin Langin, a spokesman with First National Bank of Omaha, the largest bank based in Nebraska.
The redesigned note will have a now-traditional safeguard of a paper blend that would be difficult to duplicate as well as new features, including a three-dimensional blue strip with images that appear to move when the note is tilted, and an image of a copper inkwell with a holograph that also changes color when moved.
The $100 note is the final U.S. currency denomination to undergo the "New Color of Money" face-lift that started with the $20 note in 2003, introducing subtle hues and other security features to paper currency as part of efforts to stay ahead of counterfeiters.
The new notes will require some changes to the way banks handle currency, said Christy Baker, vice president of operations at Iowa's Treynor State Bank.
She said the four-branch bank has three machines called recyclers that authenticate notes and detect counterfeits.
"With the change in $100 notes, we will be performing a small upgrade on our machines so they can recognize and authenticate the new notes," Baker said. "This is relatively low cost for TS Bank since we only have three recyclers, but could have a much larger impact on institutions with several recyclers at multiple locations."
Baker also said new money is almost always sticky, with bills easily clinging to each other. She said her bank has instructed everyone receiving or disbursing cash for customers to count it twice to avoid mistakes.
Angela Kaipust, spokeswoman for Wells Fargo Bank, said customers should not expect to receive new $100 bills automatically the first day they are available. She said it might take several weeks for the bills to trickle into every nook and cranny of the financial system.
"But we are expecting our first shipment Tuesday," she said.
Cash moves around to and from U.S. banks via the Federal Reserve, the nation's central bank. That doesn't happen in Omaha any longer; in 2008, the local branch in charge of coin and currency for Nebraska and western Iowa was closed. The tasks that once went on at 2201 Farnam St. are now accomplished by the Kansas City office, where the Fed operates a regional branch, with the assistance of a private contractor.
The new $100 note took more than a decade to develop. It was originally scheduled for release in February 2011, but about four months before its debut, the Federal Reserve said an unanticipated printing problem had caused some notes to be creased and unfit for circulation. Investigating and resolving the issue meant there would not have been enough bills ready by February.
Another printing problem caused ink to smear and added to the delay.
The Federal Reserve estimates that one-half to two-thirds of $100 notes in circulation are abroad at any given time, making them one of the nation's largest exports and the most commonly counterfeited note outside the United States. Officials at the Federal Reserve, the Treasury and the Secret Service said they devoted extra time to the redesign and spread the word — including on newmoney.gov, which is available in 23 languages — with that in mind.
Tracy Larson, vice president of retail banking at the Bank of Bennington, said it might take a week or more for the new notes to circulate down to smaller institutions such as hers, which operates two branches.
Still, she said, people frequently come in when a new bill is released and ask for a fresh one as a keepsake, although Larson said she expects such demand will be lower with the C-note than with smaller denominations.
"The nice part about the new note is that it is very noticeable at first glance to see if it is a counterfeit or not," Larson said.