A proposed $42 million face-lift aims to turn a big chunk of a prominent downtown office tower into a high-end hotel and better connect its home block to key parts of Omaha's urban core.
New owners expect the redo of the glass Landmark building at 13th and Farnam Streets — including more dining and lounge spots and new north and south entrances — to promote greater pedestrian flow between the Old Market, the Landmark and Gene Leahy Mall.
Most floors of the currently half-empty, 15-story office tower would remain worksites for companies including Bailey Lauerman advertising and the Stinson Leonard Street law firm.
But if renovations go as planned, the 27-year-old structure would gain about 10,500 square feet of brand new entertainment and hospitality space, some open around-the-clock. The group of mostly local investors foresees the changes activating some of what have become dead zones around the 1200 Landmark Center.
"Now instead of being a barrier, we really hope it's a connector," said Jay Palu of Alley Poyner Macchietto Architecture, which is working with owner Avaden Landmark LLC.
The Landmark complex, which stretches essentially from 13th to 11th Streets between Harney and Farnam Streets, opened a quarter-century ago amid much fanfare. It's among the top 10 of the city's largest multi-tenant general office structures not occupied by its owner. But controversy also dogged the project, as it called for demolition of properties including a 112-year-old building that at the time housed Scribbles restaurant.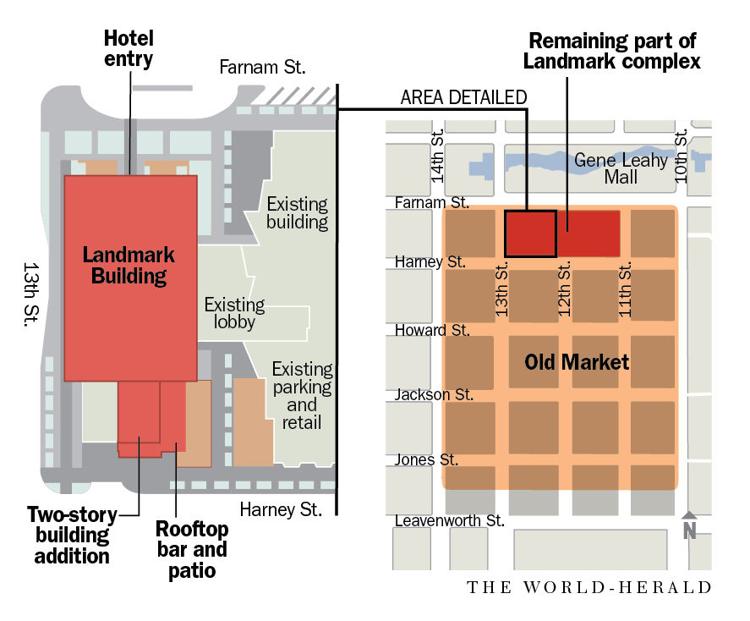 Avaden, led by Jason Fisher of Omaha's Cushman & Wakefield/the Lund Co., bought the office tower and 531-car parking garage last year from Houston-based Vereit for about $19 million. The sale also included a retail component along 11th Street but excluded the five-story computer data center built in the middle of the complex. That piece was parceled out and is to remain occupied by CenturyLink.
The proposed renovations by Avaden come as downtown continues to try to rebound from blows including the relocation of Pacific Life Insurance in late 2015, a move that emptied four floors of the Landmark and took the company to new digs in Aksarben Village.
ConAgra Foods, now Conagra Brands, relocated its corporate flag to Chicago the following year, keeping a downsized workforce downtown. HDR Inc. reversed its plan to build a new office high-rise downtown, shifting instead to Aksarben.
The headquarters of the Greater Omaha Chamber of Commerce, kitty-corner to the Landmark tower, soon will be empty as the chamber staff moves to office space at Conagra's campus near 10th and Harney Streets.
Just last month, Kiewit Corp. announced that it would build its new headquarters in north downtown. Other positive strides include a $500 million plan announced by Conagra and Houston-based developer Hines that could reinvigorate the Conagra campus. They'd be seeking tenants to fill the housing, retail, entertainment and office space that would be built.
To Fisher and fellow investors, the rate at which vacant downtown office space is filling remains alarming enough that they chose to mix up the Landmark's uses rather than rely only on attracting office users.
"The reality is if there was high office demand in downtown, we might be telling a different story," said Fisher, who said the Landmark office tower's 273,000 square feet currently is about half full.
Avaden's research showed more of a need for "upper upscale" hotel rooms, he said.
"We didn't originally set out to purchase the Landmark for use as a hotel," Fisher said. His group also considered adding luxury apartments but ran into obstacles. "However, as we looked at ways to improve the occupancy and utilization of this important building, it became clear that this (boutique hotel) concept would be the best thing, not only for our investors but for downtown Omaha as well."
Other cities including Lincoln have revamped office structures by infusing hotel guest rooms, but the Landmark appears to be the first of that model in Omaha.
Fisher said he's gotten good feedback from current office tenants and expects the mixed-use hotel concept to lure other businesses.
Construction and renovation could start this fall. Avaden investors plan to request about $9.8 million in tax-increment financing from the city, saying that's critical to the project. They also will seek new market tax credits.
As proposed, a two-story addition would be built from the ground up and attached to the Landmark's Harney Street side near 13th Street. It would contain a full-service restaurant and a rooftop lounge, and create a new southern entrance stretching to the sidewalk, giving it a feel similar to the Old Market district, said Megan Lutz, project designer for Alley Poyner.
Existing businesses along Harney — Roja Mexican Grill and Parliament Pub — would remain.
Landmark's Farnam Street side would become the main hotel entrance — with a canopy, landscaping and outdoor seating spilling out toward the Gene Leahy Mall and around the 13th Street corner. The ground-level hotel lobby would contain a reception area, living room-style seating, a food and cocktail bar and a staircase leading to second-floor hotel conference and event rooms and a fitness center.
Four upper floors (six, seven, 10 and 11) are to be renovated into 125 guest rooms, each featuring about 440 square feet, 11-foot ceilings and wall-to-wall windows.
Downtown views and connections would only get better, said Avaden attorney Jon Blumenthal, if Gene Leahy Mall improvements materialize as envisioned by a separate group looking at how to engage Omaha with the Missouri riverfront.
Blumenthal, of Baird Holm law, said negotiations with a top-tier hotel chain are being finalized, so he could not yet identify the hotel brand.
City Councilman Chris Jerram, whose district includes the Landmark, foresees the renovations and hotel guest drive-up area as enlivening that pocket of downtown.
"What makes things exciting in terms of destinations are active spaces where people are coming and going," he said. "Hotels are usually areas of high pedestrian traffic and lots of action."
Also to be spruced up are the Landmark's exterior and existing plaza areas. The low-rise passageway that links the office tower to the data center, and Harney to Farnam Streets, would continue to serve as the primary entrance to the data center and garage, Lutz said. It also would provide another access point to the hotel lobby and restaurant areas.
Fisher estimated that the project would employ about 120 new full-time workers, in addition to construction jobs.
To Lutz, the Landmark renovation is exciting not only from an architect's point of view but as a resident of downtown.
"It's such a lovely and important location," she said. "And a great opportunity to stitch together parts of downtown."
The business news you need
With a weekly newsletter looking back at local history.