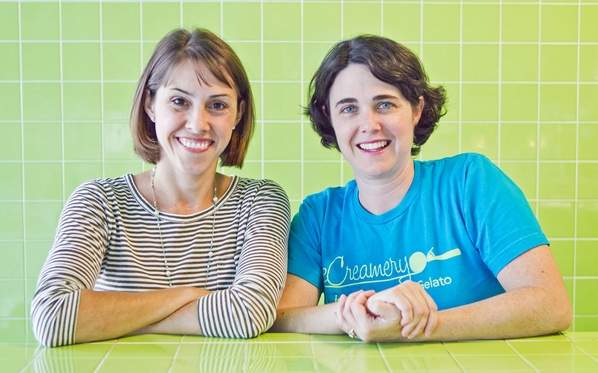 Omaha ice cream maker eCreamery didn't turn down a "Shark Tank" investment offer — it didn't even get an offer.
But the business's owners say the experience was the best of both worlds: They got the exposure from being on the show in 2012, along with the connections and support, without having to give away equity in their business, and they are still reaping the benefits today.
Owners Becky App and Abby Jordan capitalized on an initial wave of publicity from the show, thanks in part to advice from "shark" Barbara Corcoran, and sales grew significantly. Reruns still generate lots of orders.
The growth continues, in part thanks to "Shark Tank" connections.
>> eCreamery is now a top-selling product at Harry & David, the gourmet food gift seller. An executive there had seen the "Shark Tank" episode and agreed to give eCreamery a test run. It met its annual sales goal within 12 weeks.
>> The business has expanded its distribution to the East Coast with a production and shipping location in Richmond, Virginia. A gourmet food business there that uses the same type of ice cream machines saw the "Shark Tank" episode and wanted to collaborate, App said.
>> eCreamery is now expanding its production capacity in Omaha and will be able to ship more product to the Midwest and West. It is collaborating with its Omaha candy supplier, Prima Distribution, to build a commercial kitchen and shipping space. eCreamery will be hiring four more "assistant chefs" to work there. Bonus: More seating space at the Dundee ice cream parlor, without all those boxes in the way.
>> A new website will be launched this spring, with new products including a five-gallon ice cream container, and a party pack of up to 100 single-serving cups. New "craft" flavors are on their way, too.
While not getting an investment offer was disappointing at the time, "We still stand by the statement we made on the follow-up episode that the lesson we learned was that 'a long-term win can be disguised as a loss,' " App said.