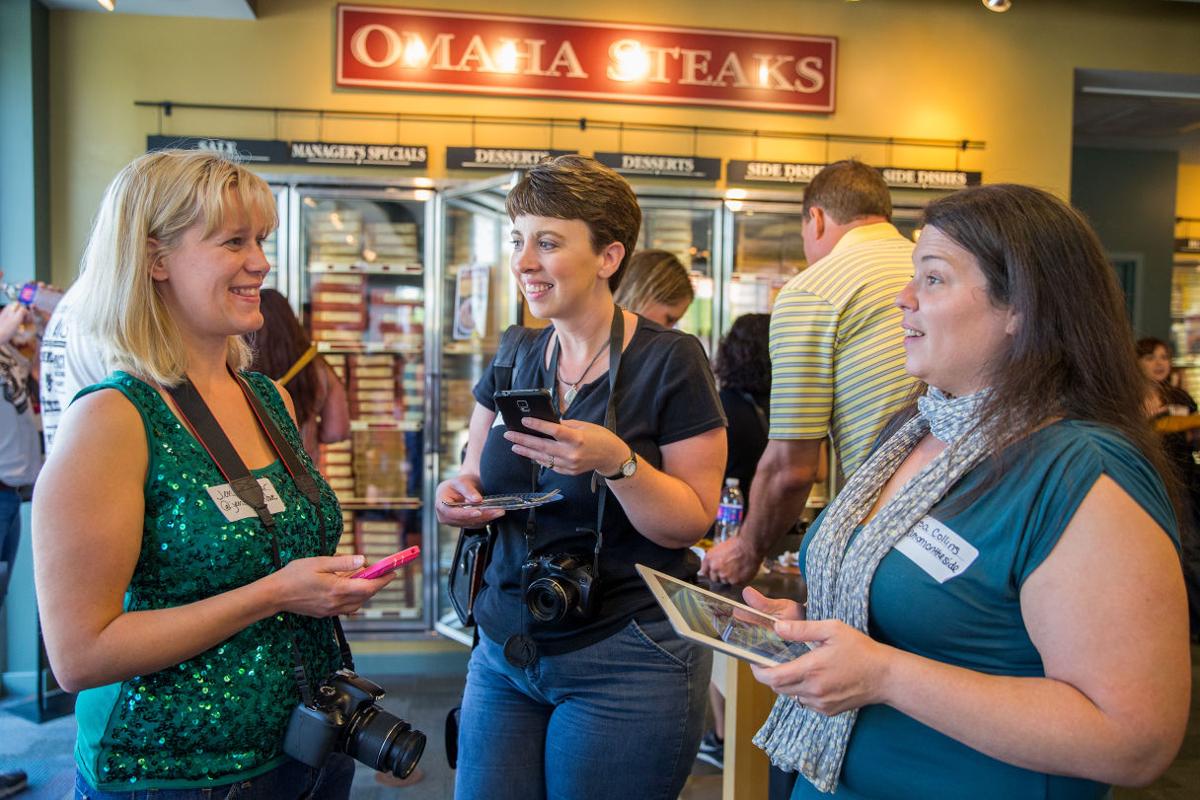 The party at Omaha Steaks was in full swing, with local bloggers and their friends sampling pork tenderloin and chocolate-covered almond toffee bites.
At the back, an Omaha Steaks executive took a break from the conversation to go online, where the real activity was happening. He monitored the partygoers' live tweets and Facebook posts about the food and the experience, pleased with the amount of traffic he saw.
The company is one of several local businesses that are for the first time partnering with bloggers as a component of their social media marketing strategy. Omaha Steaks, along with restaurants, salons and performing arts organizations here, sees the partnerships as an inexpensive way to make a personal connection with its target audience.
"I can use people like Nicole to get my message across," said David Zucker, Omaha Steaks' vice president and general manager, referring to Bellevue blogger Nicole McDonald.
Women do the majority of household food shopping and gift buying, and national women's blogger network BlogHer found in a survey this year that 49 percent of all women, and 74 percent of those aged 25 to 34, read blogs. The network said blog readers trust product advice from bloggers they know, and turn to blogs more than any other social media form to research purchase decisions.
That's useful because "direct, blatant" advertising pitches don't work well with millennial consumers, said Owen Shapiro, president of Chicago market research firm Shapiro.
They are more likely to trust a friend, so brands are looking to build relationships with customers and the social media "influencers" whose opinions shoppers trust, he said.
McDonald, whose Mom Saves Money blog highlights couponing strategies and supermarket deals, was one of five bloggers invited to help "host" the September party at the company's retail store at 96th and I Streets by inviting her followers to sample, comment on and purchase the company's prepared foods.
Omaha Steaks even created a package called "Nicole's Exclusive Combo" for McDonald to offer through her blog.
The strategy isn't new — it's something companies have been doing nationwide since blogging took off more than a decade ago. National retailers H&M and Athleta have worked with local bloggers to promote store openings here (Sarah Lorsung Tvrdik at Fash Flood and Rebecca Hillyard at Cella Jane, respectively).
Now a growing Omaha bloggers network is offering local businesses a new route to potential customers here.
"This is a 98-year-old company; we're just starting it now," said Zucker, who joined the company a year ago with a background in e-commerce.
Other organizations that have worked with the bloggers group include the Rose Theater, Whole Foods, BodyBrite and Firehouse Subs.
Old Market restaurant Plank Seafood Provisions worked with Omaha Bloggers on two events in September: a happy hour party in the restaurant, and a virtual Twitter party a week later, both to bring more attention to its happy hour menu.
These kinds of partnerships can be risky for both sides and raise questions about consumers' ability to trust that a blogger review is unbiased. Businesses are turning their advertising message over to someone whose copy they don't control.
Bloggers and businesses also caution that turning blogs into platforms for overt advertising can have the wrong effect, driving away loyal readers and turning off potential customers.
But the businesses say the partnerships, when carefully executed, are worthwhile in a time when consumers' attention to media and advertising is increasingly fragmented.
The Omaha partnerships started when Erin Fairchild, a 24-year-old nutrition and lifestyle blogger, moved here from Pennsylvania last year for her husband's job.
Fairchild was coming from a community where "you throw a stone and you hit 10 bloggers," and where many companies already had a list of preferred bloggers and were not open to new pitches.
So she was surprised Omaha did not have an organized bloggers network. The networks — nationally there is one for just about every genre of blogger — function as a social group, professional association and advertising clearinghouse.
Fairchild organized what has become Omaha Bloggers, a network of about 50 writers. One member built a website, another handles outreach to businesses. Everyone contributes to professional development, mentoring others on successful blogging practices such as how to use Google Analytics to assess their following, or how to make the best use of social media.
The goal at first was just to network; Fairchild said she already had "monetized" her own blog, Her Heartland Soul. And she was busy with her full-time job in marketing for an Omaha tile company.
But business opportunities came along through the women's connections in the community.
One of the bloggers? Zucker's wife. Dana Zucker blogs at TriWivesClub (two women whose husbands are triathletes), and at momsgoodeats, where she writes about healthful food. She also now contributes to Omaha Steaks' consumer and recipe blog, SteakBytes.
With the connection to the bloggers group, Omaha Steaks set up its first-ever blogger event, designed to let Omaha women know that the business sells more than raw beef cuts (also prepared and ready-to-roast foods that a busy mom could heat and serve for dinner or a party) and also showcase its retail stores, which the company is working to revamp.
Zucker later said the event exceeded his expectations. More than 100 people attended, and 80 percent of the people who made purchases through the promotion were first-time customers. All signed up for the company's loyalty program and since have been engaging with the company on social media.
For example, he said, the number of Twitter impressions on tweets with a #SteaksForDad hashtag — a program where the company sends free steaks to followers who tell stories of their great dads — has jumped tenfold to 100,000 a month since the bloggers and their followers got engaged.
"We're really seeing signs of what's called the network effect."
Now he's working on a similar event in Florida, and said next year the company will use bloggers as part of a more robust national social media strategy.
Network member Lisa Collins, who blogs at Mom on the Side, met Megan Longo, director of marketing for Plank owner Flagship Restaurant Group, at a Yelp event earlier this year. Collins proposed the parties, and although Flagship had never worked with bloggers to this degree, Longo figured it would be inexpensive to try and might pay off.
Plank ended up spending a few hundred dollars to serve happy hour fare to 18 bloggers, along with $190 in gift card giveaways. Some of the bloggers who came had never tried an oyster, and the blogs, Facebook posts and tweets they published before, during and after the events paid off in social media "impresssions," Longo said.
"The conversation was strong, it was robust and it was all positive," Longo said.
What if it hadn't been positive? What if no one had liked the oysters, and said so online?
Longo said businesses should study bloggers' work before partnering with them. "You don't want negative people writing about you," Longo said.
While she never told the bloggers what to write, she acknowledged, "I would think there was probably some pressure for them to write a positive review out of it, and if they didn't like something, maybe omit it," because they had been given the food and the party.
Fairchild said she recommends bloggers always disclose on a post that they were paid or otherwise compensated for a post. Many of the Omaha Bloggers disclose compensation and add, "opinions are my own." Fairchild also avoids working with companies whose products she doesn't use or like. She doesn't eat meat and declined to participate in the Omaha Steaks event.
"If you don't have your reader in mind, your readers will call you out," she said. As a blogger, "You say no to so many more products than you say yes to."
She said she has been paid anywhere from $50 to more than $500 for a sponsored post, or compensated with products, depending on the size of the business and her blog traffic data.
Another risk is that the content the bloggers create isn't useful to their readers and turns readers off to the brand, said Mary Palu, executive vice president at Omaha advertising agency Bailey Lauerman. The agency has worked with bloggers nationally but not locally.
She said an effective campaign involves advance research into the blogger's readership patterns, social media footprint, credibility and target audience.
"You can't just push out branded, promotional and uninteresting content," Palu said. "You have to create relevance and utility," perhaps showing readers how to use a product, or showing how it helped the blogger and her family.
Some bloggers recently have questioned whether blogs have become passe and are no longer an effective way of reaching consumers. New York blogger Jason Kottke wrote in December for the Nieman Journalism Lab that "sometime in the past few years, the blog died" as writers took to Tumblr, Twitter, Snapchat and Reddit to communicate.
Megan Hunt, co-owner of women's clothing retailer Hello Holiday, said in an October post on her Princess Lasertron blog that blogs are "over" as the hub of online content. They are harder to comment on than Facebook, harder to read on mobile devices and generate fewer responses than Twitter.
Instead of paying for ads on blogs, she said, "What's worth paying for instead is marketing that doesn't interrupt the experience of the user, that shows that you're listening to them, that reaches them on platforms where they already are instead of interrupting regularly scheduled blog posts from some obvious advertorial."
She said businesses should work toward a "soft sell" and a "longer game." They still try to have relationships with bloggers and other personalities. Her business sends clothing to its most influential fans and customers to preview.
Palu agreed there was a time so many bloggers were hoping to make money from product promotion that many posts appeared "inauthentic."
But with a careful approach, "I think there are still some really great opportunities out there."
The business news you need
With a weekly newsletter looking back at local history.