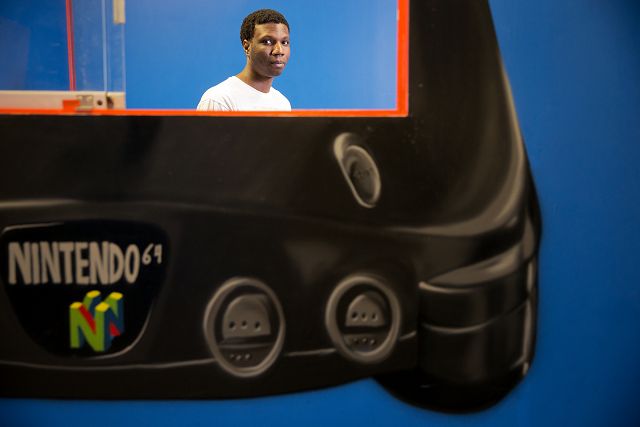 Some real estate brokers didn't take him seriously at first. One insurance company after another refused him coverage.
But David Mitchell, 19 at the time, was undaunted. From the moment he peered through the window of the vacant storefront, he told himself, "I'm going to get that store."
"I wanted more credibility. I wanted my name on the front door," said Mitchell, who opened the Game Repair Shop at 2416 S. 120th St. five months ago after years of working out of his mother's north Omaha basement.
The shop repairs game consoles, computers and accessories, and sells new, used and vintage games, including Atari and Sega game cartridges. The shop also sells new and refurbished game consoles.
Mitchell's business slogan, "Bring Your Game Back From the Grave," hints at his own transformation from troubled kid who spent time at Boys Town to teenage entrepreneur.
Only about 2 percent of the nation's business owners are age 25 or younger. Still, Mitchell, now 20, is in good company: Mark Zuckerberg was 20 when he launched Facebook, Steve Jobs started a little company called Apple Computer when he was 21, and Bill Gates founded his first venture at the tender age of 17. And last week, Yahoo bought 17-year-old Nick D'Aloisio's firm for $28 million.
In Mitchell's case, he sallied forth without a business plan or bank loan. He just woke up one morning a year ago wanting a store.
"The next day, I found this place — a block from my apartment," said Mitchell, standing behind the counter, wearing one of the orange and black T-shirts he had silk-screened to promote his repair shop.
After months of wrangling with insurance brokers — "No one wanted to insure me because I was 19" — Mitchell found a company willing to take a chance and offer him building insurance.
The $2,000 needed to pay the store deposit, rent and insurance premium came straight from Mitchell's pocket. "I got it by working," he said.
The store's paint scheme of marine blue walls with red accents was Mitchell's handiwork. The murals that adorn the storefront and game room are the work of Mitchell's friend Sergio, owner of Air Brush Plus LLC. The murals feature images of Super Mario, of the bad mushroom from Super Mario and of Kratos from the God of War.
Friends, like Sergio, were a major source of sweat equity. They helped Mitchell move couches, a pinball machine and an 800-pound vending machine that pinned him and a helper when it began to topple — "a third guy had to lift it off" — into the game room in the back of the store.
Susan Stern, a consultant who designed his website and created a marketing plan that included a television ad, also clued him in on how to negotiate a deal on the lease.
---
WATCH: Game Repair Shop's TV ad
---
By that point, Mitchell had found Gerard Daly, a commercial real estate broker who did take him seriously. "He called in about some vacancies. I took the call and stayed with him," said Daly, a vice president with CB Richard Ellis/Mega of Omaha.
Daly was surprised to learn Mitchell was 19. "I didn't realize he was that young. It just goes to show you — you take every deal you're presented with seriously," he said.
He described Mitchell as patient and businesslike. "You have to be patient with landlords. They want to be assured that someone will be able to take care of the rent. David came up with some cash and the landlord said go ahead, give him a chance."
A friend of a friend introduced Mitchell to Stern, owner of Stern PR Marketing in Omaha.
"He was one of my youngest clients," Stern said. "I put together a marketing plan to get him credibility, including putting together his logo and website.
"It touched my heart to see such a young man at the age of 19 have such a vision, especially with his background."
Mitchell said of Stern: "She worked her magic. I made 100 times what I paid for her consultation."
Her knowledge of search engine optimization and social media helped Mitchell's Game Repair Shop rise to the top of Google's and Yahoo's search engine optimization ranking.
The shop phone started ringing. "When I get here in the morning, there are usually seven or eight people waiting at the door," Mitchell said.
A dozen or so more have left phone messages: The Blu-Ray disc drive on a PlayStation 3 needs replacing. The console is overheating. There's no audio. Where are you located? Help!
One of Mitchell's first customers, Brandon Bell, spotted Mitchell's television commercial and brought in his daughter's Xbox for repairs. "There was a problem with the motherboard. He replaced it. He did a great job in a timely fashion at a great price."
Five-year-old daughter Allysa was happy to have her Lego game running again. "I've since recommended around a dozen people to his shop," said Bell, a Bellevue resident.
There is a lot to be said for youthful exuberance, despite the fact that "it's a lot different branching out from your home to a retail store," said Barbara Foster, lead economic development specialist for the Small Business Administration in Omaha.
The SBA, SCORE and other small-business incubators typically offer free planning and advice to entrepreneurs of any age, but Mitchell opted to go it alone. "I didn't need their help," he said. "I felt like a real business owner doesn't need that stuff."
He admits to making mistakes: During a "game night" event, which filled the store with 30 or 40 visitors, someone walked off with his iPad and other electronics. "It was just me that night," Mitchell said. "I'll never do that again without help."
Mitchell, who graduated from Burke High School in 2011, turned his own game around when he was 16 years old. From age 14 to 16, he spent time in the Douglas County Youth Center and group homes for "breaking into school and getting into trouble at home," Mitchell said.
The experience led him to change his life. "I started to read the Bible every day," he said. "I learned that rules are set for a reason."
Mitchell may be new to retail and the operation of a brick-and-mortar store, but he is no stranger to the inner workings of the most popular game consoles that he repairs — Microsoft Xbox 360s, Sony PlayStations and Nintendo Wiis.
Growing up, most of the luxuries that came his way came broken. "I was poor," Mitchell said. If necessity is the mother of invention, a lack of funds is the father of the fix-it-yourselfer. "You learn to fix your own computer, your own car," he said.
There was no money to buy a new Xbox when he was 14, so he bought his first Xbox on Craigslist for $30. "I knew it wasn't working," he said.
It took him three months to fix it. Mitchell pulled it apart, cataloged the 30-plus error codes that can trigger the "Ring of Death," a circle of flashing red lights that indicate the console needs an overhaul, and taught himself to use a soldering gun. Once it was repaired, he sold it for $110.
"I said 'Hmmmm, I bought it for $30 and sold it for $110. I can do this again!'" Mitchell recalled, smiling.
He started running ads on Craigslist: "Buy or fix your broken Xbox."
It was a good call. It's not unusual for gamers to throw up their hands and part with their out-of-warranty game console when it stops working. "I've seen people throw them away after that," Mitchell said.
Some repairs can cost more than half the price of a new console. Mitchell charges between $30 and $80; the average repair fee is $50 and includes a 30-day warranty.
Mitchell also occupies another subset — black business owners. Of Omaha's 34,000 businesses, 1,700, or 5 percent, are owned by black men or women.
Although the number of black-owned businesses has been rising nationally — their number grew from 1.2 million in 2002 to 1.9 million in 2007 — only 6 percent of black-owned firms had employees. That's far less than the 25 percent average for all businesses, according to the most recent Census figures.
Despite the differences, some studies have found that the survival rates of black-owned businesses were similar to white-owned companies; 80 percent of all businesses fail in the first five years.
Some customers are startled to discover that Mitchell is black.
Less than 8 percent of computer-related jobs are held by blacks, according to a recent Census report.
A few customers have walked in the store and walked out after seeing him at the counter. Others, he added, have questioned his integrity or ability to repair a console or computer. He shrugs his shoulders. One or two have unleashed racial expletives.
Mitchell has faced rejection before. Doors closed, gates locked.
"I sold candy door-to-door for Teens of Tomorrow," he said.
"I try not to get mad," Mitchell said. "I work too hard for everything."
In five years, Mitchell, who works 10 a.m. to 10 p.m. Monday through Saturday — "I'm a workaholic" — would like to have a chain of Game Repair Shops.
If he needs help, it's available and it's free, Foster said. "It's never too late to write a business plan. I would encourage it, especially if you're thinking of expanding. It really is a map, a way to have a handle on revenues, expenses ... to figure out, 'Am I on track?'"
"I got a huge amount of supporters who help me out and loyal customers."
The business news you need
With a weekly newsletter looking back at local history.