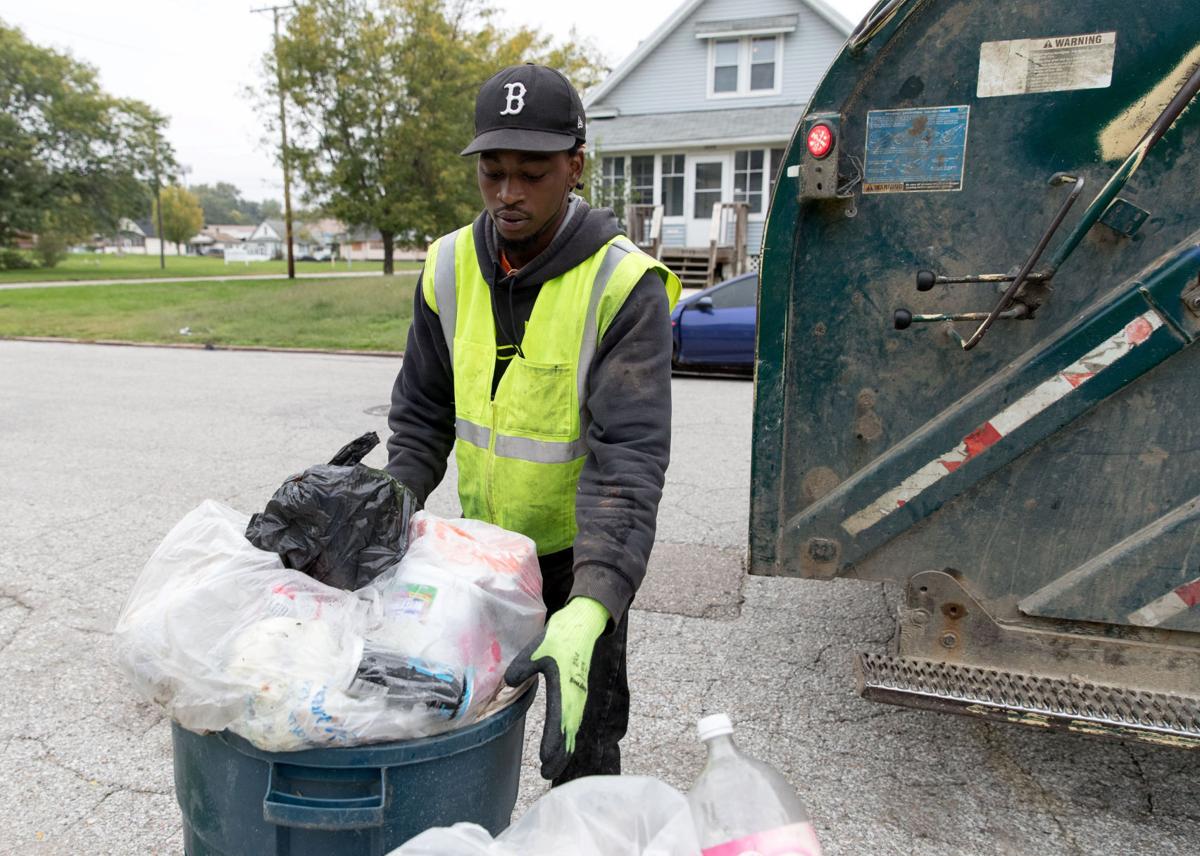 Omahans would put out their trash in two covered bins — one for trash and yard waste together, and another for recycling — under the new city waste hauling contract that Mayor Jean Stothert is recommending to the City Council.
The 10-year contract with the Spanish company FCC Environmental Services would cost the city $22.7 million a year. That's $7.8 million more than the city is paying this year, with personnel and equipment costs driving the higher expense, the city said.
But it's the smallest increase of the various options proposed by bidders, Stothert said in announcing her recommendation Tuesday.
"FCC's bid is the lowest and best value for our taxpayers," Stothert said. "FCC is a worldwide company and has the required experience and resources to deliver the required services."
The contract would have the option of two five-year extensions. Stothert said the decision will affect taxpayers for 10 to 20 years, "so it's very important we get this right."
Under the mayor's proposed new contract, beginning in 2021, yard waste would be dumped in a landfill instead of generally unlimited yard waste being collected separately and turned into OmaGro compost.
Stothert is trying to soften the blow of those controversial changes through three wrinkles. As part of the new contract, the city would add fall neighborhood cleanup events to the city's traditional spring cleanups, and yard waste would be added to the list of things accepted at those events.
Omahans also could drop off yard waste at the OmaGro facility. And people could choose to pay extra for the city's new waste hauler to take away more yard waste and trash.
If people wanted the trucks to pick up more from their houses, they could buy additional carts from FCC Environmental. It would cost $91 a year (that's $1.75 a week) for an additional cart for weekly trash and yard waste pickup, or $45.50 a year for an additional recycling cart. If people wanted to keep putting out leaves and grass clippings in paper yard waste bags, they could buy stickers from FCC and the hauler would take them away — for $1.98 per bag. It would still go to the landfill.
Stothert said it would be better for the few people who want extra services to pay for them themselves than for everybody to have to pay extra to benefit those few.
Residents would be issued two covered, 96-gallon carts. Garbage trucks, powered by compressed natural gas, would automatically lift the carts instead of workers hefting them by hand.
If, after 90 days people didn't like the 96-gallon carts, they could request smaller, 48-gallon carts.
In Omaha, people pay for curbside waste hauling as part of their property taxes. Stothert said Tuesday that the new contract would not require a property tax increase.
Stothert's administration has been preparing taxpayers for years for the probability that a new waste-hauling contract would be quite different from, and much more expensive than, what Omahans have been used to under the city's contract with Waste Management. That 10-year contract expires in 2020.
The City Council could vote on the new contract by April 30, Stothert said. She briefed council members on it Tuesday.
"I'm concerned that it provides less service for more money," City Council member Pete Festersen said. "I think many residents in my area will have concerns about a two-cart, commingled system because they won't be able to fit yard waste into regular waste carts, and it effectively ends the city's composting operation."
There's likely to be support from at least some council members for a three-cart system, with separate yard waste collection and composting. Stothert said such a system would require a property tax increase.
"I will not support an alternative that will require a tax increase," she said.
Asked if she thought two carts were enough, council member Aimee Melton said no. But she noted that people could pay for yard waste stickers or more carts.
"I don't want to mix mine," Melton said. "If people say they're willing to pay more, at least they have the option. I'm not forcing it on them. I'm not raising their taxes to do it."
Stothert said her recommendation Tuesday came after "nearly three years of study, public outreach and City Council input, a pilot program to test automated collection and a competitive request for bids."
The city received bids from four companies in January on six options, including a three-cart system, two-cart system, separate yard waste collection, the collection of yard waste and trash together, weekly recycling pickup and biweekly recycling pickup.
Stothert said she chose Option 3A — two carts, with yard waste and trash mixed in one of them — because it's the best value for the city, and FCC has the required experience and resources to do it. In addition, the system "meets the needs of the majority of residents" and offers "affordable costs to residents for extraordinary services."
She said adding a fall cleanup and accepting yard waste at neighborhood cleanups would be included in the cost of the contract.
Sign up for World-Herald news alerts
Be the first to know when news happens. Get the latest breaking headlines sent straight to your inbox.
A fact sheet handed out at Tuesday's press conference acknowledged that the mayor's recommended option "does not meet the needs for two-thirds of respondents" to the city's 2016 survey. It said only 34 percent of people thought one 96-gallon cart would meet their weekly garbage and yard waste needs.
But the statement said the mayor's preferred option meets the needs of more than 90 percent of households in two other ways: 93 percent of people responding to the survey thought one 96-gallon cart would meet their weekly garbage needs, and 92 percent of people thought one cart picked up every other week would meet their recycling needs.
Stothert also said Tuesday that when survey respondents were told that it would be more expensive to collect yard waste separately, fewer than half supported that.
The mayor said it would cost $59.5 million more over 10 years for a three-cart system with separate yard waste collection, or $30.2 million more over 10 years for three carts with yard waste mixed with trash.
Stothert said she believed that two carts will be enough for most people and that people found that to be the case in Omaha's pilot program. She said a similar system works for her 90-year-old mother in St. Louis and most people in unincorporated subdivisions of suburban Omaha.
Still, the mayor said, "It's different than we've ever had. Change is not easy. We understand that."
FCC Environmental's bid was the second lowest. Stothert said city officials determined it was the "lowest and best" because they could not be confident that the lowest bidder could perform as required. Stothert said West Central Sanitation "had the lowest bid but did not adequately demonstrate that they had the qualifications, experience, or adequate resources to perform."
She said that FCC has contracts with Houston and other large cities and that West Central does not have contracts with cities the size of Omaha.
World-Herald staff writer Aaron Sanderford contributed to this report.
Photos: Our best shots of 2019 (so far)
Take a spin through the best of our staff photos from 2019. The gallery will be updated throughout our journey through the next year.