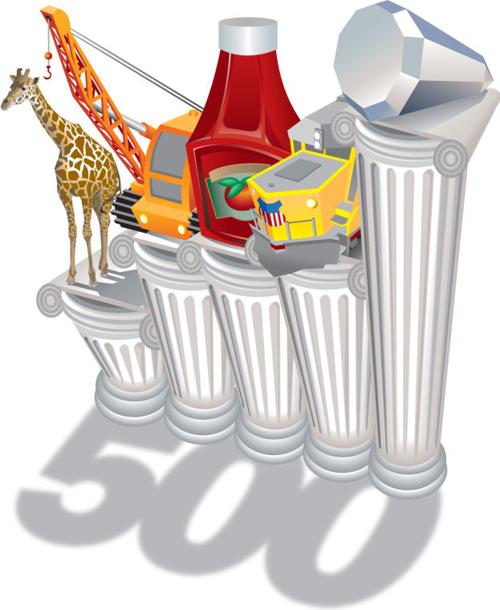 Omaha has long taken pride in its "fab five,'' the five Fortune 500 companies that call the humble plains city home: Berkshire Hathaway, ConAgra Foods, Union Pacific, Peter Kiewit Sons' and Mutual of Omaha.
But less recognized has been how the five combine to give the city one of the strongest concentrations of such corporate giants in the nation and how that has benefited the region.
Using the federal government's broadest definition of what constitutes a metropolitan area, a World-Herald analysis shows that Omaha is home to more Fortune 500 companies per capita than any major metro area in the nation. Using a narrower definition of a metro area, Omaha ranks no worse than third. It trails only Bridgeport-Stamford-Norwalk, Conn., the affluent burbs in the shadow of New York City, and San Jose, Calif., the heart of Silicon Valley.
Yes, in raw numbers, about two dozen metros have more Fortune 500 companies than Omaha. The New York metro has by far the most, with at least 67 such firms, depending on how the metro boundary is drawn.
But per capita, the Omaha metro has 50 percent more Fortune 500s than New York City, almost twice as many as Chicago, Dallas or Denver, about four times more than Kansas City and Los Angeles and more than 10 times more than Austin, Texas.
How did Omaha end up in this fortune-ate position?
How the metro areas were ranked
It's long been known that Omaha has an unusual number of Fortune 500s for a city its size. And when ranked by state, Nebraska also has more per capita than any state besides Connecticut, Minnesota and Virginia.
The World-Herald analysis looked at Fortune 500s in a new way, examining how the nation's 100 largest metro areas stack up. It involved attaching all Fortune 500s, most of which nationally are based in suburbs, to their core city.
While there are two dozen metro areas with more Fortune 500s than Omaha, the city ranks right at the top on a per-capita basis.
Under the most common federal definition of a metro area, counties are grouped together based on commuting patterns into Metropolitan Statistical Areas, or MSAs. Using that definition, Omaha ranked third behind Bridgeport, Conn., and San Jose, Calif.
But the federal government also groups contiguous metro areas that have considerable social and economic connections into greater metro areas called Combined Statistical Areas, or CSAs. When the nation's metros are grouped on that basis, Omaha ranks No. 1 per capita.
Under the broader definition, the Bridgeport metro — much of which is an hour's commute from midtown Manhattan — merges into the greater New York City metro, while San Jose becomes part of a larger San Francisco Bay-area metro. Both of those combined metros have fewer Fortune 500s per capita than Omaha.
Scott Strain, an economist and data analyst with the Greater Omaha Chamber, said he wouldn't argue with either ranking. "Regardless of how you slice it,'' he said, even the top three isn't so bad.''
More than anything, it appears to be a function of history. All five of Omaha's Fortune 500s were born and grew up here, their success and growth often traceable to the hard work and entrepreneurial wisdom of their founders.
"A lot of it is just serendipity,'' said Warren Buffett, the hometown boy who built Berkshire almost from scratch into the seventh-largest company on the Forbes list.
More than just bragging rights come with Omaha's distinction.
Fortune 500s tend to have higher-than-average payrolls and scour the nation for workers, attracting talent to their region.
The companies, their executives and workers also tend to be more active in their community, contributing money and time to local charities and institutions and taking an active hand in civic affairs. That helps a city build the kind of quality of life that makes it attractive to employers of all kinds and sizes.
"We are blessed with five of these companies that are engaged in the community in every way you can imagine,'' said David Brown, CEO of the Greater Omaha Chamber of Commerce. "They are all really important in making Omaha a great place.''
Des Moines also stacks up well in Fortune 500s per-capita, ranking in the top 20 among the nation's metros.
Fortune's listing of the nation's 500 largest firms has long served as a symbol of corporate muscle and prestige. The magazine has compiled the list each year since 1955, ranking companies based on their gross revenue.
The Fortune 500 is actually very dynamic, with about 25 to 50 companies leaving and joining the list each year. Fully half the list has turned over since 1995, some companies finding new business niches and rising, often replacing dinosaurs that have fallen off or perished.
But the five Omaha companies have all generally been staples on the list since at least 1995, the year the list was expanded from just industrial companies to include service-based firms. Besides Berkshire at No. 7, the 2012 list included Union Pacific at 143, ConAgra at 215, Kiewit at 255 and Mutual of Omaha at 411.
Omaha also is strongly represented in the next tier of companies that make up the Fortune 1,000, with Green Plains Renewable Energy (No. 621), TD Ameritrade (736), Valmont Industries (762), West (795) and Werner Enterprises (924) all cracking that list.
Most Fortune 500s do tend to remain rooted where they were born, and there is often luck involved in where they locate.
Procter & Gamble has been based in Cincinnati ever since William Procter, a candle maker, and James Gamble, a soap maker, married sisters in the city and decided to go into business together. Buffett said perhaps greetings card maker Hallmark would be based in Omaha today had Joyce Hall, who stopped in Omaha on his way to Kansas City, decided instead to settle here.
Omaha is fortunate that President Abraham Lincoln 151 years ago chose Omaha/Council Bluffs to be the starting point of the new transcontinental railroad, creating Union Pacific, and that Peter Kiewit stayed in his hometown to grow a family construction company into a global engineering firm.
"You don't want to call it historical accident,'' said Jeff Rexhausen, a University of Cincinnati economist. "They were entrepreneurs who had success.''
But perhaps just as important as the fact the Nebraska firms were born here is that they've also decided to stay. That's certainly not a given.
Fortune 500s have been known to uproot their headquarters, particularly tending to cluster in major metroplexes like New York, Chicago and Atlanta. Seattle was rattled and stunned a decade ago when Boeing's headquarters took flight for Chicago. Chiquita, the firm whose name is synonymous with bananas, had been based in Cincinnati before a year ago deciding Charlotte, N.C., had more appeal.
As companies grow large, they often feel the need to move to a big city to be closer to capital markets or their customers, said Theresa Welbourne, director of the Center for Entrepreneurship at the University of Nebraska-Lincoln. But she said the leaders of Omaha's Fortune 500s appear to have an unusual degree of loyalty to the city.
Nonetheless, in the last quarter-century, at least two Omaha Fortune 500s did seriously ponder moves.
In 1986, ConAgra made no secret of its intentions. Then-CEO Mike Harper said the company would move its headquarters to Tennessee without major changes in Nebraska's tax structure. The result: Nebraska passed the LB 775 business tax incentives that continue to be the backbone of the state's economic development program. ConAgra stayed.
Union Pacific more quietly debated a move just over a decade ago.
While the railroad's operational headquarters had always been based in Omaha, the much smaller corporate headquarters had been based elsewhere, first in New York, then Bethlehem, Pa., and then Dallas.
During the late 1990s, Union Pacific leaders decided to combine the two headquarters, launching a task force study on where the combined unit should be. Oklahoma City, Dallas and Denver reportedly became prime candidates.
"It got pretty close,'' said Bob Turner, a U.P. senior vice president. "There were some pretty attractive offers thrown at the company.''
U.P. considered all the costs and advantages, including its strong Omaha employee base. In the end, the railroad not only decided to consolidate the headquarters in Omaha, it also built the new headquarters tower the railroad now occupies at 14th and Douglas Streets.
For a long time, Omaha's lack of direct air service had been considered a major drawback for keeping or attracting headquarters operations to the city. But a significant increase in the number of direct flights out of Omaha's Eppley Airfield over the last two decades, along with the airport's convenient location and easy in-and-out access, appear to have made that less of an issue.
"I'd like to see it be more of a hub for airlines, but we've got good air transportation,'' Buffett said. "We've got a very good airport that's close in, and that's important.''
He and other observers cite several other strengths that likely have contributed to keeping Omaha's Fortune 500s here, from the region's strong work ethic, healthy environment for families and low cost of living to the industry-friendly state insurance laws that have helped keep Mutual grounded.
With such companies come many benefits.
There is some debate as to how much cities truly derive from Fortune 500s in terms of employment and payroll. The actual corporate headquarters portion of a major company is often small. One of the most extreme examples of that is Berkshire, which employs only about two dozen in its relatively spartan Kiewit Plaza office.
Bill Fruth, an economic development consultant based in Palm City, Fla., said he'd rather attract a 1,000-employee auto assembly plant than a 1,000-employee corporate headquarters. The auto plant would need parts suppliers, bringing with it hundreds or thousands of additional workers. "The corporate headquarters just needs Office Depot,'' he said.
Others point out employees in corporate headquarters tend to be higher paid. And all agree the benefits of hosting Fortune 500 headquarters go beyond what workers are paid.
A University of Cincinnati study found a direct correlation between the number of Fortune 500s in a city and the quality of a city's cultural, health and educational organizations and the availability of sports and leisure activities. Rexhausen said that's because Fortune 500s are more active in their communities, with the companies contributing dollars to local causes and their workers serving on boards.
"They recognize the relationship between their business and their community, and they invest back,'' he said.
The results of such engagement can be seen all around Omaha, with the Fortune 500 companies and their executives playing active roles in construction of local amenities like TD Ameritrade Park, the CenturyLink Center, the Holland Performing Arts Center and the Henry Doorly Zoo. Walter Scott, a successor of Peter Kiewit as CEO of the construction company, has been particularly active in building local institutions.
"I think it's really part of our ethos here that people who are in these positions still see themselves like everyone else, working for the good of the community,'' said Lyn Wallin Ziegenbein, who directs a charitable foundation established by Peter Kiewit.
Creighton University economist Ernie Goss said there's a reason Omaha's new downtown baseball stadium bears the TD Ameritrade name rather than that of another major Omaha employer such as First Data. TD Ameritrade is based in Omaha. First Data, No. 243 on the Fortune list, is not.
"When it comes to those kinds of things, the location of the home office is important,'' Goss said.
There's also without doubt prestige cities gain from such companies. While the Berkshire home office is small, consider the attention Omaha garners as the home of Berkshire and Buffett, particularly each spring when Buffett attracts thousands to the city with his Woodstock-like annual meeting.
Brown said the chamber officials never fail to tout Omaha's Fortune 500s as they seek to recruit other new employers to the city. While cities naturally love to have Fortune 500s, they're also looking to attract the entrepreneur or venture that will grow into one of the next Fortune 500s.
"If these companies have found a way to succeed here,'' Brown said, "maybe theirs can do the same.''
How five giant, homegrown companies started and succeeded
You can find all their headquarters clustered within a narrow, three-block strip of land between Harney and Dodge Streets and from 36th Street to the Missouri River. The story of Omaha's Fortune 500 firms:
Fortune rank: No. 7 with 2011 revenue of $143.7 billion; largest property and casualty insurer. First cracked Fortune list in 1989 at 205th.
History: The holding company of large and medium-sized firms and investments has grown largely from the singular wisdom of Warren Buffett; it started as investment pool of family and friends in Omaha during mid-1950s. In 1965, Buffett bought the textile company that gave Berkshire its name. (Ironically, he later called it his worst investment.) His philosophy of buying successful companies with firm niches and keeping leadership in place achieved returns well in excess of the stock market and ultimately made Buffett the third-wealthiest man in the world. The move into insurance was key, as Buffett uses premium reserves available for investment to fund additional purchases. The company has kept its offices at Kiewit Plaza since 1962. Berkshire now owns a wide range of businesses, including eight big enough to be Fortune 500s had they remained stand-alones.
Fortune rank: No. 143 on revenue of $19.6 billion; largest railroad. Listed each year since non-manufacturing companies were added to the list in 1995.
History: The company was created by an act of Congress, the 1862 Pacific Railway Act, which called for construction of a transcontinental rail line from the Missouri River to the West Coast. The first track was laid out of Omaha in 1865, and U.P. grew into a national icon. Multiple mergers over 150 years helped U.P. amass the nation's largest rail network, with operations in 23 Western states and prime rail connections into Mexico. In 2004, the railroad opened a new 19-story headquarters downtown that serves about 4,000 employees. The company's last two CEOs have been Omaha natives who climbed the railroad's ranks.
Fortune rank: No. 215 on revenue of $12.4 billion; seventh-largest foods company. Listed each year since 1968.
History: Born in 1919 when four central Nebraska grain mills came together as Nebraska Consolidated Mills and moved to Omaha in 1922. Company was near bankruptcy in 1974 when strong-willed Mike Harper came in as CEO, getting the firm heavily into frozen foods and turning it into what he called "the best damn food company in the world.'' Today the packaged-food giant sells 13 million products daily, from brands that include Banquet, Healthy Choice, Marie Callender's, Hunt's, Orville Redenbacher's, Van Camp's, Chef Boyardee, Swiss Miss and Peter Pan. A recent purchase of Ralcorp made it the largest seller of private label store-brand products. After Harper's threat to leave Omaha in 1986, the company built a suburban-style corporate campus on downtown's riverfront that today houses close to 2,000 employees.
Fortune rank: No. 255 on revenue of $10.4 billion; third-largest construction or engineering company. Made its Fortune debut in 1991 and since 1998 has been listed every year but one. Is privately held but qualifies for Fortune list because it publicly reports revenue.
History: Three sons of Peter Kiewit took over their father's Omaha construction company, with the youngest, also named Peter, credited with turning it into one the nation's largest. The company took off while building military installations during World War II and the Cold War. Also built more miles of Interstate system than any other contractor, causing Fortune to dub Peter Kiewit "the Colossus of Roads.'' Today it is one of the largest employee-owned firms in the world and one of only a handful of construction companies big enough to take on billion-dollar projects.
Fortune rank: No. 411 on revenue of $6 billion; ninth-largest life and health insurer. Made its debut in 1995, dropped off in 2006 and 2007, but solidly on the list since.
History: Got off to a humble start in 1909 as the Mutual Benefit Health and Accident Association, initially struggling to attract policyholders. Under the leadership of Creighton medical student C.C. Criss and later V.J. Skutt, it grew by the 1950s into a leading health and accident insurer. The name was changed to Mutual of Omaha in 1962 and a year later it became a household name with the sponsorship of the popular "Wild Kingdom'' TV show. Rebranded its familiar Native American head logo in 2001, expanded into banking in 2007 and renewed its commitment to its midtown Omaha headquarters by developing the mixed-use Midtown Crossing.
World-Herald staff writer Steve Jordon contributed to this report.
The Omaha World-Herald Co. is owned by Berkshire Hathaway Inc.