Nebraska Crossing Outlets will reopen to the public before the projected peak of coronavirus cases in Nebraska, the outdoor mall's owner and developer said Tuesday.
Rod Yates said Nebraska Crossing has an opportunity to be a leader in the retail community and praised Gov. Pete Ricketts for "keeping the community on top of mind and working to get businesses open again."
"We're looking at the great opportunity to set some best practices and help our retailers open their portfolios across the country," Yates said. "We are going to be the first shopping center that opens in North America."
The president of the Nebraska Hospital Association, which represents 93 hospitals, said Tuesday that the action could "nullify our efforts to this point."
"This move is in direct contradiction with public health guidelines and poses serious risks to the health of all Nebraskans," Laura Redoutey said in a statement. "Quite simply, it's irresponsible for a nonessential retailer to open its doors to the public in the middle of a pandemic."
The outlet mall plans to have a "soft opening" on April 24 — only 15 days into Ricketts' plea from earlier this month for Nebraskans to stay home for 21 days, a time period that would end April 30. Officials have said the state isn't expected to reach the peak of COVID-19 cases and deaths until the end of April.
A "formal grand opening" would be in May, potentially as early as May 1, according to correspondence sent Friday to the more than 80 retail stores and restaurants in the mall, which sits along Interstate 80 near Gretna.
But Nebraska Crossing initially had decided on an earlier date for the soft grand opening — discussing the matter with Ricketts Thursday night.
"We have kept in close communication with the governor, and based on these conversations, we are taking steps to soft-open stores beginning the 18th of April," according to an update sent to general managers Friday.
"Our governor, Pete Ricketts, has done a phenomenal job trying to create a safe community environment and ultimately setting goals to get businesses back to work," an official letter said. "We have had weekly calls with the governor personally."
When asked Tuesday about the outlet mall's plans to open April 18, Yates said the soft opening date had been pushed to April 24. He provided The World-Herald with an updated letter sent to retailers on Tuesday that deleted the line about weekly calls with Ricketts.
At his daily coronavirus press conference, Ricketts on Tuesday said Nebraska Crossing leaders reached out to him to tell him of their plans.
"I did not ask them to open, but I said if you do, just follow the guidelines," he said. "If companies are looking to be able to get prepared for some point down the road when those restrictions are loosened, that's OK, but anybody who's operating still needs to continue to follow all the guidelines."
Ricketts referenced his "Six Rules to Keep Nebraska Healthy" decree and asked people to follow that until April 30. The rules advise staying at home, "no nonessential errands" and to "shop alone and only shop once a week," among other things.
He declined to say whether the stores at Nebraska Crossing were essential or nonessential and didn't acknowledge the disconnect between his rules and the outlet mall's plans.
"We don't make that distinction here in our state. That's not something we've done," he said. "We're asking people to make that distinction as they look at their own needs."
Yates said the soft opening date was pushed back a week because of retailer feedback. He said those companies wanted to open their stores at Nebraska Crossing as a "case study" to figure out how the rest of their stores can safely reopen.
Yates also said Nebraska Crossing was an attractive pick for a test case because of the variety of businesses at the shopping center. He also said Nebraska has fewer coronavirus cases than other states and is one of few states not under a government stay-at-home order — meaning employees still could go to work.
Nebraska Crossing never officially closed because of the pandemic, but nearly all the stores closed to customers because their corporate officials closed stores throughout the United States. Uniform Destination is one of the only stores that stayed open to the public, but it has a limit of three people in the store at one time.
Some stores still were open and providing curbside pickup for online orders, said Johanna Boston, the chief strategy officer for Nebraska Crossing.
For the soft and grand openings, stores are not required to open, Boston said, and the date could be pushed back depending on additional virus cases.
"If tomorrow our numbers jump and we have a conversation with the governor, it could change," she said. "But right now, we're doing what we've been asked to do, which is to start getting people back to work in the safest environment we can create."
Two general managers at Nebraska Crossing stores told The World-Herald that they're worried about the pressure on corporate offices to reopen the stores and the risk of coronavirus exposure to employees and customers.
"There's been absolutely no regard to Nebraska Crossing employees. None of us signed up to be guinea pigs," one manager said. The World-Herald is not naming the managers because they feared retribution for speaking out. "We all have family. I'm not willing to bring that to my family. I'm not willing to be a test subject for you guys, and neither are my employees."
Even a May opening seemed too soon.
"We haven't even hit our peak in Nebraska yet," the manager said. "That's ridiculous. I understand it's going to be a long time, but there has to be a protocol set in place that needs to be tested before we open to the public."
Sign up for World-Herald news alerts
Be the first to know when news happens. Get the latest breaking headlines sent straight to your inbox.
The other general manager was concerned about out-of-state visitors that the outlet mall usually attracts, which could lead to additional exposure from elsewhere.
Ricketts said that's a problem the state faces, and he has asked people who come here from out of state to self-quarantine for 14 days.
"I gotta tell you, I just don't think you're going to see a lot of traveling this time when everybody knows we're supposed to stay at home," Ricketts said.
Yates said officials are taking several precautions for the scheduled opening.
The mall has purchased 100 "infrared non-contact instant-read thermometers" — one for each store — that employees will use to check their temperature upon arrival for their first shift. Store managers can decide whether to offer the thermometer to customers before they enter the store, Yates said.
They also have bought 200 shield guards that will be installed at registers between customers and employees.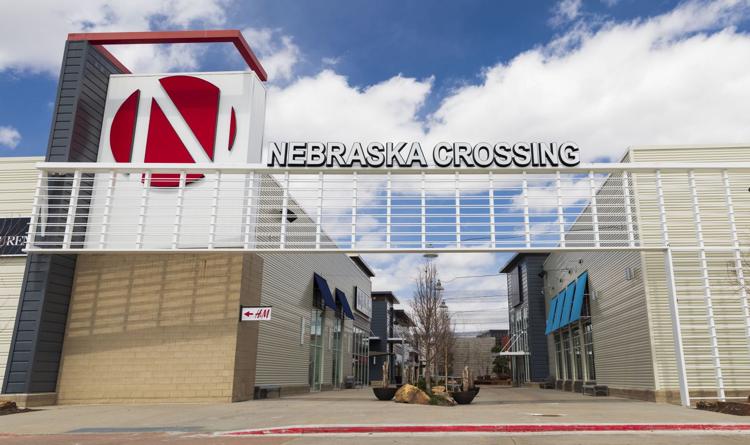 Officials also are encouraging customers and employees to wear masks and gloves and will recommend that shoppers shouldn't walk around in groups. Also, the janitorial staff is using misting disinfectant to clean all bathrooms, storefront entrances, kiosks and common areas, and will add additional wipe stations in common areas.
"Anything we do is going to be very controlled," Yates said. "We're not going to do any mass events that attract hundreds of people. We're going to slowly ease ourselves into the process of getting ourselves open."
Sarah Schram, the health director of the Sarpy/Cass Health Department, said she was unaware of Nebraska Crossing's plan to reopen until she saw news media reports about it. She said the wording of the state health directive does not include retail stores in the definition of gatherings. Therefore, she said, retail stores in Sarpy and Cass Counties do not have to adhere to the 10-person limit, but people would have to stay 6 feet away from one another.
"We're really encouraging people to limit those public interactions if you are out and about," she said, adding that people should continue to wash their hands, keep a 6-foot distance, avoid gathering and stay home. "Those are the small steps that everyone can do to really help limit the spread in our community."
Chief Deputy Sarpy County Sheriff Greg London said his office won't station a deputy at the mall but would respond to calls of people breaking the directed health measure, if that occurs.
Boston said people will need to decide if they are comfortable going to the outlet mall to shop.
"Some people are going to say, 'Great' and other people are going to say, 'You're crazy,' " she said. "The bottom line is, everybody has to use their best judgment."
April photos: Nebraska faces coronavirus