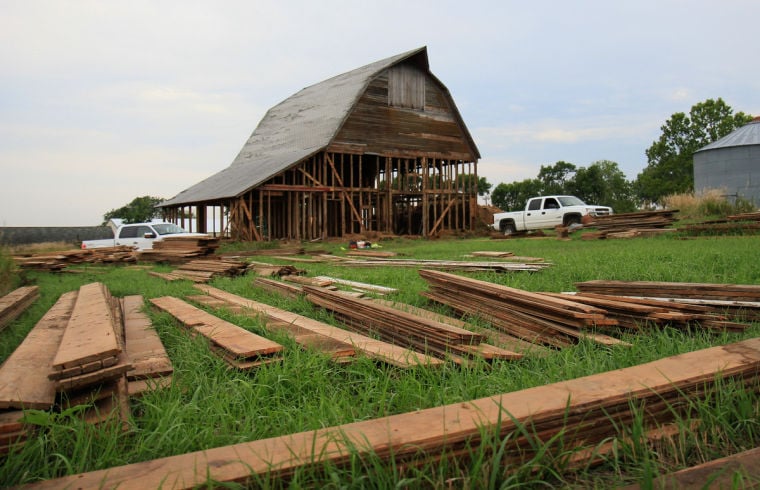 A barn that has outlived its usefulness can present a dilemma for a landowner. Do you burn it, bulldoze it or bury it?
None of those options thrilled C.H. and Marj Hagstrom, who wrestled for several years with the destiny of a tired but beloved 1912 barn on their quarter section near Sterling, Neb.
Sometime last spring, a city boy popped up with an intriguing proposition: Let me dismantle the barn, Mark Ludlow offered, and pay me with the wood.
The barn that had been in Marj Frederick Hagstrom's family for three generations was solid, but raccoons had torn holes in the roof to the point where it needed extensive — and expensive — repairs. Pens for livestock, bins for grain and mounts for hay made remodeling impractical. "You'd have to totally reconfigure the inside of the barn to use it today," C.H. said.
Yet, Marj said, "I didn't want to see the barn crumble."
Dismantling the barn for the purpose of reclaiming the wood seemed right.
"I think it's exciting that the wood is being used again," C.H. said.
The Hagstrom barn was reclamation project No. 9 for Ludlow and his newly established Ludlow Lumber.
Ludlow's career took an about-face in March 2013, when he left a job as activities director for Parsons House, an assisted-living and memory care community in northwest Omaha.
"Going to the same place every day got old," Ludlow said. Working with his hands, even in sweltering summer heat, had greater lure.
His 92-year-old neighbor got him on his way.
Herschel Hartsell, the neighbor, had a small workbench in his basement and a sizable collection of wood in his garage attic after 40 years of woodworking as a hobby. Last November, Hartsell's family cleaned out the attic and relocated the wood to the backyard. "A day later, Herschel asked if I'd take it," Ludlow recalled.
Ludlow, 29 and married with a 9-year-old daughter, set to work building a table with weathered oak planks from the haul and thought, " 'I can do this. I love this.' It snowballed from there."
Today, he represents a growing crop of area entrepreneurs developing businesses from a "new" raw material: reclaimed barn wood.
"It's young. It's trending. It's all over the country. And it's not going away anytime soon," Ludlow said of his venture. "Barn wood will never outdate itself. It can't."
There appears to be plenty of room for competition. "There are more barns around here than any one man can tear down," Ludlow said.
Ludlow operates with an agreement and a handshake. No money changes hands, and the salvageable wood is at Ludlow Lumber's discretion. "The day we show up, the barn and the contents are ours. Old tractors that don't run, the hay, the wasps."
Since February, Ludlow Lumber (operating with one-, two- and three-man crews) has pulled down barns in Bennington, St. Edward and Sterling in Nebraska and Missouri Valley and Ida Grove in southwest Iowa, among others. There's one more barn to go in Murray, in Cass County, Neb., before the year is out.
"I'm getting so many calls, I can pick and choose which barns to tear down," Ludlow said. His website, launched this week, includes a field where visitors can pique Ludlow's interest by entering a description of their barns.
Most of his business growth has come from referrals and inquiries from signs tacked up in rural communities surrounding Omaha.
That's how the Hagstroms of Sterling connected with Ludlow. A relative spotted a Ludlow Lumber poster in nearby Tecumseh, Neb., and relayed the contact information to C.H. Hagstrom.
Ludlow was looking to expand into carpentry when a friend of a friend steered Colin and Jessica Duggan to Ludlow to bring a barn wood aesthetic to the interior of their new Kitchen Table restaurant at 14th and Farnam Streets. Restaurateur Nick Bartholomew was watching the Duggans' progress on Facebook when he reached out to Ludlow for a barn wood project of his own.
Bartholomew was opening Overeasy Cafe at 168th and Q Streets and wanted a 3-D wall installation of patch-work barn wood. His inspiration came from an Internet photo of a restaurant in Australia. "It was pretty remarkable," Bartholomew said of Ludlow's spot-on handiwork incorporating wood from barns he had pulled down this year. The wall will have its debut Nov. 14 when the restaurant opens to the public.
Since August, Ludlow has been glued to his shop, making wine racks, a rolling bar, benches, coffee tables and end tables for this weekend's Autumn Festival at the Ralston Arena. It's his first venture as a vendor at an arts and crafts fair. "I've been working 10-hour days for several weeks to build up my inventory," Ludlow said. His e-commerce website went live Thursday (ludlowbarnwood.com) in anticipation of custom work to carry him through the winter.
"I'm going to go where it takes me."
Omaha woodworker Dan Vollmer has crafted a burgeoning niche with barn wood trays that have a story and a wood-burned logo identifying the Barnwoodtray.com brand.
Vollmer is all about "reclaiming a piece of American heritage one barn at a time," and heavily promotes the nostalgic angle of his product.
Each of his trays has a commemorative label noting the source of the wood. Vollmer identifies where and when the barn was built; who had owned it; and how it was used. The label includes a portrait of the barn contributed by photographer Scott Papek.
"Our product piques people's interest," Vollmer said. "Once they see proof of the history of the tray, they really, really enjoy it. The story is an important part of it."
Part of his marketing: no shopping bags. "You carry your tray. People always ask, 'Where did you get that tray?' "
You never know where some things will lead you. Two years ago, Vollmer put out feelers for barn wood, thinking that he'd like to get into the flooring business. "It took us two months to take down our first dairy barn," Vollmer recalled. During the tear-down, the owner stopped by to reminisce about his barn, and Vollmer began to understand the romance. "I didn't come away with enough wood to do the floor," he said, but he had a solid idea for a product that would resonate with people in the heartland.
Initially, Vollmer assembled trays from a shop in his garage, "but the neighbors didn't appreciate the noise of the wood planer from 8 a.m. to midnight."
Demand quickly nudged him to an industrial level of production.
In September 2012, he moved to a 1,500-square-foot industrial space at 88th and J Streets. By January 2013, he had expanded to an adjoining bay with 2,000 square feet and was leasing space in another location for raw materials. "Even so, we're bulging at the seams," Vollmer said.
In the past 14 months, crews have taken down 13 barns for Barnwoodtrays, and just as many barns are waiting in the wings.
Vollmer worked seven days a week for four months to build up inventory for a string of spring, summer and fall art fairs, craft shows and farmers markets throughout the Midwest. Since April, he has logged 21,000 miles; the odometer will continue to click with shows before Christmas in St. Joseph, Mo.; Des Moines; and the Minneapolis area.
Wife Joni and Vollmer's parents help at the farmers markets. Son Matt is on board full time; and daughter Sarah works part time from her home in San Francisco as Barnwoodtray's website and social media editor and promotional manager.
"This is bigger than my wildest dreams."
Nebraska's old barn stories are even spawning concepts for TV shows.
Casey Illian of ADC Advanced Design & Construction in Omaha floated an idea for a reality series to a producer-friend in Los Angeles.
Matt Assmus, who works for Eyeworks TV, liked the concept enough to film a pilot in the Omaha metro area with Illian as its star and Libby Pantzlaff as Illian's sidekick. In real life, Pantzlaff is Illian's go-to interior designer for residential and commercial projects.
For the pilot, a laid-back Illian in shorts, polo shirt and ball cap introduces himself as "The Barn Guy." The opening scene has Illian driving down a country road, lamenting the loss of barns, silos and corncribs on the rural landscape. "I specialize in barns," he tells viewers as the camera follows him scouting barns, meeting owners and negotiating deals. Meanwhile, Pantzlaff is shown interacting with clients and proposing concepts with reclaimed wood.
Dubbed "The Barnstormer," the pilot is an amalgam of actual, fictional and probable scenarios. It's currently being pitched by Eyeworks to Animal Planet, the History Channel and other cable networks with significant Midwestern audiences, according to Assmus.
"Old friends pitch ideas to me all the time," said Assmus, whose producer credits include "Extreme Weight Loss" and "The Biggest Loser" for Eyeworks TV. "But I can see this one. It would be a great show."
Illian and Assmas roomed together for four years at Hastings (Neb.) College.
"Casey has a great personality and is fun to watch," Assmas said. "He has interesting stories about the people and the things he finds in these old barns. And then there are the stories about the barns themselves."
If the show is picked up by a network, pre-production ideally would begin in February, Assmus said. "Filming would start as soon as it warms up in Nebraska," with a goal of debuting the show in summer 2014.
Even before the reality series idea, Illian and Pantzlaff shared an affinity for old barns and were known for custom projects that use reclaimed wood.
"I'm intrigued not just by the materials and the architecture, but also by what has happened in those barns through the years,'' Illian said.
For Pantzlaff, the attraction is wood that's beautifully aged. She uses it "as is" for its unique quality and "story." "You hate to see a barn come down, but this is a great way to have it live on."
Farm implements, tools, gears and other found objects are hot commodities, too. The grittier the find, the better, for adding character to modern interiors.
"There's so much potential for me as a designer," Pantzlaff said. "The treasure hunt feeds my creativity."
She currently is consulting with K.B. and Tracy Marshall on a proposal to incorporate reclaimed barn beams and trusses into a home the couple are building near Louisville, Neb. Tracy was so intrigued by the prospect, she went on-site near Murray to examine the structure under consideration.
The bank barn with its drive-in lower level is weathered gray and nearly stripped of paint. Wooden pegs join its heavy structural timbers. "You don't find barns like that very often," Pantzlaff said.
"What's cool is that wood from this barn likely will be shared by two or three families," Pantzlaff said. "The beams will go to one family, the planks to another. I might even take some of the wood for my office."
Mark Ludlow "skeletons out" a barn in reverse building order.
Remove exterior siding.
Remove interior paneling.
Run chains.
Anchor points on the main frame.
Run straps to the tractor.
Cut out window bracings.
Pull on main frame and let gravity do the rest.
Sides can fall with the roof remaining intact, as was the case with a pull-down in Sterling, Neb.