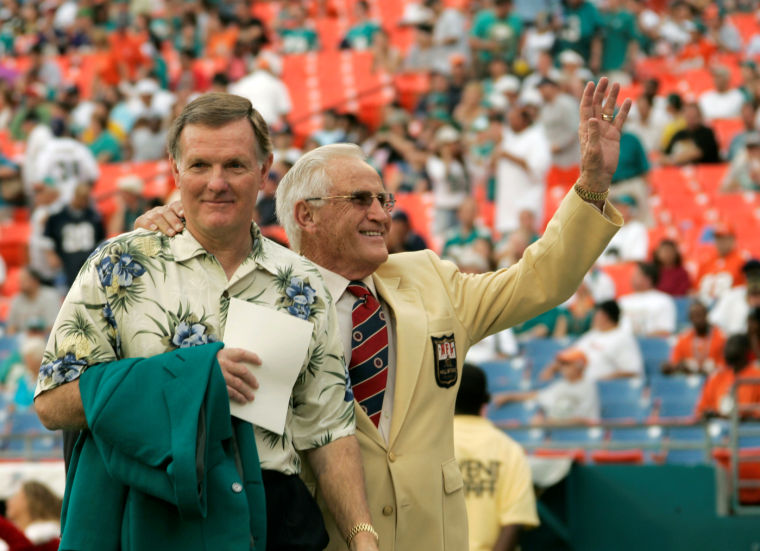 WEST PALM BEACH, Fla. — Don Shula, the legendary coach who owns an NFL record 347 victories, continues piling up wins in his post-football career as a restaurateur.
Shula Burger opened last month west of Delray Beach, Fla., marking the 34th location in the Shula empire of franchised restaurants. The 2,300-square-foot eatery features burgers for $6.49 to $8.99, a price list that's decidedly cheaper than the high-end fare at the flagship Shula's Steak House.
By keeping his restaurants alive for 24 years, Shula has bucked one of the oldest cliches in sports: A star cashes in on his popularity by slapping his name on a sports bar, but the place soon closes.
South Florida restaurants affiliated with Dwyane Wade, Wilt Chamberlain and Pete Rose have come and gone since Shula licensed his name to a Miami Lakes steakhouse in 1989.
"It's impressive to have five good years in this business, and we're going on 25," Dave Shula, president of Fort Lauderdale-based Shula Steak Houses, said.
The Shulas explain their success with coachspeak: Find great people, then focus on the fundamentals.
The elder Shula, now 83, signed autographs during a visit to the restaurant this month. Diners flocked to Don, who piled up the most wins in NFL history, but ignored son Dave, who had an abysmal 19-52 record as coach of the Cincinnati Bengals.
But when it comes to the family business, Don defers to Dave, 54.
That bucks another sports cliche, namely that winning coaches have found the secret to success in business, while losing coaches, by definition, haven't. It's a belief that drives speaking fees and book advances for such coaching legends as Pat Riley, Bob Knight and Mike Krzyzewski.
Don Shula co-authored a business book of his own after he retired from coaching, but he's the rare former coach to make a post-football living by running a business.
The Shula eateries operate under a variety of concepts, including Shula's on the Beach and Shula's 347 Grill. There are Shula's Bar & Grill locations at four airports in Florida.
The newest offering, Shula Burger, is named for the famous coach, but the color scheme is red, not aqua, and there's no Dolphins memorabilia on display.
"We don't want to be just a sports-themed restaurant," Dave Shula said.
He acknowledged that memories of the Dolphins' 1972 perfect season go only so far in the competitive restaurant business.
"The name will get them in the door, but if you don't deliver, they're not coming back," Dave Shula said.
The Shula restaurants have made incursions even into enemy territory — there are Shula's Steak Houses in New York, Chicago, Houston and Indianapolis, all cities where diners once rooted against Shula teams.
Dave Shula said running a restaurant business or coaching a football team require "very similar fundamentals."
"I always say that sports is business, and business is sports," Dave Shula said. "You have to have a great plan. You have to get great people."
But, he acknowledged, there's no way to maintain NFL-style intensity in the day-to-day operations of a restaurant.
"This is more of a marathon than 16 sprints," Shula said. "It's more like professional baseball or basketball, where you're always playing a game."
Either way, running a restaurant is hard work, said Dean Lavallee, owner of the Park Ave. BBQ & Grille chain.
"People don't understand how much work running a restaurant takes," Lavallee said. "Don was noted to have a work ethic as a coach."
The Shula restaurant empire has grown despite a few minor missteps, said restaurant broker Richard Lackey. He noted a foray into Panama that didn't last. The Shula's Steak House at PGA National Resort in Palm Beach Gardens closed in 2007 after a 10-year run.
Such setbacks are more akin to a first-quarter holding penalty than a fourth-quarter pick six -- and certainly nothing as embarrassing as the health inspection of Jimmy Johnson's place in Key Largo. The restaurant was forced to close temporarily after the discovery of rodent droppings and roaches.
"The Shulas gained experience by doing it slowly and carefully," Lackey said. "Over the years, they've learned a lot about the restaurant business."
Don Shula's winning teams were vaunted for their discipline, and Lackey said the Shula restaurants will have to show similar caution as the economy bounces back. Franchisees are throwing money at such burger joints as Five Guys and Smashburger, and the Shulas would be wise to expand slowly, he said.
"We're having the burger wars," Lackey said. "We're in an absolute heyday of restaurant franchising. There are at least 15 burger chains looking to expand in south Florida."