Rooftops have multiplied recently at the 153-acre Sterling Ridge site — not only those covering commercial businesses, but many with families living beneath them.
Though the mixed-use campus southeast of 132nd and Pacific Streets may be known more for brick and glassy office structures, lately it's had a busy stretch of residential building.
Twenty high-end houses (up to $3 million apiece in value) have risen or are under construction, and another four are teeing up to start soon. That's about half the nearly 50 lots available in the Sterling Ridge Estates.
Also any day now, apartment dwellers will be moving into the new 162-unit Avidor Omaha, a complex targeting active seniors 55 and older.
Indeed, residential living is accelerating at the Sterling Ridge site assembled by Lockwood Development on the former Ironwood golf course. Joggers, walkers and parents with strollers increasingly can be seen traversing trails that pass by retailers and offices and across Abraham's Bridge near the acclaimed Tri-Faith buildings.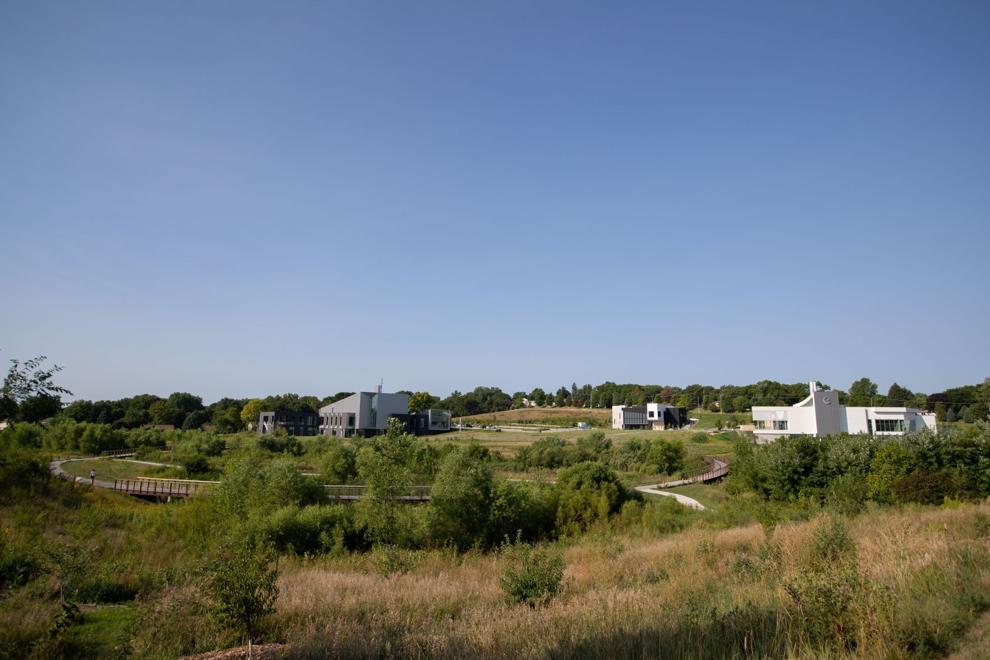 Lockwood President Chip James said the trees, water features and parklike setting are among his greatest satisfactions with the redevelopment project that represents $375 million to $400 million in investment.
With Sterling Ridge now 10 years into its transformation, it is being recognized by a local group of commercial real estate professionals as an industry standout. In an unusual twist, Sterling Ridge and tenants are at the center of all three awards that the CRE Summit presents annually to projects that have made a mark on the local landscape.
"When you can attract the kinds of companies that are out there, it makes a huge statement," said Jerry Slusky, founder of the CRE Summit held Friday. "That project site has matured to the point of making major contributions to our economy."
Awards presented during the 31st summit, held virtually this year, included "Development of the Year," which went to Lockwood Development for its work overall on Sterling Ridge.
The "Summit Award" went to the Tri-Faith Initiative, which spans about a quarter of Sterling Ridge grounds, for shining positive light on the city. Soon the final structural piece of that interfaith project, a welcome and conference center, will open to serve the unique partnership of a church, synagogue and mosque.
"Deal of the Year" went to a team that included Lockwood Development and Colliers International's Kyle Peterson and Jeffrey Wyatt, who helped secure LinkedIn's lease of a new $70 million home projected to open at Sterling Ridge later in 2021.
The 200,000-square-foot complex is touted as LinkedIn's sixth-largest base globally in terms of space.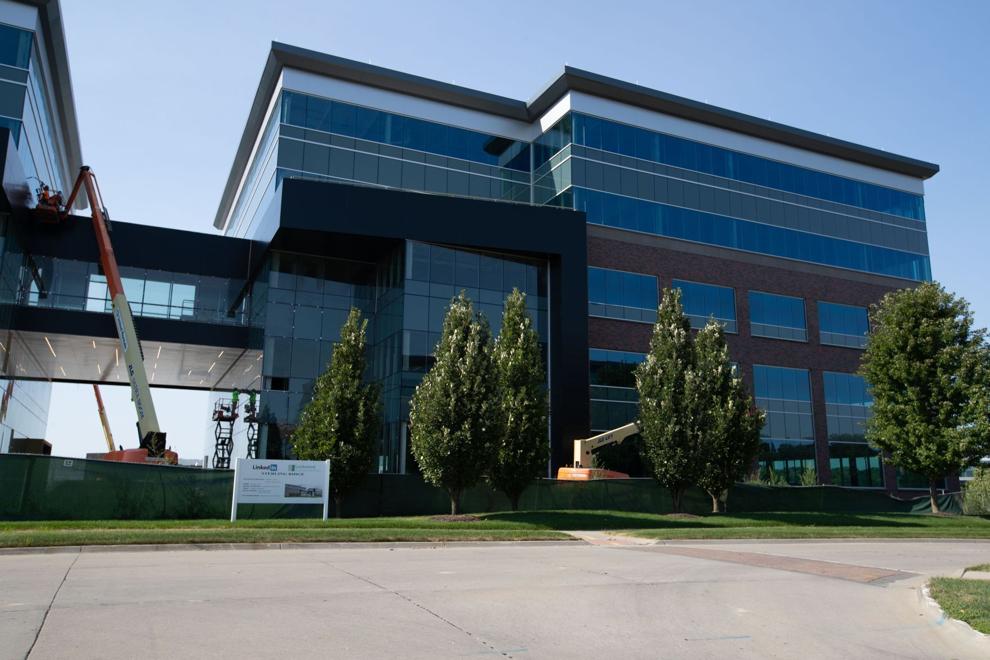 In early 2019, when the Microsoft-owned tech company announced its future move from 90th Street and Western Avenue, LinkedIn officials said they planned to increase the local workforce from about 450 at that time to potentially 1,000 people or more. A company spokesperson said last week that it has 600 employees in the Omaha area today.
Recognized also for making an imprint in the Lincoln area is the private-public partnership that helped deliver the Scheels store at SouthPointe Pavilions. They included the City of Lincoln, RED Development and the owner of the Pavilions site.
At Sterling Ridge, a few spots remain for building, including the hard corner of 132nd and Pacific that could be home to a 250,000-square-foot office structure, said Lockwood's Emily O'Connor. Construction won't happen, she said, until an anchor tenant emerges.
Of the 500,000 square feet of office space built or under construction at Sterling Ridge today, O'Connor said, 98% is leased.
Set to open early next year is the $30 million, four-story Centris Federal Credit Union headquarters. About a tenth of the 100,000-square-foot structure still is available for lease.
Friday's summit, much of it prerecorded, was presented virtually for about 700 people who registered. But one group of experts met in person to discuss shifts in office, retail and other real estate markets since the COVID-19 pandemic hit.
Among highlights of the conversation:
Designs of new buildings are changing, said Michael Alley of Alley Poyner Macchietto Architecture. He said clients are turning to improved-security features such as touchless elevators, better air circulation systems, different reception area layouts and lower occupancy levels. There'll be more "wellness" amenities that promote mental well being, he said.
Is change ahead in the way tech companies — known for open and collaborative areas, pingpong and other game spots — use space? James said LinkedIn representatives, for example, have paused in light of the pandemic to reevaluate the interior setup at the Sterling Ridge facility.
Panelists shared divergent opinions on future reliance on physical office space.
James said he can't imagine businesses shifting to a permanent work-from-home format. "It's impossible. You can't build a company from home."
Samantha Mosser, president of Access Bank agreed, saying it is difficult to learn a company's culture when working remotely. She said, though, that the future will include more drive-thru options. Access Bank, for example, changed the design of its new Aksarben area location to include a drive-thru, she said.
On the other hand, real estate investor Jerry Banks said employers are finding that they've not lost productivity with their workforce performing from home. That work style is "going to have legs," he said, perhaps not to the degree practiced in the last few months, but more than in the past.
Of overall real estate development, Jennifer Taylor, an attorney for the City of Omaha, said COVID-19 hasn't seemed to be a roadblock locally. She said city building permit requests so far this year have kept up with last year's record pace.
Jay Lerner, of The Lerner Co., said the retail sector has not had a smooth journey of late. He said retail leasing deals have been on the "back burner."
---
11 key developments around the Omaha metro area