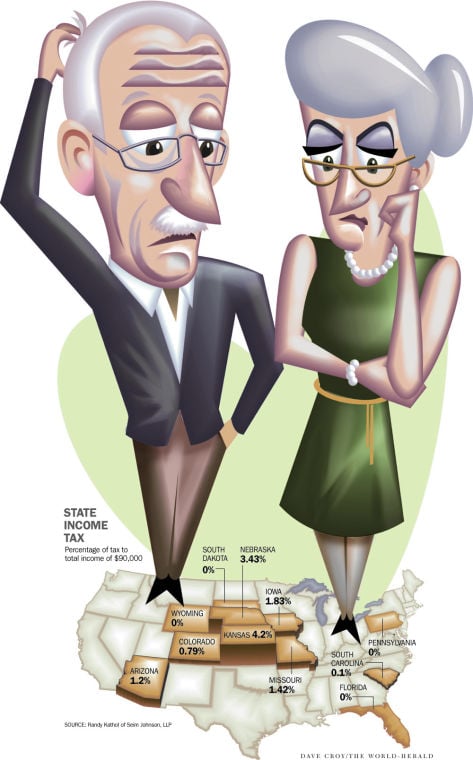 Is it just me or does it seem like April 15 came early this year? I can't turn on the TV or open the newspaper without hearing or reading something about taxes. Someone please send a memo to Congress, the governor, the Legislature, etc. — taxes are for the April news cycle.
But never one to miss an opportunity to jump off a bridge as long as everyone else is doing it, I thought I'd make my own contribution to the crush of tax articles. Since my focus is retirement, it caught my eye recently when three bills were introduced in the Nebraska Legislature that would exempt retirement income from state tax.
It's common knowledge that Nebraska is not exactly tax-friendly to retirees (or middle-aged people, young people, homeowners, people who eat at restaurants, people who drive cars ... ), but what does that actually look like for a typical retired couple?
Joe Hearn
To find out, I enlisted the help of my friend Randy Kathol, a CPA and tax partner at Seim Johnson LLP in Omaha. I asked Randy to calculate the state tax bill of a retired couple in a variety of different states, including Nebraska and Iowa. The others were a mix of neighboring states, traditional retirement havens and states with lower tax burdens.
I gave this couple a retirement income of $90,000 that came from Social Security ($32,400), pensions ($20,400), IRA distributions ($30,000), qualified investment dividends ($5,400) and taxable interest ($1,800). (Note: That income might sound high, but those are actual numbers from clients of mine who recently retired after many decades as teachers. Later, I will show how more modest incomes are impacted by state taxes.)
After deductions and exemptions, the couple's taxable income ranged from zero (in South Dakota, Wyoming, Florida and Pennsylvania) to $73,240 in Kansas, $70,940 in Nebraska and $41,555 in Iowa. It was $39,535 in retirement-haven Arizona, and $28,770 in Missouri and $15,340 in Colorado.
The percentage of state taxes to total income in the states that have income taxes ranged from 0.1 percent in South Carolina to 4.2 percent in Kansas. In Nebraska, it was 3.43 percent and, in Iowa, 1.83 percent.
There are several takeaways from the calculations. First is this: We're not as bad as Kansas! (Take that, Jayhawks. I can see the advertising campaign now: "Retire to Nebraska. Just as many tornadoes as Kansas, but marginally lower taxes.")
MONEY TALKS
Find the latest in local business and development, from who's saying
what to what's going in at that corner,
in the Money Talks blog.
Seriously, though, the primary takeaway is that your tax bill will vary depending on which state you call home. Once you no longer have a job anchoring you in place, you have more freedom to evaluate your options. To help do that, here are three questions to ask:
1) What are my sources of retirement income?
The typical retiree gets his or her income from a variety of sources. Some of the more common sources include a pension, Social Security, part-time work, IRA distributions and dividend income. As we saw earlier, different states tax those income sources differently. States like Alaska, Florida, Texas, South Dakota, Nevada, Washington and Wyoming have no personal income tax at all. More than half of the states (Sorry, not Nebraska) exempt Social Security benefits from tax. States like Illinois and Mississippi exclude income from retirement plan distributions. Nearly two dozen states exempt military and government pensions.
As you mull over where you want to retire, think about your income sources and then work with your financial and tax advisers to determine your potential tax burden in the states you're considering.
For those with a more modest income than the couple in our example, where you choose to retire might have less of an impact on your taxes. That's because many states offer certain exemptions when your income is below certain levels. For example, if the couple in our example had $42,000 in income (the national median income for retirees) their state tax liability would drop to $0 in all of the states shown except Nebraska, Kansas and Arizona.
2) How will I spend my retirement income?
Just because a state has low or no income tax doesn't mean that your tax bill will be low. Some states, like Alaska, have a genuinely low tax burden. Other states, like Arizona, have low income taxes but high sales taxes.
Depending on how you spend money during retirement, a high sales tax (or a high property tax) can be just as much of a burden as a high income tax. In short, beware the tax "shell game" that some states play. Rather than genuinely trying to reduce the tax burden, they simply change which pocket they take it from.
3) What other factors should I be considering?
When deciding where to retire, taxes are an important piece of the decision, but they aren't the only piece. Don't get so hung up on your tax bill that you forget to consider things like proximity to family and friends, climate, cost of living, quality of medical facilities, entertainment options and outdoor activities (mountains, oceans or golf courses).
Make your decision based on all those factors and you'll not only have a fun, meaningful retirement, but you might even have a little extra money in your pocket to pay for it.