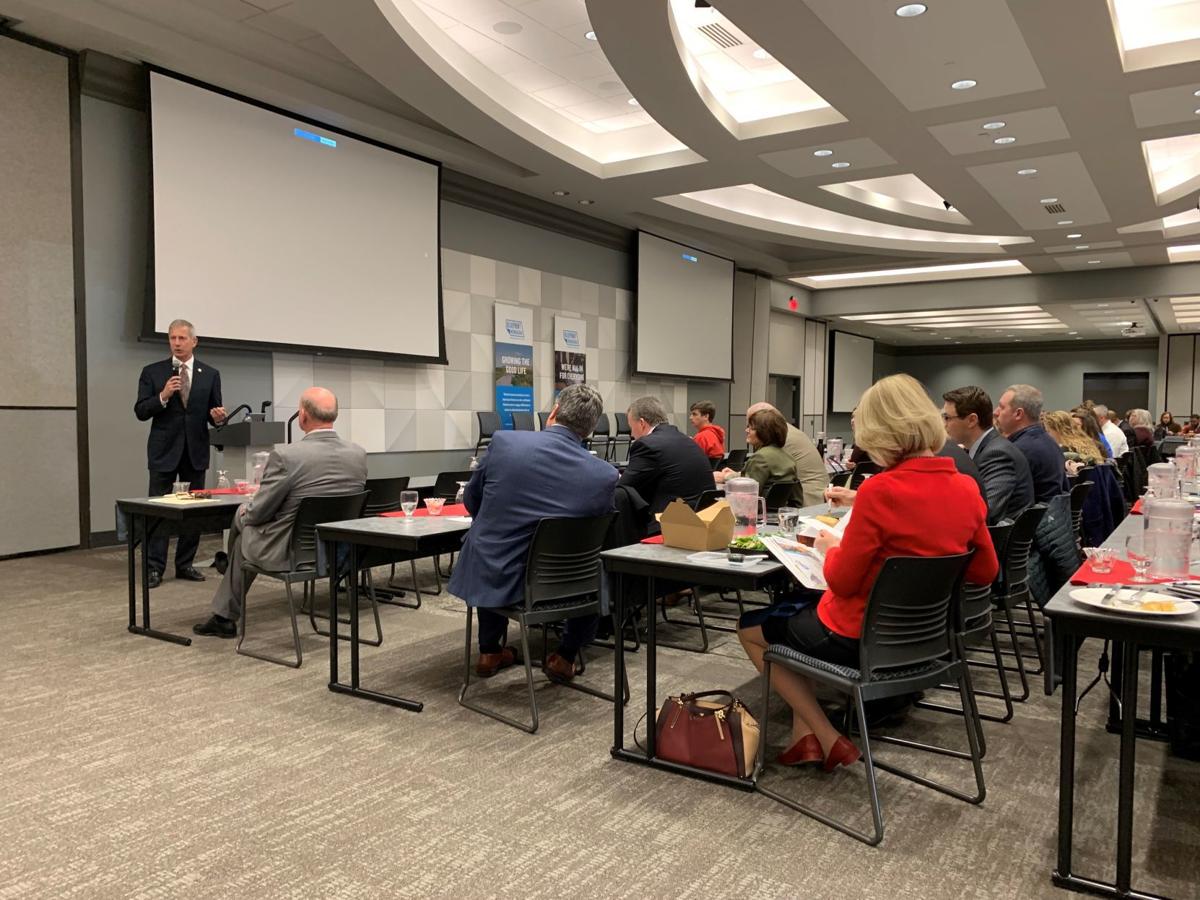 Nebraska's communities share a number of challenges, including the need to find, train and retain more workers.
The state's labor shortage is one of several common themes emerging from statewide town hall meetings organized by Blueprint Nebraska, a business-led group seeking public input for a statewide economic development plan.
Among the shared barriers to economic development: workforce development, the need for affordable housing, more and better child care and an education system that emphasizes more than the college track.
Blueprint Nebraska on Wednesday brought its road show to the state's two largest cities, Omaha and Lincoln, along with one of its fastest-growing cities, Norfolk. The group has hosted similar meetings in Gering and North Platte.
Organizers asked people to share their thoughts on what's needed using an online survey on their website, www.blueprint-nebraska.org. Here's a snapshot of issues and opportunities heard Wednesday:
Workforce development
Much of the discussion from business and civic leaders focused on the region's low unemployment and its difficulty in finding and competing for workers.
The president of the Greater Omaha Chamber of Commerce, David Brown, said his organization is working to address the mismatch between the people available and job skills needed.
"We're trying to get our arms around this talent challenge," Brown said. "There literally aren't enough bodies to do the work that needs done."
Among the solutions employers might have to be willing to consider, he said, is paying people more to compete with other nearby places.
He agreed with panelists that cities and towns need to be competitive on many fronts, with career opportunities and making sure communities offer the amenities and services that employees and their families want.
Education
Consistent funding for career education is one challenge teachers from across Nebraska have brought up at Blueprint Nebraska meetings.
In Omaha, Dawn Nizzi, who heads Westside's Center for Advanced Professional Studies, said her grant from the federal Department of Labor runs out in June and she's had a hard time finding replacement funds.
Former Westside Superintendent Ken Bird, who is leading a committee for Blueprint Nebraska on education and training, acknowledged the need for funding and said educators and businesses are going to have to get creative.
It could require reprioritizing how school districts spend limited funds, he said. Another option worth considering, said Union Pacific President and Chief Executive Lance Fritz, is public-private partnerships. But, Fritz said, to get those private funds, companies might require that school districts better cooperate across district boundaries.
Schools at the K-12 and higher education levels are experimenting with new approaches, said Mary Hawkins, president of Bellevue University.
The role of higher educational institutions in this environment, she said, is to help students choose majors that fit their interests and the jobs available.
Transportation
One of the meeting's most interesting exchanges concerned the need for modern transportation as a lure for top talent seeking an urban experience at a more affordable price than on the coasts.
Bart Bonn of Omaha said the city and its environs are in a great position now because of emerging technologies. He said Omaha can do what other places had to do with subways and more expensive mass transit for much less.
Omaha Mayor Jean Stothert, a panel participant, agreed, saying the city and its private development partners have been discussing options including light rail, rapid-transit buses, driverless vehicles and more.
"Not just a streetcar," she said, eliciting laughs. "It's not one thing or another. It's not bus rapid transit or fill your potholes. It's all of it."
Affordable housing
Earl Redrick, the field director for Nebraska for the U.S. Department of Housing and Urban Development, asked the question in Omaha that was asked in Lincoln and across the state. What about affordable housing?
Stothert and other panelists, including Blueprint Nebraska executive director and former Papillion State Sen. Jim Smith, said they are working on the issue, which might require more incentives to encourage more developers to build affordable housing units.
In Omaha, Stothert said, only a handful of developers build affordable housing units. In some places across the state, that number is zero.
Policy discussions will probably hinge on which type of affordable housing should be pursued and at what cost, Stothert said. But it is vital to economic development efforts statewide, Smith said.
Making manufacturing, agriculture more attractive
Getting kids interested in careers in modern manufacturing or agribusiness is hard, said James Timmerman, an executive at Nebraska Beef, an Omaha-based beef processor, and Kyle Nixon, general manager of the Novozymes in Blair, a plant that produces enzymes for use in ethanol plants and more.
"We need to encourage more young people to become involved," Timmerman said.
Investment incentives
Another area where attendees said the state could do more was incentives for investing in business startups, sometimes called angel investing.
Tech entrepreneur Andy Curran, a University of Nebraska-Lincoln graduate who ended up in Columbus, Ohio, said he gets more help in Ohio.
Columbus has a great angel investment group that has helped him get easy access to capital and advice and great support from Ohio State University, he said.
He'd like to see the state do more to benefit angel investors and to help nurture more technology startups into successful businesses.
"We need a more fostering environment for entrepreneurs as a whole (in Nebraska)," he said.
Sustainability
A number of crowd comments and questions centered on environmental sustainability. A pair of younger crowd members asked what members of the panel were doing to address concerns about their industries.
Fritz and Nixon said their businesses, Union Pacific and Novozymes, respectively, treat sustainability as a business practice. They said they try to find ways to deal with industrial waste as a matter of economic concern.
The business news you need
With a weekly newsletter looking back at local history.