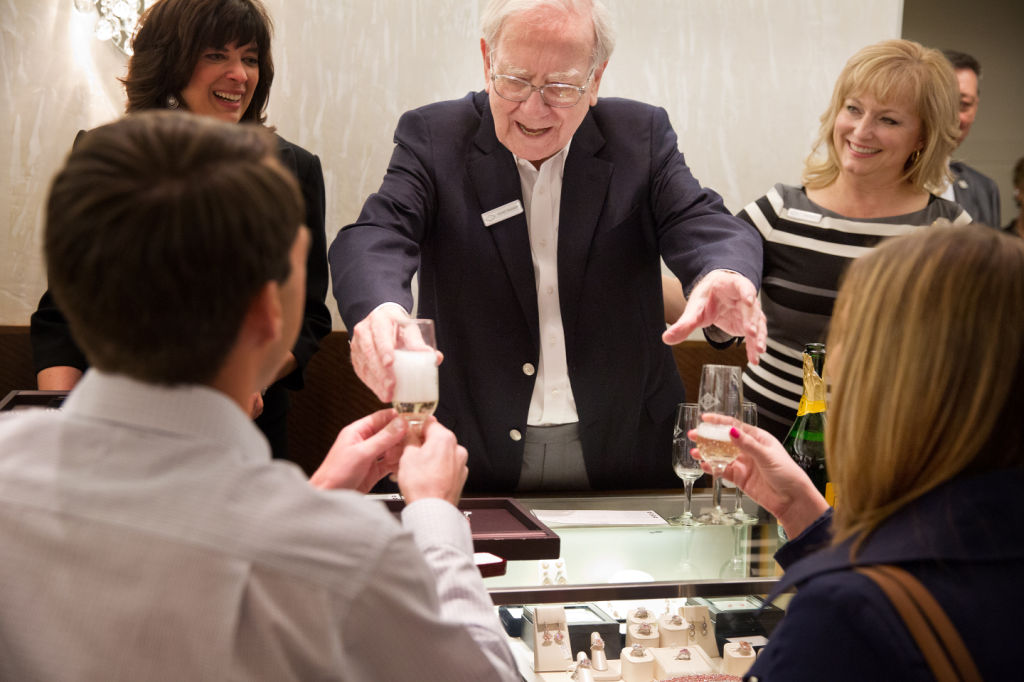 Eric LeFante kept his secret quiet for two months.
There was an email to Warren Buffett's office and then a flurry of phone calls back and forth to the staff at Borsheims Fine Jewelry. There was even a decoy necklace to ensure that LeFante's plan remained a secret until the very last moment.
Sunday, the 27-year-old Berkshire Hathaway Inc. shareholder and his girlfriend of six years, Carrie Fischer, 26, both from New Jersey, were first in line to buy jewelry from Buffett, who steps behind the counter at the store as part of annual shareholders meeting weekend events.
Hundreds of shareholders were on hand Sunday at the Regency Court shopping center to enjoy a free brunch, music and a shareholder-only shopping day at Borsheims, the Berkshire-owned jewelry retailer.
It was the fourth straight year that Buffett acted as a sales clerk at Borsheims for nearly two hours. Also again this year, he and Microsoft co-founder and Berkshire board member Bill Gates played pingpong with Ariel Hsing, U.S. North American Table Tennis Champion and 2012 London Olympics USA team member.
It was LeFante's first visit to the Berkshire Hathaway shareholders meeting and to Borsheims.
He picked out a necklace for Fischer and told her they had gotten lucky and would be at the head of the line. When the pair reached Buffett, stationed in the store's "Luxury Salon," the Oracle of Omaha pulled the planned switch-a-roo.
"He told Carrie, 'I have something a little more special than this necklace for you,' " LeFante said. The something special was a diamond engagement ring. And in front of Buffett and the crowd, LeFante got down on one knee and proposed to Fischer.
"I had no idea that was going to happen," Fischer said, smiling. "I'm still really shocked. I can't believe how sneaky he was."
Borsheims even supplied some bubbly, a bottle of Saint-Hilaire 2010 Blanquette de Limoux.
And, of course, Fischer said yes.
It was the first time anyone had bought an engagement ring from Buffett and proposed on the spot, a Borsheims spokeswoman said.
It wasn't the only sale closed Sunday. Buffett sold diamonds, watches and jewelry to nearly 50 shareholders, Borsheims said.
How much did he sell? Well, that's a secret. "He always wants to beat last year's numbers," said Adrienne Fay, Borsheims' director of marketing.
Omaha shareholder Don Salleng "was driving by, on my way home" when he decided to drop in, joining shareholders from Spain to Singapore at the Sunday event that started with the 9 a.m. brunch.
The headliner, of course, was Buffett. But he didn't make an appearance until about 1 p.m.
In the meantime, it was up to some of the opening acts, including magician Norman Beck, to warm up the crowd. Beck, seated at a card table in front of the shopping center's fountain, kept shareholders in a state of awe and disbelief as he made coins, balls and playing cards appear and disappear.
Chess grandmaster Patrick Wolff played challengers blindfolded and bridge champions Bob Hamman and Sharon Osberg took on all comers.
The shareholders filled the center. During brunch, tables filled the shopping center's hallways. When Buffett entered the area set up as a pingpong arena, onlookers filled the stands and stood six deep in hopes of catching a glimpse of him or snapping a photo with cameras and smartphones held high overhead.
The weekend was a first for John and Lydia Hungate of Seattle, who were enjoying a late brunch on a grassy hill outside Borsheims.
"We've had stock for quite a few years, and decided this year to visit," John Hungate said. "We've traveled all over the world, Australia, the Galapagos … but when we told our friends we were going to Omaha, their jaws dropped.
Joe Goodsell of Auburn, New York, arrived at 9 a.m. "This is my first year here," said Goodsell, who spent the day mingling and chatting with other shareholders. "Everyone is so friendly."
Then, on a more serious note, he added, "I bought stock in 2006, and it's doubled. That's my retirement. I appreciate what Warren Buffett has done for me and my family."
The Omaha World-Herald Co. is owned by 
Berkshire Hathaway Inc.