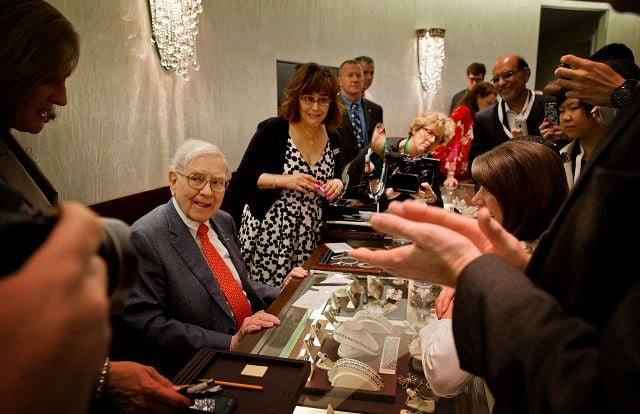 Click here to see a video of Warren Buffett and Bill Gates playing ping-pong.
For the third year, Warren Buffett stepped behind the counter Sunday at Borsheims, the Berkshire Hathaway-owned store, and sold jewelry.
He works only one day a year for a few hours at the upscale store, but Berkshire CEO and Chairman Buffett "brings an enthusiasm to the job that can't be matched," said Adrienne Fay, Borsheims' director of marketing and advertising.
Last year he sold $1.5 million worth of jewelry in 90 minutes. This year, the Oracle of Omaha set an even higher goal for himself — $2 million in the same time frame.
With Saturday's annual meeting behind them, Berkshire Hathaway shareholders flocked to Omaha's Regency Court shopping center Sunday to enjoy a free brunch, watch 2012 U.S. Olympic table tennis member Ariel Hsing beat two of the richest men in the world at pingpong and, if so inclined, take part in Borsheims shopping that promised big discounts for shareholders and a chance to buy that diamond ring or gold and pearl necklace from none other than Buffett himself.
Brunch was served in the mall, which was closed to the public, as well as under the enormous white tent pitched in front of Borsheims' main entrance. By 9:30 a.m., hundreds of people were already seated inside the heated tent noshing on roast beef, rolls, quiche and fruit. Inside, hundreds filled the mall.
"We came here for the free food," said shareholder Ed Sternad, 84, of Omaha, who opted to dine inside at one of the stand-up tables.
While Sunday's spotlight was on Borsheims, its retail neighbors also benefited from the crowds.
"It's always a nice bonus," said Tilly Chapman, owner of Tilly's, a women's apparel store that has been at Regency for 22 years. "It picks up some of the slow months from January to March." Customers from all over the world "come back year after year," she added.
A carnival-like atmosphere enveloped the event. The crowd grew bigger and the noise level rose as the clock approached 1 p.m. That was the hour when Buffett was expected to be "in the house" and ready to play table tennis with Hsing. Bleachers ringed the table, which was set up in the mall's courtyard.
Two roars went up when Buffett and pal Bill Gates entered the arena.
THE ORACLE & OMAHA
The World-Herald is proud to announce its latest book, "The Oracle & Omaha: How Warren Buffett and his hometown shaped each other." Learn more and order here for $29.95.
"We're rooting for Warren," of course, said Greg Koobatian of Madison, Conn., who sat on the bleachers with his 14-year-old son, John, waiting for the match to begin. Last week, father and son had visited Borsheims and picked out an opal ring for mom.
When they learned Sunday that they could have asked to buy it from Buffett, John tugged at his father and said, "Oh, Dad, let's go back and buy the matching earrings. We can buy them from Mr. Buffett."
After the table tennis match, a still-energetic Buffett went off to play a little bridge, giving the staff at Borsheims just enough time to rope off the Luxury Salon inside the store and draw up the list of customers who would be allowed to have Buffett close the sale.
Adam Wright of Pittsburgh waited his turn behind the red velvet ropes. Wright, 28, had picked out a one-carat "nearly colorless" diamond ring to give to Laura Henson, 30.
"She doesn't know yet," Wright said. "I haven't proposed yet."
Susan Jacques, chief executive of Borsheims, and her sales staff were ready with information to give Buffett about the customers — what each planned to buy and the story behind the purchase, whether an engagement ring, an anniversary gift or a little something for themselves.
Saleswoman Monica Eby was urging her two customers who would be buying from Buffett to ask for the "Crazy Warren" price.
Does he ever give too much of a discount?
"No," said Fay, "but I have seen him make Susan (Jacques) cringe."
Patricia Perell of Minneapolis was one of Buffett's first customers. Not only did she ask for a discount, she asked Buffett to put the gold necklace on her, then quizzed him on how it looked.
When she got the Buffett OK — and the discount — she bought the necklace and a pair of earrings.
Buffett went from one customer to another — 10 in one 15-minute period, nearly three dozen in all — chatting and smiling with each, posing for photos after the sale and, in many cases, giving shareholders the much-prized "Crazy Warren" discount.
Jacques looked on approvingly. Buffett was a hit with the shareholders on Sunday — making it very likely that he'll be recruited again next year.
"Take a look at his badge," Jacques said. "We had it made especially for him. It says 'Crazy Warren.' "
The Omaha World-Herald is owned by Berkshire Hathaway Inc.