There's no room at this Omaha inn — well, no hotel room anyway.
Travelers who try to check in at 7010 Hascall St. are finding that the Suburban Extended Stay Hotel no longer exists.
Instead, the same sprawling collection of low-rise buildings off the busy 72nd Street corridor north of Interstate 80 has turned into 108 rental apartments, all with kitchen areas and many with beds, couches and other trappings of the old hotel.
The repurposed property, now called Aksarben View apartments, represents a creative response to a couple of local real estate challenges. For one, it offers relatively affordable rents in a popular central Omaha area where a lot of higher-priced housing has popped up. It also addresses the question: What to do with obsolete hotel structures pushed aside by the mounting number of newer versions entering the market?
"There is a huge opportunity in converting some of these older hotels," says Ben Katt, part of the new ownership that turned the property into apartments. "I think you'll see it happening more and more frequently."
Consider this backdrop: Katt and business partner Max Honaker of Collective Development were on the hunt for residential projects in hot urban areas. They figure that land and construction expenses to erect the same number of brand new rental units in that neighborhood would cost them more than twice what they paid for the 30-year-old Suburban.
Meanwhile, hotelier Dan Marak was at a crossroads with the nearly 3-acre Suburban hotel campus he had bought five years earlier. He faced a hefty price tag to elevate the campus to a standard that could compete with high-tech, modern hotels.
"It would have needed major upgrades," Marak said, adding that today's consumers are less interested in two-story, cluster-style hotels where they have to step outside to get to a swimming pool, clubhouse or breakfast bar. "These old hotels aren't going to work."
What did work, say the buyer and seller, was a jump on the apartment bandwagon that has found success elsewhere in the Aksarben area. Built in 1989 for hotel guests staying for extended periods, the Suburban property came with individual kitchen areas and space fairly easily converted to one- and two-bedroom apartments, Honaker said.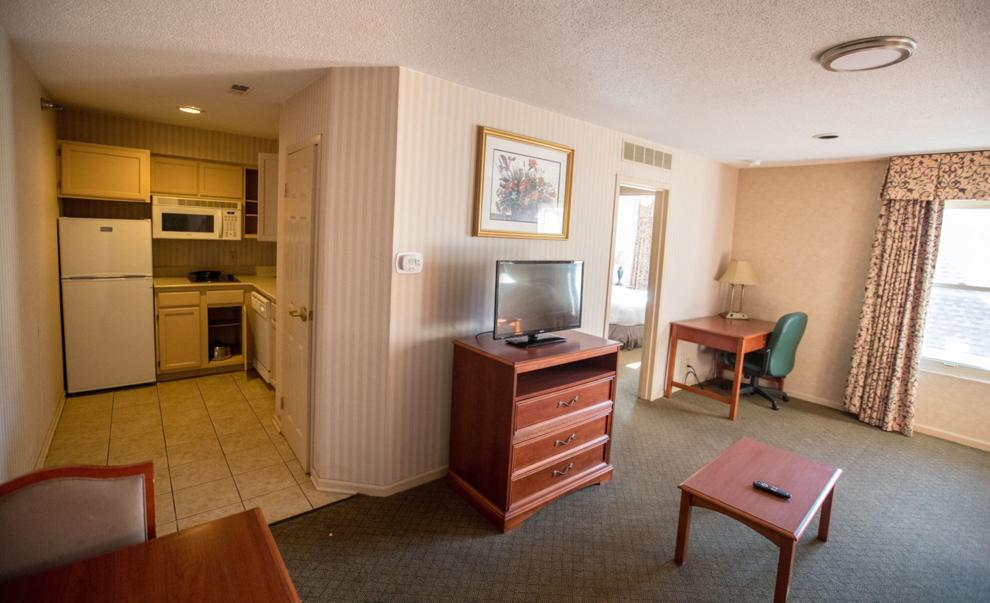 Collective Development partners said they paid $4.4 million for the hotel and furnishings. They describe their rent structure as more affordable market rates between $600 and $900, and said they don't accept government-subsidized vouchers.
Of value to some residents is that in addition to kitchen appliances, about a third of the units also come with leftover furnishings from the former hotel (beds, couches, TVs, coffee makers) that make them move-in ready.
Though the hotel-turned-apartment concept is not new — the same developer did a similar conversion, for example, in Plattsmouth — industry officials say it's much less common than the more typical demolition fate awaiting washed-up hotels.
Take the old Baymont Inn across the street from the Aksarben View. It recently was torn down, and a still-unannounced project is expected to rise on that ground.
Farther west, the Regency Lodge is being demolished to make way for a mixed-use office campus that envisions a multilevel hotel. That former sprawling hotel was once a hot spot for conferences and hotel guests. Marak, who owned it before selling to Access Commercial, said it had outlived its usefulness.
"In the '80s you could build things much differently than the brands like to see today," said Marak of MH Hospitality. "They don't like two-story hotels. And the technology piece today is so much different."
Sign up for our Money headlines newsletter
Get the latest development, jobs and retail news, delivered straight to your inbox every day.
Steve Hilton, president of the local Metropolitan Hospitality Association, says older hotels that lose their competitiveness by not investing in improvements often are more valuable to developers for their land, where fresh projects can then sprout.
Gaining popularity locally, he noted, is a different sort of conversion — that is, historic office buildings turning into hip hotels.
Take the high-end Peregrine Hotel soon to open in the shell of the historic Saunders Kennedy building, or the Hotel Indigo expected to open in the historic Logan Building. Both are in downtown Omaha.
Such conversions will contribute to what Hilton describes as an overbuilt Omaha hotel industry.
"Miraculously," he said, Omaha has maintained its occupancy rate by continuing to host high-profile national events. But the health of the local hotel industry, Hilton said, depends on boosting demand further. He said a push is in the works to boost local tourism by building more area sports complexes.
He and others say the Aksarben View conversion had location in its favor. New owners say the property is more than half-occupied since opening in September, and they're counting on affordable rents to help fill up.
"Younger people are trying to pay down student debts," Katt said. Other residents include traveling electricians working at area construction sites, he said.
While Aksarben View has an outdoor pool, other frills are scarce. Renovation and cosmetic work continues; old hotel carpeting remains in hallways.
New ownership is pondering what to do with the 6,000-square-foot lobby area.
Systems unnecessary to a hotel but vital to apartment living, such as individual mailboxes and key fobs, had to be installed.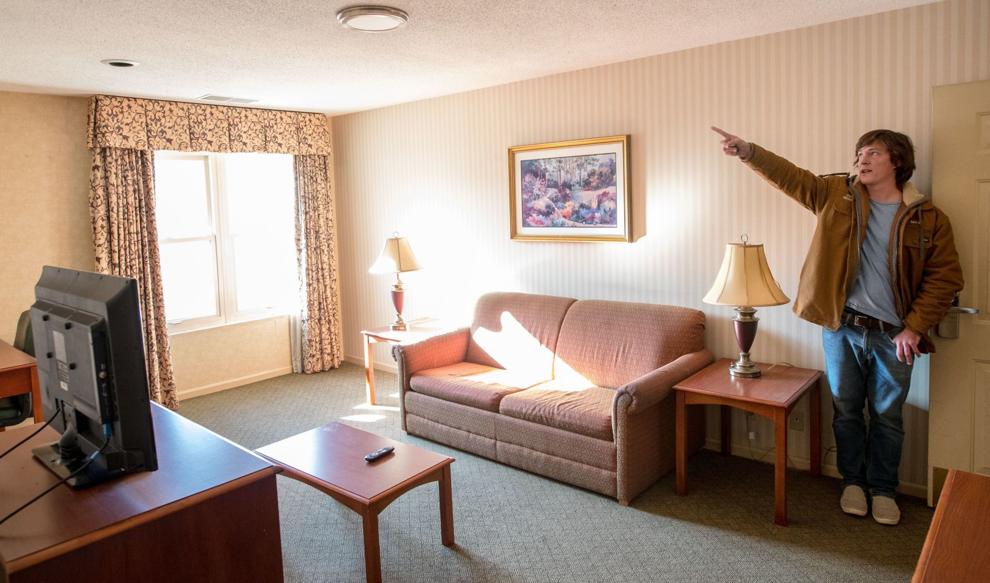 Omaha native Maureen Thomsen was among the first to move in. She was familiar with the site because she used to take her son to Coco Key water resort across the street. She is impressed with the neighborhood.
"We're within walking distance of the Baxter Arena and Aksarben Village," Thomsen said, "and so close to the Interstate."
Former hotel guests inquiring about a hotel stay have dwindled as word has spread of the changes, Honaker said. The new Aksarben View signs should arrive soon.
Katt said his company hopes to tackle more similar conversion projects.
"We think everyone wins," he said. "This is cost-effective living."
Changing Omaha: More than 50 stories of local development projects in the works
An ongoing list of some our development stories from 2018-20, with the most-recent stories at the top.