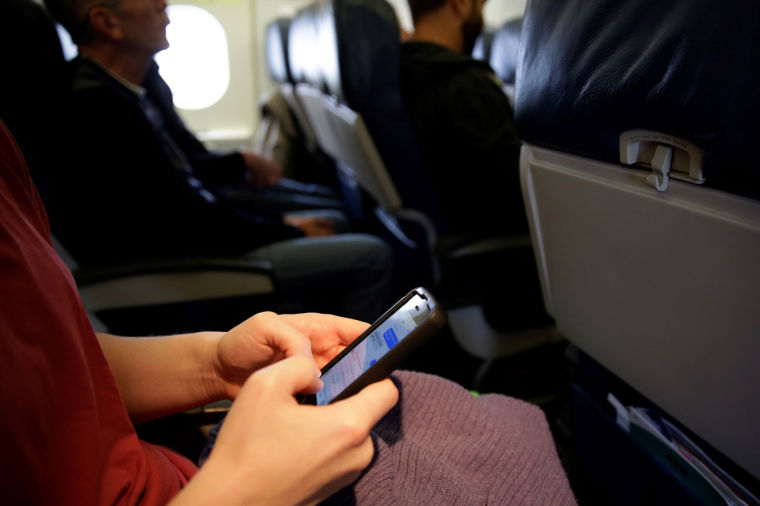 WASHINGTON — A change in rules to permit the use of cellphones and other wireless-data devices during airline flights, if approved, would be certain to delight some passengers but frustrate many others.
The change, which was placed on the agenda for the Federal Communications Commission's Dec. 12 meeting, would still be months away, requiring a public comment period of weeks and a final draft of the rules. But it would constitute a major shift for airline passengers.
The use of cellphones during flights has been vigorously opposed by many passengers and by flight attendants, although some airlines in Asia and Europe already offer cell service. In the United States, the flight attendants union immediately urged the FCC not to proceed with the proposal.
An FCC official said U.S. airlines would be given the option of outfitting their planes with equipment that would allow the use of cellphones once a plane climbed above 10,000 feet, but the airlines would not be required to provide the service.
FCC Chairman Tom Wheeler said the rules, if adopted, would "expand consumer access and choice for in-flight mobile broadband," meaning the commission thinks both Wi-Fi and wireless cellphone data plans could be used.
A swift negative reaction came from the Association of Flight Attendants, a union representing airline workers.
"Flight attendants, as first responders and the last line of defense in our nation's aviation system, understand the importance of maintaining a calm cabin environment," the union said in a statement. "Any situation that is loud, divisive and possibly disruptive is not only unwelcome but also unsafe."
The union said surveys conducted over many years found that "a vast majority of the traveling public wants to keep the ban on voice calls in the aircraft cabin."
"In far too many operational scenarios, passengers making phone calls could extend beyond a mere nuisance, creating negative effects on aviation safety and security that are great and far too risky," the union said.
Several airlines already provide in-flight Wi-Fi service, enabling passengers to use the Internet, email and text messaging. The FCC measure would allow voice calls through the use of what is called a picocell, a small base station that would be installed on a plane, collect all cellphone activity during the flight and send it down to the ground.
Airlines in the United States already have the technical ability to allow in-flight phone calls using voice connections over Wi-Fi networks, but so far none have done so.
It is all but certain that vast waves of airline passengers in the United States will tell the FCC their feelings about the proposal. Last month, the Federal Aviation Administration changed the rules to permit airlines to allow the use of electronics during takeoff and landing, and passengers generally rejoiced at the ability to be able to read an e-book or play a game on their tablet or smartphone.
But sitting next to someone who is chatting away for hours could quickly outweigh the common complaint of sitting next to a crying baby for the duration of a flight.
"I don't want to have to sit next to someone who is talking on their phone the entire flight," said Greg Pritikin, a screenwriter who lives in Los Angeles. "That would be a nightmare."
On Twitter, people also complained about the potential new rule.
"Really bummed to hear that news," wrote Randi Zuckerberg, author of the book "Dot Complicated" (and sister of Mark Zuckerberg of Facebook). "Airplanes were the last socially acceptable place to require people to unplug."
American and United Airlines said they would wait for an FCC decision and then study the issue. Delta Air Lines was much more firm, saying passenger feedback for years has shown "overwhelming" support for a ban.
JetBlue and Southwest Airlines also noted a desire for silence, but added that tastes and desires change.
"If everyone starts doing it and it becomes culturally acceptable, we'd have to consider it," said Southwest Airlines spokesman Brad Hawkins. "But no one thinks it's a good idea."
The FCC proposal would permit calls and data connections, which would allow people to surf the web on their smartphones and other devices. Airlines and a number of companies, including Gogo, have spent millions of dollars outfitting planes with Wi-Fi connections, and that business could suffer with the allowance of cellphone traffic.
But Steve Nolan, a spokesman for Gogo, said the company's business would not be affected by the change. It already has the ability to provide in-flight phone service through its Wi-Fi connections, he said, but the commercial airlines have not permitted it so far. Gogo provides the service on some private jets.
If the FCC goes ahead with its plan Dec. 12, it will solicit public suggestions on the proposed rule.
After reviewing the comments, the commissioners will decide whether to approve the regulations, either as proposed or with revisions.
This report includes material from the Associated Press.