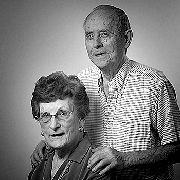 Ken and Edna Thomsen
70 Years
Ken and Edna Thomsen of Bellevue celebrated their 70th wedding anniversary on June 11th, 2020. Ken and Edna met in 1948 in Omaha and their first date was to Edna's senior prom. Ken and Edna were married at the original Mosher Pilgrim Presbyterian. Edna and Ken are proud parents of Larry (Sharon), John (Jean), Bruce (Amy), and Doug (Shannon). Ken and Edna have gone on many travels but the one with the most stories is to Canada where they enjoyed camping, fishing, and sight-seeing for 10 days. Ken retired from Omaha Print as a pressman. Edna retired from Bryan High School as a secretary where her amazing memory for faces and places was very endearing to the students. They enjoy their 11 grandchildren: James, Jeffrey, Lindsay, Sara, Clarisse, Jared, Erica, Samantha, Aubrey, Amelia; 6 great-grandchildren, (plus 1 more great-grandchild on the way) as often as they get the chance! They welcome cards in lieu of the rambunctious party they were going to throw.
Be the first to know
Get local news delivered to your inbox!