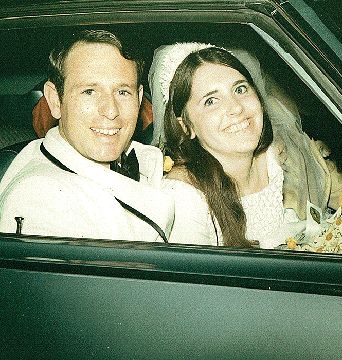 Kathy and Hal Edrington
50 Years
Hal and Kathy (Goecker) Edrington will celebrate 50 years of marriage on July 3rd. Their children are requesting a card shower in honor of 50 trips around the sun together.They met at Bill Bailey's Banjo Bar in Benson. Hal was stationed at Offutt and employed at Bill Bailey's as a singing waiter. He has since retired. Bill Bailey's had a reputation for peanut shells everywhere, little pink sing along songbooks for the patrons, and somewhat raucous conduct.
After marrying at Grace Presbyterian Church in Council Bluffs, the couple spent some of the early 1970s care-free and child-free in Sacramento, CA. Hal is originally from nearby Salinas. Their 1980s and 1990s were spent raising two children in Council Bluffs, which is Kathy's home town. They finally settled in Omaha, in order to be closer to the Costco. For nearly twenty of their fifty years together, they have been kept company by Molly the dog, a bichon frise, whose youthful rule subversion earned her the loving nickname "juvenile delinquent". Speaking of juvenile delinquents, Hal and Kathy also have two children: Sarah and Michael. The elder, Sarah, studied computer science, and subsequently found work designing software for Union Pacific, which she finds gainful and rewarding. The other one works at the post office. Plans for an open house were scrapped for obvious reasons, however, cards of congratulations will reach them at 5714 N. 159th St. Omaha, NE 68116. Congratulations, Mom and Dad! We love you!
Be the first to know
Get local news delivered to your inbox!