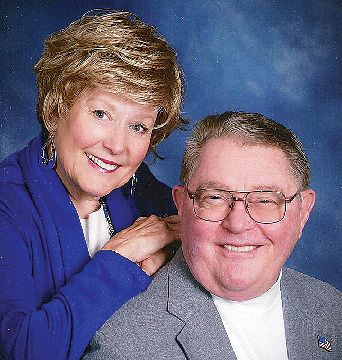 Max and Carol Moore
60 Years
Air Force 1st Lt. Max R. Moore and Carol Ree' Lowry were wed on June 18, 1960 at the Fremont Presbyterian Church in Sacramento, CA. Due to the current insanity, no travel or party is planned. They will delay their celebration until better days in the future. For now, they will welcome good wishes from family and friends. The couple's family are daughter, Vicki Ree' Patten, husband Richard, of Scottsbluff, NE; their son, Walker of Denver, and daughter, Madison Ree' of Lincoln, NE; and their son Patrick Moore, wife Michelle, children, Ethan, currently a senior at Cal Poly, San Louis Obispo, CA, and Caroline, a rece
nt high school graduate, all of Erie, CO. Vicki and Pat graduated from Bellevue West. All four Pattens are UN-L graduates. Pat from University of Maryland (long story there), and Michelle, UCLA. After assignments in Topeka, KS, Japan, and Okinawa, the Moores arrived in Bellevue in September 1969 where they have resided for more than 50 years. Graduating from Ball State in Muncie, IN, with an Air Force ROTC commission, Max served nearly 28 years in the US Air Force, retiring a lieutenant colonel in October 1985. He then worked for Science Applications International Corp. for ten years retiring again in April 1996. Carol has been and is the consummate wife, homemaker, mother and grandmother. She has never retired. Over the years she has volunteered for many organizations including PTA, American Red Cross, Salvation Army, Girl and Boy Scouts. She has been active in Officers Wives Clubs, PEO Sisterhood, and First Presbyterian Church of Bellevue. Max is a life member of the 55th Wing Association, serving on the Board of Directors and newsletter editor; also a life member of the Military Officers Assn of America, Distinguished Flying Cross Society, and Veterans of Foreign Wars. He belongs to the Air Force Association and Order of Daedalians.
Be the first to know
Get local news delivered to your inbox!