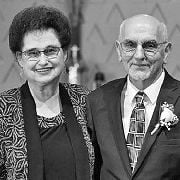 Eugene and Patricia Koza
60 Years
The family of Eugene and Patricia Koza of Silver Creek, NE, is requesting a card shower in honor of the couple's 60th Wedding Anniversary on Thursday, May 28, 2020. They were married in SS Peter & Paul Catholic Church (Krakow, NE) on May 28, 1960. Please help us celebrate their long lasting love and marriage with a card. Feel free to include a story, great memory or anything else that you can think of that will bring a smile to their faces.
Thank you, from all of us, for all the years of love and friendship you have given to our parents! Their family includes Barbara Holland (Denver, CO), Jim and Therese Scherer (Clarks, NE), Gerald Koza (Omaha, NE), Ray and Lisa Koza (Omaha, NE); 12 grandchildren and 3 great grandchildren.
Cards of congratulations will reach them at 609 Vine Street, Silver Creek, NE 68663.
Be the first to know
Get local news delivered to your inbox!