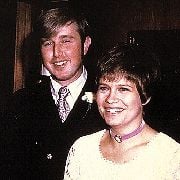 Daniel and Linda McGlynn
50 Years
Daniel and Linda (Thorpe) McGlynn were married June 27, 1970 at Trinity Lutheran Church in Sioux City, Iowa. They have two children, Brian McGlynn (Omaha) and Kelly (McGlynn) Notarfrancesco (Fort Collins, CO); and four grandchildren. After their wedding, Dan and Linda moved to Southern California where Dan pursued his dream of becoming a professional drummer, while Linda taught elementary school. They returned to Omaha in 1977, where they've lived ever since, enjoying life with their cherished family and wonderful friends. Their biggest joys now come from playing and giggling with their precious grandchildren. Dan and Linda's family adore them and wish them a Happy 50th Anniversary!
Be the first to know
Get local news delivered to your inbox!