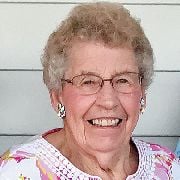 Elsie Vetter
90 Years
On May 25th, 1930, the Saathoff family of Loretto, NE (and the world) were blessed by the arrival of a beautiful soul, Elsie Mary. Please help us celebrate our remarkable and much-loved mother, grandmother and great-grandmother, Elsie Vetter, with a 90th birthday card party. Please send cards to Elsie Vetter, 246 E 12th Street, Wahoo NE 68066.
We love you Mom, grandma and are so grateful for the life lessons taught us and your generous and loving heart.
Happy 90th from all of us!!!
Be the first to know
Get local news delivered to your inbox!