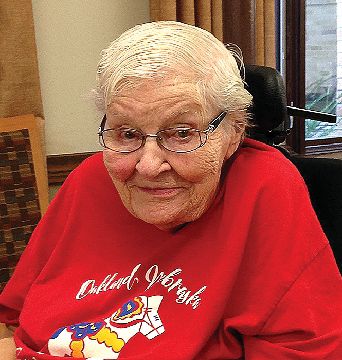 Roberta (Mrs. Richard) Carman
100 Years
Roberta celebrates her 100th birthday May 20 and is alert, active, and enjoys good health.
She married Richard Carman, prominent builder and contractor in Wayne, NE. They raised three children; Michael of Omaha, Steven of Washington DC, and Dawn of Fort Collins, CO. Roberta and Richard celebrated their 70th anniversary in 2014. An alumni of Peru College, she worked at the Wayne Care Center, the Wayne Hospital, Providence Medical Center Auxiliary, and served as local chapter chair of American Cancer Society. She is renown for teaching wine-making, ceramic design, needlework, and wood sculpture. She is a life-long active member of Our Savior's Lutheran Church, Wayne. Her interests include travel, camping, horses and dressage, sharp shooting, bowling, Husker athletics, and the Wayne Carroll High School music boosters.
A festive party in her honor is postponed to a later, safer date to be announced. Greeting cards/letters graciously welcomed at her home address: Wakefield Care Center, Apt. 111, 306 Ash Street, Wakefield NE 68784.
Be the first to know
Get local news delivered to your inbox!