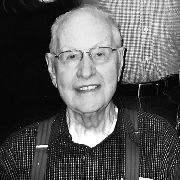 William (Bill) Harrington
100 Years
Congratulations Dad, celebrating your 100th Birthday!
William (Bill) Harrington will celebrate his 100th birthday on February 2, 2020, with family and friends, at an open house at Papillion Manor, 610 So. Polk St. (Papillion 68046) 3:30-5:30 pm. Please join us or send a card. Bill served his country in WWII and is a retired Air Force Colonel and a long time Omaha realtor.
Be the first to know
Get local news delivered to your inbox!