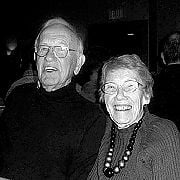 George and Helyn Ludvik
90 Years
The family of George and Helyn Ludvik invite you to join us in a Greeting Card Shower celebration of their lives this year. Due to COVID-19, we are not able to celebrate these special dates with in-person celebrations. The Special Dates to remember include:
• June 2, 2020 - Helyn's 90th birthday
• July 26, 2020 - George's 90th birthday
• October 22, 2020 - Their 65th Wedding
Anniversary
Please consider sending a note or letter with a joyful memory, a photo, or a greeting card in honor of one or more of the aforementioned special days this year so that we can share those cards and notes with them. We know it would mean a great deal to them to hear from you. And please feel free to share this notice with anyone you think may be interested in sending them a note as well.
Joyful notes, letters, greeting cards, and photos can be sent to:
George and Helyn Ludvik
c/o The Ludvik Family
5101 North 134th Street
Omaha, NE 68164
Thank you so kindly for your consideration of this invitation,
The Family of George M. and Helyn McDermott Ludvik
Be the first to know
Get local news delivered to your inbox!