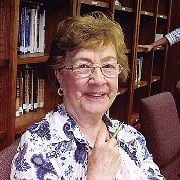 Anna Marie (Ann) Sorensen
Ann was born July 5, 1930 in Omaha, NE. The family will be celebrating with a family gathering at Lake Waconda. Ann and her huband Larry Sorensen (deceased) have 2 children Lisa Sorensen Kuhns (Chuck) and Shari Kenealy (Pat). They have 3 grandchildren Joey Raper (Beth), Scott Kenealy and Katie Willcockson (James) and 3 great-grandchildren Hudson and Harrison Raper, and Lily Willcockson. Her hobbies include reading, knitting and family events. She is a member of Lutheran Church of the Master. She is a graduate of Central High School and a former employee of Brandeis and Youngtown.
Be the first to know
Get local news delivered to your inbox!