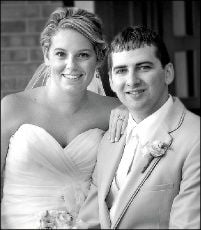 Morgan Bullington and Kirk Christenson were united in marriage at 2:30 p.m. on August 9, 2014, at St. Joseph Catholic Church in Lincoln.
The bride is the daughter of Brian and Barb Bullington of Lincoln. The groom is the son of Chris and Cheryl Christenson of Ord, Nebraska.
Grandparents of the bride are Jack and Suzanne Bullington, Marlene and Ken Ebel, and the late Paul Brockhaus. Great-grandmother of the bride is Irma Janicek.
Grandparents of the groom are John and Ruth Campbell, and Joyce and the late Dean Christenson.
The bride is a lead teacher at UNL Children's Center. The groom is a group underwriter at Ameritas Life Insurance Corp.