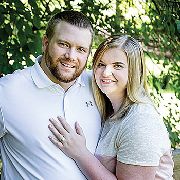 Kari Nicole McDermott and Brandon Odell Wood
Kari Nicole McDermott
and Brandon Odell
Wood are to be united in marriage on May 30, 2020, in Gresham, Neb., Pastor Andrew Utecht will officiate. The bride is the daughter of Patrick and Deborah McDermott, of Crescent, Iowa. The bridegroom is the son of Gregory and Ronda Wood, of Polk, Neb. Sister of the bride, Brianne McDermott, of Crescent, is maid of honor. Bridesmaids are Brooke Criswell, friend of the bride, of Austin, Texas, Autumn Arkel, sister of the groom, of York, Neb., and Ava McDermott, cousin of the bride,of Omaha, Neb. Friend of the groom, James Hall, of Westminster, Colo., is the best man. Groomsmen are Ethan Utecht, friend of the groom, of Columbus, Neb., Tanner Wood, brother of the groom, of Polk, and Ryan McDermott, brother of the bride, of Arlington,
Va. Kari is a 2012 graduate of Abraham Lincoln High School and a 2014 graduate of Iowa Western Community College. She is employed as a Senior GPS Representative at Mutual of Omaha. Brandon is a 2010 graduate of High Plains Community Schools and a 2015 graduate of Concordia University. He is employed as a Survey Technician at JEO Consulting Group. The couple will reside in Omaha.
Be the first to know
Get local news delivered to your inbox!