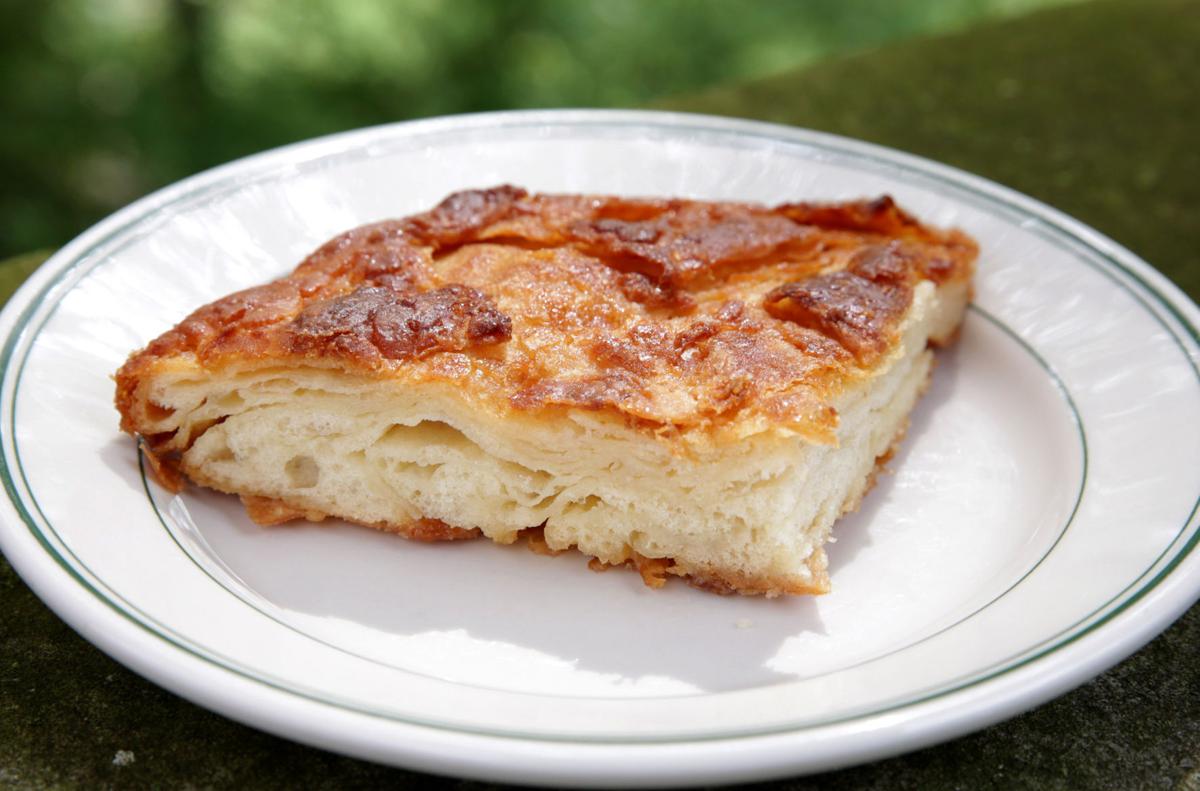 ST. LOUIS — Are kouigns amann the best pastry ever?
Rose Levy Beranbaum thinks so, and she is perhaps the most respected baking expert in America. Nathaniel Reid, who is one of the most celebrated bakers in St. Louis, is fond of them, too.
"It's one of our most requested items," said Reid, a James Beard Foundation award semifinalist in 2019 and 2020 and owner of Nathaniel Reid Bakery in Kirkwood, Missouri. "There's not anything not to like."
Indeed. Kouigns amann are flaky, buttery, sugary and a little salty — and when you heat butter and sugar together, you get caramel. In short, they're the perfect pastry.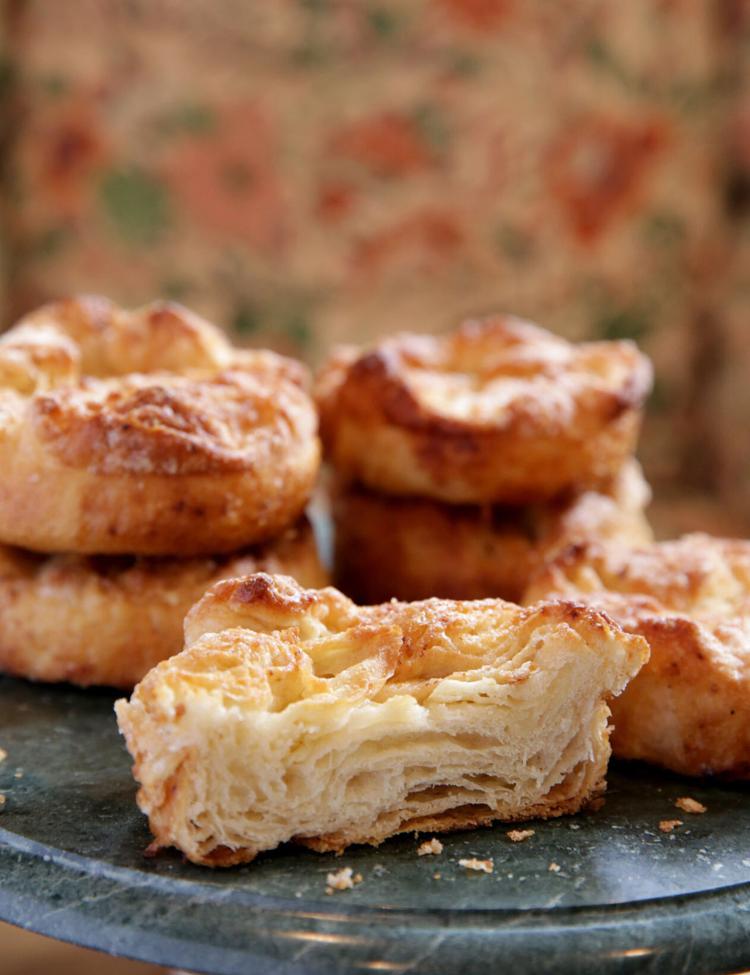 Originally from Brittany, in France, kouigns amann are made from a yeasted, laminated dough. That means they have layers and layers of thin, buttery pastry folded on top of one another. Unlike puff pastry, they have yeast; so the layers rise and take on a more complex flavor. In that respect, they are similar to croissants, Reid said, but they are sweeter.
Like croissants, they are also difficult to make at home.
I decided to try Beranbaum's version, which — let the baker beware — takes six hours to make (though much of it is spent allowing the dough to rise). But then I also decided to try an intriguing variation that can be finished in just 2½ hours, also with most of the time spent rising. Instead of individual pastries, this version makes one large laminated, buttery, bread-meets-pie pastry.
It's called Salted Caramel Flaky Pie. The name says it all. And it's easier to pronounce than kouign amann, which is variously said to be ka-WEEN-a-mahn and queen-ya-MAHN.
Either way, in the Breton language it means "butter cake."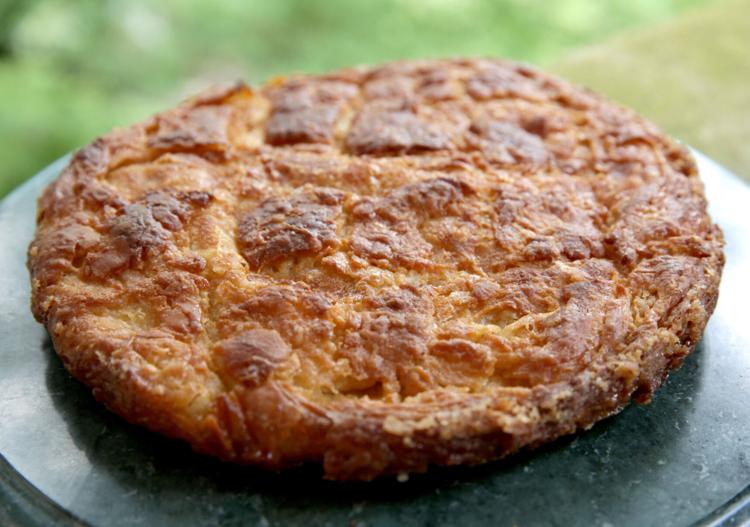 Salted Caramel Flaky Pie
½ teaspoon active dry yeast
2/3 cup (160ml) lukewarm water
12 tablespoons (1½ sticks, 170g) unsalted butter, cold
2/3 cup (130g) granulated sugar
1¾ cups (230g) all-purpose flour
1/2 teaspoon fine sea salt
1 tablespoon milk, any kind
At least 2½ hours before serving, sprinkle the yeast into the lukewarm water and let sit for 10 minutes until foamy. If it does not get foamy, the yeast is probably too old. Discard and begin again with new yeast.
2. In the meantime, grease a 10-inch cake pan (not springform) with 1 tablespoon of the butter and sprinkle with 2 tablespoons of the sugar.
3. In a large mixing bowl, combine the flour and salt. Form a well in the center and pour in the yeast mixture. Mix with a wooden spoon or dough whisk until incorporated. On a clean work surface, knead the dough for 5 minutes, until smooth and springy. Let rest for 5 minutes.
4. In the meantime, put the remaining 11 tablespoons of butter between two sheets of parchment paper and bang with your fist to flatten into a 7-inch round.
5. Flour your work surface lightly and roll out the dough to form an 8-inch round. Put the round of butter on top of the round of dough and pour the remaining 9 tablespoons of sugar over the butter. Fold the bottom third up toward the center, like a letter, and press with the tips of your fingers to seal. Fold the top third down and over, making sure the layer of dough encapsulates the butter and sugar, and press to seal. Fold both sides in to meet in the center, making sure again that the butter and sugar are trapped inside, and press to seal. Put on a plate and refrigerate for 15 minutes.
6. Flour your work surface lightly again. Roll the dough out to form a rectangle about 8 by 12 inches. Fold in three like a letter. Give the dough a quarter turn, roll it out into a rectangle about 5 by 15 inches, and fold in three again, ending with a 5-inch square. Fold the four corners of the square in to meet in the center, flip, and tuck the edges under to shape into a ball. Return to the fridge for 15 minutes.
7. Preheat oven to 400 F.
8. Flour your work surface lightly again. Roll the dough out into a 10-inch round, and transfer to the prepared pan. Brush with the milk and, using the tip of a sharp knife, score the top in a shallow crisscross pattern. Bake until golden brown, 30 to 40 minutes. Scoop some of the melted butter that pools on the sides and baste the top.
9. Let cool in the pan for 15 minutes, then lift with a spatula and transfer to a serving plate (if the caramel has already set in the pan, pop the pastry back into the oven for 5 minutes). Serve lightly warm or at room temperature. Leftovers can be reheated for 5 minutes in a 400 F oven.
Per serving: 194 calories; 14 g fat; 9 g saturated fat; 37 mg cholesterol; no protein; 13 g carbohydrate; 13 g sugar; no fiber; 3 mg sodium; 5 mg calcium
Recipe from "Tasting Paris," by Clotilde Dusoulier
Be the first to know
Get local news delivered to your inbox!