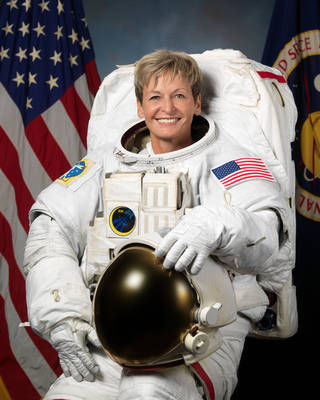 Like practically everyone else on Earth on a July night in 1969, Peggy Whitson was glued to her TV set, watching a miracle of science and man happen right before her eyes.
Like practically everyone else, she, too heard the famous words — "That's one small step for (a) man, one giant leap for mankind" — and felt the beginning of a dream for her own life.
Unlike practically everyone else, this 9-year-old Iowa farm girl went on to follow the path blazed by Neil Armstrong and Buzz Aldrin that day. She became an astronaut, too.
And not just any astronaut, if that can even be said of that esteemed class. (Out of a recent pool of 18,000, 12 were selected.)
Once she made it, Peggy, now 57, really made it and broke all kinds of records. She has commanded the International Space Station twice, the only female astronaut to do it more than once. She is the only woman to have gone on 10 space walks. She has spent more time in space — a cumulative 665 days — than any other American, woman or man.
Her last day was Sept. 3, Kazakhstan time — or Sept. 2 on her family's farm in south-central Iowa.
On Friday, she will return to her home state as guest of honor at the Celebrate Iowa Gala in Des Moines. The event raises funds for the State Historical Museum of Iowa, where a flight suit Peggy wore in space in 2002 is currently on display.
It's not as if astronauts are a regular Iowa crop. Peggy is one of seven Iowa-born astronauts in a club of 350, of whom 56 are active. Nebraska has had one astronaut, the Omaha-born Clayton Anderson, whose hometown is Ashland. He served with Peggy during a 2007-08 mission.
Did Clayton brag about past football glory? Did Peggy rub his nose in the State Fair and Butter Cow?
Peggy didn't peep about what happened 250 miles above Earth but said, "There was definitely an Iowa-Nebraska rivalry going on for sure. We had a lot of fun."
Peggy's journey from Mount Ayr, where she was born, to outer space involved a lot of education, including something formative she learned on her family farm near Beaconsfield: that you used what you had and you made things work. Her father's philosophy was that just about anything could be fixed with a pair of pliers and No. 2 baling wire.
As influential as that 1969 Apollo moon landing was, more important to Peggy's career choice was NASA's first class of female astronauts. They started in 1978, the year Peggy graduated from a class of about 68 at Mount Ayr Community High. By then, Peggy, who had saved up farm chore "chicken money," had earned her pilot's license and was flying little planes. Seeing the new female astronauts made becoming one "seem achievable."
In 1981, Peggy graduated from Iowa Wesleyan College with a degree in biology and chemistry. In 1983, Sally K. Ride became the first American woman in space (the first woman in space was a Russian 20 years prior). In 1985, Peggy got her doctorate in biochemistry from Rice University in Houston.
In 1986, the Challenger blew up. Did the explosion dissuade her?
"If anything, maybe it made it more important," she said.
It took Peggy, a biochemist, 10 years of trying to finally be accepted into the astronaut program.
"The odds were never in my favor, but I just kept trying and kept trying and kept trying," she said in an interview this week.
The challenges of space missions are so big that they can be difficult to fully appreciate. Inside the space station there is zero gravity, and as fun as that can be — and it's fun, Peggy says — you have to learn how to do everything differently. Outside the space station, the pressurized suits can make you feel weighted down. It's hard to move.
One of the most challenging events during Peggy's time in space was when the shuttle was docked to the International Space Station and the crew was deploying the second of two 239-foot solar array wings. The first one deployed with no problem. The second one tore. The ground team had to come up with a solution and astronauts had to implement it so the shuttle could undock and leave the station.
"Pretty stressful," she said. "We did what I consider some of the sportiest robotic activity."
She and another astronaut made the fix, using wire, that old farm staple.
"It was not No. 2 wire, but it was still wire," she said. "You can solve problems but the solutions don't always have to be elaborate or expensive. They (just have to) get the job done."
She said that was an example of what NASA does best: Take a hard thing and make it look easy.
Will Peggy make a fourth journey into space? At her age and given the lag years between her 2002, 2007 and 2016 missions, another journey is not very likely, she said, though she'd jump at another chance to go. During her most recent mission, which began in November 2016, she was asked to stay an extra three months and she gladly said yes.
Space is fun. She loves zero gravity. She's a gamer about doing interstellar interviews and tweeting to promote science and space exploration.
A Fourth of July snapshot from the space station shows Peggy and fellow astronaut Jack Fischer posing in loud stars-and-stripes pants. "Fashion police," she tweeted, "you have to grade us on a curve — we just love our country... a LOT!! Happy Birthday U.S.A.!"
What did Peggy crave most to eat and what was her first meal upon landing in Kazakhstan? Pizza. Ordered from an Italian place in Germany.
What's the coolest thing about space? Spacewalking.
What's her favorite space movie? "Aliens."
Does she speak Russian? Affirmative. On one of her expeditions, she was co-pilot in the Soyuz. All the procedures, ground communication and displays in the capsule were in Russian. It was "a big challenge," she said, but she handled it.
How's the view from 1 million feet? Stunning and a reminder about what we share in common: our planet.
"One thing that flying in space does for you is it gives you a change in perspective," she said. "We all have to live in the same place."
Chatting with Peggy Whitson was a reminder to look up. To wonder. To dare. To try and try and try.
Practically everyone can do that.