Red sumac bushes add splashes of fall color to the hilltop forests, riverine woodlands and native prairie of Neale Woods. But all is not well.
The once-active structure that housed a nature center at the preserve suffered from inattention and abandonment, says the executive director of Fontenelle Forest, which owns the woods.
"What broke my heart," said Merica Whitehall, who visited the grounds when hired last year, "was thinking of the significant role Neale Woods has played in so many lives in Omaha — how beautiful it is but now underutilized."
In recent years, educators haven't staffed the nature center, which no longer offers school programs. The old Millard Observatory was dismantled, and telescopes were donated to the Strategic Air Command & Aerospace Museum in Ashland.
Neale Woods, Whitehall noted, once was the site of weddings, fundraisers, an arts festival and more.
Recently, Fontenelle Forest volunteers and staffers cleaned up the old nature center — both inside and in the surrounding area — and she hopes a master-plan process underway will lead to a "rebirth" at Neale Woods.
Partly to call attention to the preserve, this month the public is invited back to the woods with a Blue Barn Theatre play, "Walk the Night: Death Marked Love."
It's based on "Romeo and Juliet," and the ghosts of the star-crossed lovers return. It runs through Oct. 29.
In the years ahead, Whitehall hopes many more people will return to Neale Woods.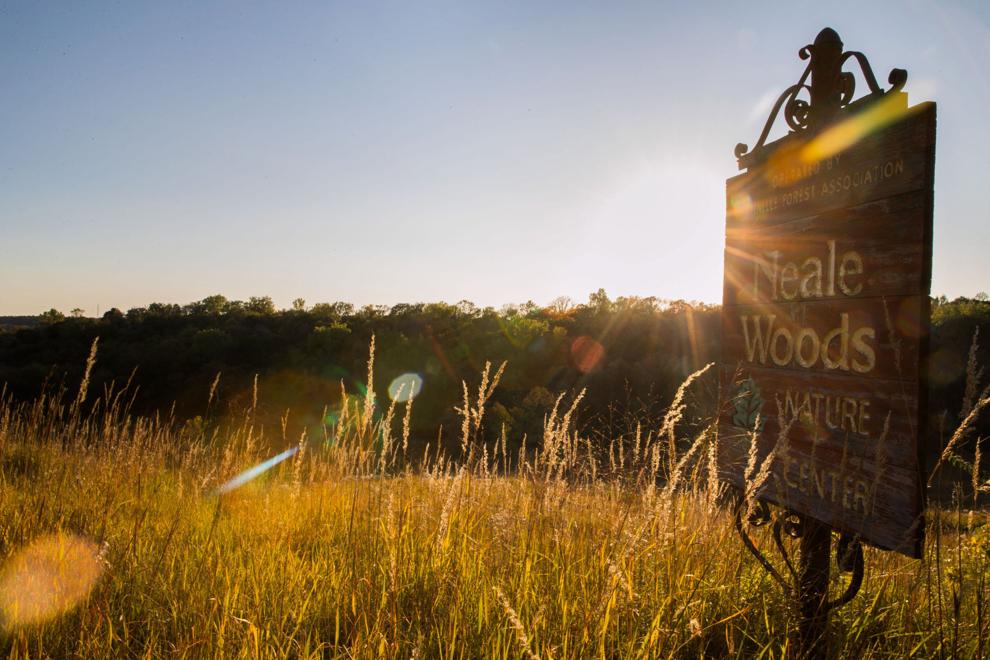 The nonprofit Fontenelle Forest and Neale Woods, 16 miles apart and both overlooking the Missouri River, more or less bracket the eastern side of Omaha.
On the south, in Bellevue, sits 1,400-acre Fontenelle Forest. Trees grew there among indigenous people long before Lewis and Clark and fur traders, but in 1913 an association was founded to preserve the forest and its trails for the public.
On the north, with an entrance a half-mile past Omaha's Hummel Park, is 600-acre Neale Woods, homesteaded long ago by the Neale family. Descendants donated the first 120 acres to the public in 1971.
Carl Jonas, whose father was a founder of Fontenelle Forest, donated more land at Neale Woods. His estate provided a bequest to purchase even more acres, and his former home became the nature center.
In 2012, plans were announced to replace the nature center by 2014 with "a state-of-the-art facility for classrooms and displays."
Fundraising was unsuccessful, and the plan stalled.
"We prioritized resources elsewhere," said Ann Christiansen, Fontenelle Forest board president. "We minimized the use of that facility and focused on others."
Among them were the $2 million-plus Raptor Woodland Refuge, which opened at Fontenelle Forest last year. But the board and staff, she said, haven't forgotten or given up on Neale Woods.
"I definitely feel Neale Woods represents a wonderful opportunity to serve the community in new ways," Christiansen said. "It's still in the planning process, and we can't say too much."
But she called Neale Woods "an incredible asset" with "amazing landscape and an amazing opportunity for people to enjoy nature."
Last spring, Whitehall learned of "Walk the Night," presented each fall since 2014 in a different Omaha location and based loosely on Shakespearean plays.
In June she invited director Spencer Williams to inspect Neale Woods, and he immediately loved it as a site for this year.
"The second we walked in," Williams said, "I saw it was exactly the kind of diamond in the rough we were looking for."
The play is "immersive theater," meaning not the usual production where you passively sit back and watch. You might not even sit, instead walking around as you follow actors.
The experience starts well before that.
If you buy tickets ($25, bluebarn.org), you are emailed a link. On your way, you can download an audio prologue with driving instructions to Neale Woods — and a mysterious voice saying you will attend an event at "a manor turned into a memorial after tragic events some 100 years ago."
Attendees are asked to wear veil-like tulle material as masks, but they aren't required. You'll be close to the action, but don't touch the characters and don't speak unless spoken to — which sometimes happens, but only if an actor senses a patron is open to it.
"It's by invitation," Williams said. "Part of our experience is direct and intimate interaction with audience members."
Williams, who grew up in Omaha and lives in Los Angeles, for the first time directs his mother, veteran actor Lucia Williams. She plays Lady Capulet.
Showtimes this weekend and next are 7 p.m. Thursday and Sunday, and 7 and 8:30 Friday and Saturday. Some parts of the play take place inside, and some outside.
Though the skyline of downtown Omaha can be seen on the south horizon, the director appreciates that Neale Woods is "separate from the city, with no noise pollution or light pollution."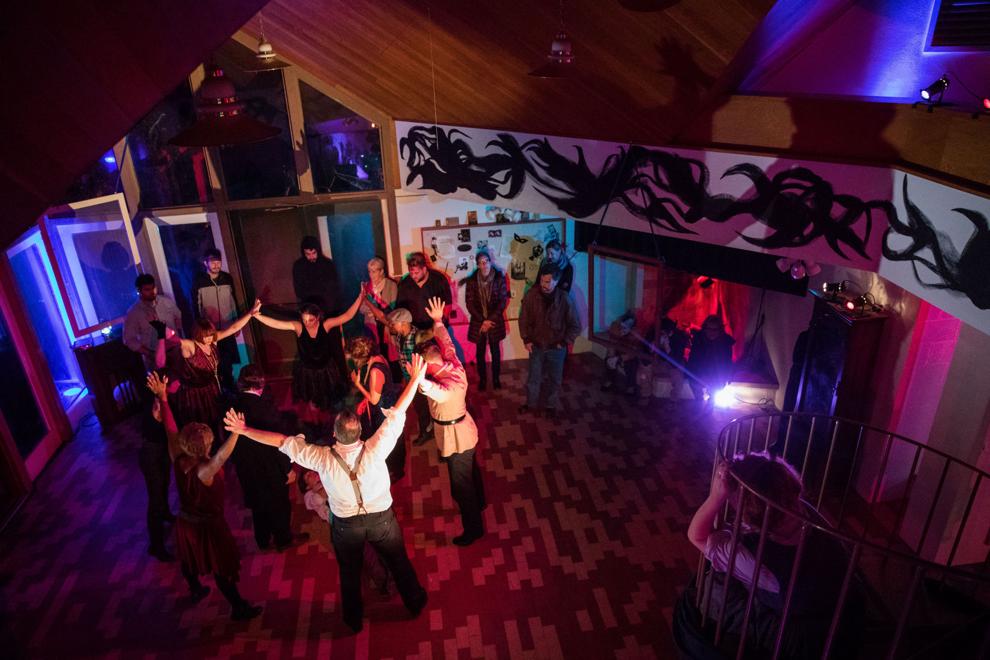 Yes, the play is immersive, but Whitehall says the magic of the partnership with the Blue Barn is that attendees also "will be immersed in the glorious prairie setting of Neale Woods."
The woods, two miles north of the Mormon Bridge, still feature 11 miles of trails. Hikers, birders and others enjoy the area.
It was discouraging at first, she said, to have to remove eight inches of dirt and overgrown vegetation from the Carl Jonas memorial site, and to see that his old home — the former nature center — had sat empty the past few years.
It's unknown what the master plan will foresee, or what it would cost. But Omaha is fortunate, she said, to have places where urban dwellers can become nature seekers.
"Neale Woods is a wonderful part of Omaha history," Whitehall said, "and I am just beside myself with happiness to see the possibility of new life for this beautiful place."