Jeff Koterba, The World-Herald's nationally syndicated editorial cartoonist, says his drawing hand is still sore and unsteady from a car crash last week in which he suffered a concussion.
His 2015 Subaru was rear-ended by a 2017 Jetta driven by a 35-year-old man, who was arrested and booked on suspicion of drunken and reckless driving.
Jeff, 57, treated at a hospital and released, said the sudden blow reminded him of the day in his South Omaha front yard at 17 when he was indirectly struck by lightning. Now, as then, he wondered momentarily if it was the end.
"This, as with the lightning, was so unexpected," he said. "No warning, and the impact came out of the blue."
Just before 5 p.m. on June 28, he was driving north on 114th Street, waiting to turn left onto Arbor Street (just north of West Center Road). He heard no braking, and the high-speed impact spun his car onto a lawn.
He wore a seat belt, but air bags didn't deploy. The other driver's air bags did so, and police reports quoted witnesses saying the man got out of his car with his dog and tried to walk north before arriving officers handcuffed him.
He also was booked on suspicion of animal neglect and leaving the scene of a personal injury accident.
Jeff, cartoonist for the newspaper for 29 years, said all the witnesses and first responders were wonderful. His car was totaled, and he has seen a chiropractor and will visit a physical therapist.
He realizes that other people are more seriously injured in car crashes, he said, but he is "astonished" at the number who have told him of close calls like his own.
And how horribly fast they happen — out of the blue, quick as lightning.
Dreamweaver Foundation makes wishes come true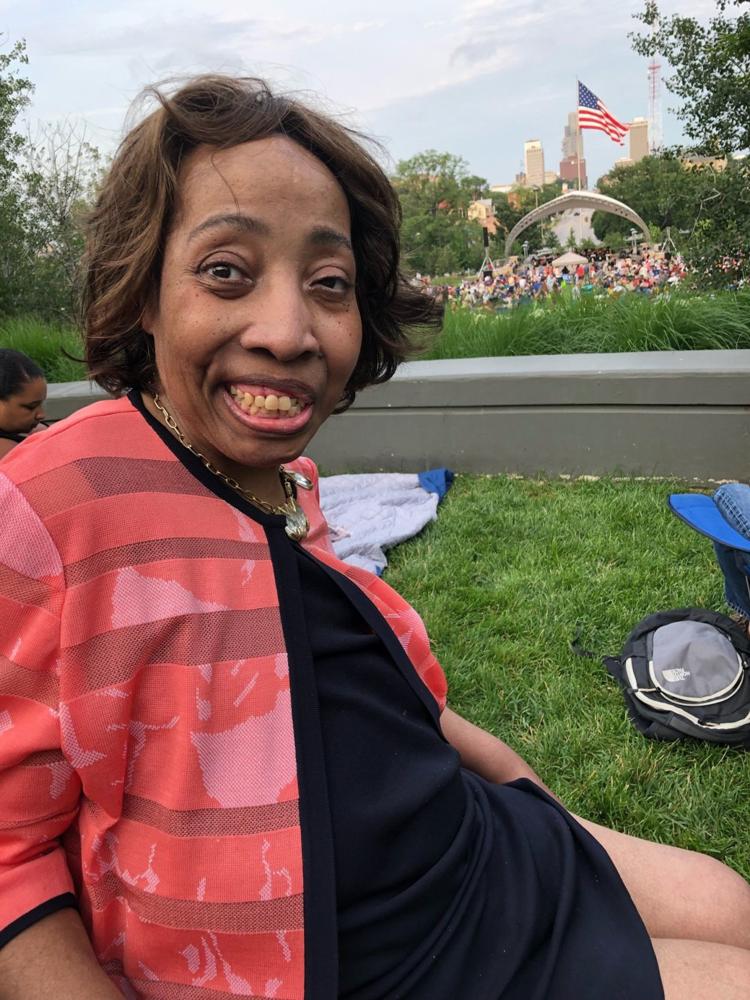 Thousands enjoyed jazz on a beautiful Thursday evening at Midtown Crossing, but Lisa Spencer probably was the only one saying, "I feel like Cinderella!"
That's what she told me when we met at the weekly Jazz on the Green summer concert series sponsored by Omaha Performing Arts.
Lisa, who suffered an aneurysm and a stroke five years ago, was treated to a restaurant dinner with her family, a new outfit and a hairpiece. No glass slipper, but she wasn't complaining.
She was a guest of the Dreamweaver Foundation, which is like Make-a-Wish but for older adults with life-threatening illnesses.
The foundation was created in 2012 by Ron and Jeanie Carson of Carson Wealth Management in Omaha. They had considered ways to help kids or senior citizens, and realized there were several organizations to serve children but not many to benefit older adults.
Examples of wishes granted for folks in eastern Nebraska and western Iowa are family photos, hot air balloon rides, fishing trips and even, for one man, riding in a race car with Mario Andretti.
To nominate someone 55 or older who otherwise couldn't afford to fulfill a dream, go to dreamweaver.org or call 402-697-5471.
The foundation has granted 175 dreams, but the pace is picking up, aiming for 100 this year alone.
Chicago Sun-Times columnist: Ricketts family losing 'aura'
Columnist Rick Telander of the Chicago Sun-Times wrote this week that the Ricketts family might be losing "some of the aw-shucks-we're-just-Cubs-nuts-from-Nebraska aura."
The Rickettses bought the Chicago Cubs for about $700 million in 2009, he wrote, but a Forbes report estimated the team is now worth more than four times that much — $2.9 billion.
Telander said Tom Ricketts, "the face of Cubs ownership" (and brother of Gov. Pete Ricketts of Nebraska), bought a house in the northern suburb of Wilmette for $1 million in 2004 and recently sold it for $2.5 million to former Creighton University basketball player Porter Moser, head coach at Loyola University.
Tom Ricketts and sister Laura Ricketts, the columnist said, have built more expensive homes along the Lake Michigan shoreline.
Omahan who served in WWII, Korea and Vietnam dies at 96
Retired Lt. Col. Irvin J. Harris, who graduated from Omaha North High just in time for World War II, compiled a distinguished military record.
Harris died Thursday at 96 at the Rose Blumkin Home. A funeral with military honors will be conducted at 10 a.m. Sunday at the Beth El Cemetery, 84th and L Streets.
At 17, he entered the Army Air Corps and eventually flew cargo and paratroopers in a C-47. He helped fly concentration camp survivors to freedom, and later flew in the Korean and Vietnam Wars.
A recipient of the Distinguished Flying Cross, he retired from Offutt Air Force Base in 1974. He lived the next four decades in the San Diego area as a dancer, golfer and hospital volunteer, but his family brought him back to Omaha last summer.
He is survived by daughters Sindie Katskee and Claudia Sherman of Omaha. A grandson is Mitch Sherman, a former World-Herald sportswriter now with espn.com.
B.B. King's nephew will perform in Omaha twice next week
Walter King, nephew of B.B. King, will play saxophone Thursday at the Ozone Lounge and Friday at the Havana Garage, perhaps for the last time in Omaha.
Fellow sax player Matt Wallace of Omaha, who toured with the late Maynard Ferguson, said Walter has health problems and is awaiting a transplant in Tennessee. He has toured the world and served for more than a decade as musical director for his famed uncle.
Be the first to know
Get local news delivered to your inbox!