The Steffensmeiers of Nebraska have a familiar American story: A plucky or desperate — or both — ancestor left the Old Country for a new life, planting immigrant roots in American soil and making the upward climb.
There were hardships and tragedies. There were joys and successes. As the generations came and went, that connection to the place left behind either weakened or blended into a family story about being from fill-in-the-blank. Ireland, perhaps. Or Bohemia. Or Poland. Or, in Gene Steffensmeier's case, Germany.
Germany was among the European countries in the late 1800s sending massive waves of emigrants across the Atlantic.
These family stories tend to start with the ancestor's arrival to America and go from there.
For Gene, who owns car dealerships in Fremont and Columbus and used to own one in Dodge, the Steffensmeier family story began with his great-grandfather Bernard, who came to Nebraska in 1871, and his great-uncle Frank, who came in 1872. Both had big families who had big families. Today there are at least 400 Steffensmeiers around.
But what about the Steffensmeiers who didn't come to America? What about Bernard's and Frank's other siblings who skipped the boat, stayed on the old family farm or otherwise remained in Germany?
A chance trip to Berlin, a phone call and a strong desire on two continents to unify the Steffensmeier clan helped answer these questions for Gene.
And all of this resulted recently in a huge party in Germany celebrating the 400th anniversary of the Steffensmeier farm, which remains in operation and in the family.
Learning the German prelude to his American story, Gene said, "has changed our lives.
The author of the Steffensmeier genealogy is Peg Steffensmeier, who as Gene's wife is a Steffensmeier by marriage, not blood.
Peg has compiled hundreds of neatly organized three-ring binders that include photos, timelines, names and connections. She took the additional step of personalizing different sets of family history for different family members.
The Steffensmeier story begins in Germany in 1577, as early as she can find. A name on a tax record.
In 1619, Engel and Martinus Steffensmeier obtain property in the village of Mantinghausen. The village sits in western Germany, in the North Rhine-Westphalia region. The family name and year are inscribed in a wooden beam on a farm property that exists today.
The Steffensmeier name pops up next in 1763. Records that show a Cord Steffensmeier , a farmer who owned four horses and 353 sheep.
Fast-forward a century, and in the late 1800s, Stephan Steffensmeier has inherited this still-running farm. Stephan is the oldest of nine children. He, as oldest male child, gets the land. This means that the four younger male siblings have to find something else to do. But unemployment was high, and that made America suddenly very attractive.
A Steffensmeier cousin who had left Germany in 1851 and settled in St. Louis had come back to visit relatives and described the United States in glowing terms — opportunities galore. So 33-year-old Bernard Steffensmeier and his fiancée Gertrud, the daughter of a local tavern owner, didn't wait around for a wedding in Germany. They got on a steamship and, 20 days later, landed in New York. Then they headed west.
Bernard and Gertrud wound up in the West Point area of Nebraska. Within five years, the couple purchased their first property: 40 acres of land northwest of the town of Dodge, near Orlean. The Union Pacific Railroad sold it to them in 1877.
By then, Bernard's brother Franz had come from Germany to Nebraska. Franz and his wife, Anna Maria, moved in with Bernard and then built their own place — a sod house. These Steffensmeiers suffered snakes in the rafters, snowstorms and crop failure. Devout Catholics, they walked 16 miles to Mass before a church was built closer to home. They survived the five years required under the Homestead Act to get their land for free.
There are several Steffensmeier family farms still around in Nebraska: one near Orlean, one near Howells, one near Monterey.
The Steffensmeier families were known for their size. Bernard and Gertrud had 10 children. Franz and Anna Maria had six.
Peg's family albums show this proliferation. Page after page of Steffensmeiers. Steffensmeiers getting married. Steffensmeiers in their armed services uniforms. Steffensmeiers dying and Steffensmeiers being born. Peg dutifully recorded dates and repeated connections and kept biographical information to the basics but included life events like divorce.
The wedding pictures wonderfully chart the passage of time, evolving from stiff and stone-faced in black and white through the cat-eye glasses and poofy-skirt 1950s through the shaggy 1970s to the sleek look today.
Peg, a former schoolteacher turned stay-at-home mom, got into family history as her large nest — she and Gene had 10 children — emptied. She didn't want to take up tennis or bridge or golf. So she audited German classes at Creighton University.
Gene sold cars. He sold a lot of cars, moving from Dodge to Fremont to form Gene Steffy Auto Group. (Short for Steffensmeier). He also has a dealership in Columbus.
Gene sold so many cars that Chrysler rewarded him by sending him and Peg on international trips.
The first one, in 1995, was to Berlin.
Gene and Peg Steffensmeier from Nebraska were in Germany's capital city.
On a whim, Gene picked up the phone book at their Berlin hotel and thumbed to the S names. He saw two Steffensmeiers listed and called the first one, Johann. He got a voicemail in English and left a message that said: Hey, we're Steffensmeiers from America and wonder if we might be related.
"Turned out," Gene said, "we were completely related!"
Over lunch, Dr. Johann Steffensmeier of Berlin and Gene Steffensmeier of Fremont connected the dots. Johann's great-grandfather was Stephan Steffensmeier, the heir of the family farm. Gene's great-grandfather was Bernard Steffensmeier, Stephan's younger brother who had to go to America in order to own a farm.
Johann told Gene it was a fluke they even connected. Normally his phone number is unpublished but he'd forgotten to have it unlisted in the 1995 Berlin phone book. Another fluke? Johann's wife was American and later helped translate.
That same year, Gene and Peg returned to Germany and met another relative, Franz Steffensmeier. Franz lives on that family farm in Mantinghausen, the farm that Gene's great-grandfather left back in 1871. The farm that was founded in 1619.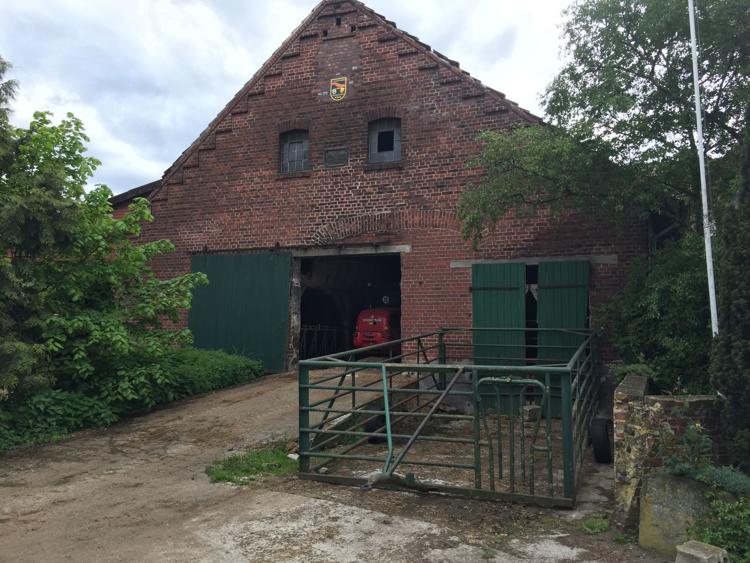 The couple toured the dairy operation, which looked nothing like the farms back home. For one, farms in Germany are smaller. For another, farms in Nebraska sit in the country, unconnected to towns. The way Mantinghausen is laid out, farms like Franz Steffensmeier's are like wheel spokes to the city center hub. Franz could walk out his front door and be in the heart of his village.
Franz and wife Gerlinde are about the same ages as Gene and Peg, now 76 and 73, respectively. The couples forged a tight bond.
In 1996, Franz and two nieces traveled to Nebraska to meet their American cousins. Gene and Peg organized a giant reunion that drew some 400 Steffensmeiers.
Over the next 20-plus years, Gene and Peg would make about a dozen more trips to Germany to see Johann and Franz. Other members of the Nebraska Steffensmeier family would go, too.
Gene and Peg marveled how much it felt like home going to Germany. How consistent their Steffensmeier traits like big hands and extroverted personalities and values like the Catholic faith and hard work had been over time and across an ocean.
The Nebraskans saw in the German Steffensmeier farm's 400th anniversary a once-in-a-lifetime chance.
Peg said Franz Steffensmeier thought it was funny that his Nebraska relatives wanted to mark the occasion. The village of Mantinghausen is more than 700 years old.
But being the good host, Franz threw open his doors in July, and the family came. Some 300 or so people partied in Mantinghausen. Cousin Franz spared no expense, wining and dining everyone, including 29 Steffensmeier relatives from the United States, most from Nebraska.
One was Sue Mandel, a Mary Kay saleswoman in Omaha and mother of three. Her great-grandfather is the same as Gene's: Bernard.
"I cried the whole time. It was amazing," she said. "It was so overwhelming to me to think we walked on the same soil. It was totally overwhelming to me that we'd come home."
Sign up for The World-Herald's afternoon updates
Receive a summary of the day's popular and trending stories from Omaha.com.
List: What you should call people from Nebraska's 50 largest cities
Be the first to know
Get local news delivered to your inbox!