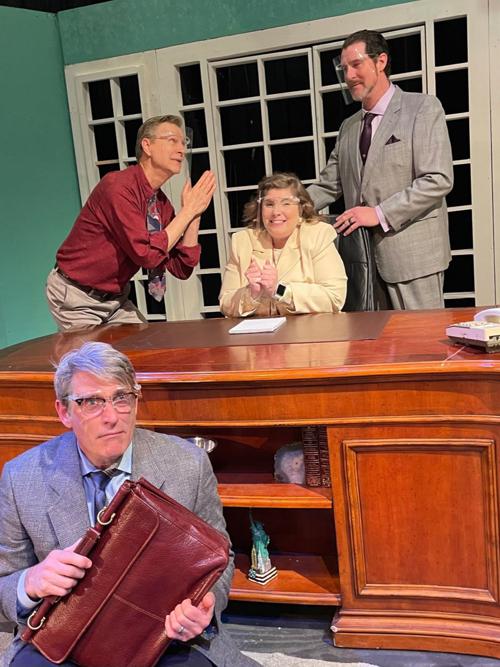 I have been going to the Bellevue Little Theatre for around a year and half now reviewing shows.
There have been some funny moments in previous shows but at the premiere of "The Outsider" on Friday, I needed an inhaler to help me breathe with all the laughing I was doing.
Not one moment of this show was wasted. By the time it ended I wanted two more hours of the actors performing their characters.
It is not hyperbole on my part when I say this might be the funniest performance I have seen in quite some time.
"The Outsider" follows a group of politicians and aids in the office of "the governor" who is forced to resign from office. His replacement, Ned Newley, doesn't even want to be governor and is reluctant to assume the office being vacated.
Newley is terrified of public speaking, and I thought Brennan Thomas did a great job of portraying this loveable loser.
I both laughed and felt bad for Newley during various points of the show. I think a lot of people can connect with the idea that sometimes they are overlooked due to their social anxiety or perceived lack of charisma.
At the start of the show, Newly is the punching bag of the entire cast when it comes to jokes. By the end of the show, without spoiling anything, I was rooting for Newly as a hero.
To his ever-supportive Chief of Staff played by Steve Thyberg, Ned seems destined to fail, but political consultant Arthur Vance, portrayed by Matthew Bell, sees things differently: Ned might be the worst candidate to ever run for office, unless the public is looking for... the worst candidate to ever run for office.
I recently spoke with a theatre director who essentially said politics and theatre go hand in hand.
I did not think a political show is what I needed considering all that is going on in the real world and just the mere mention of government can trigger some harsh words and feelings.
I was surprised by the amount of laughter and how real this show is when compared to real life. No matter where the audience lies on the political spectrum, there is something for everyone to laugh at during "The Outsiders."
I think Sarah Dighans did an excellent job of playing Louise Peakes.
Dighans stole the show every scene she was in and had the audience wrapped around her finger for the entire show. I hope to see Dighans in future productions of the Bellevue Little Theatre because I was instantly hooked by her performance.
The character of Peakes is the perfect foil to Newly. She starts off as an everyday temp worker and transforms into one of the best written comedic characters in recent memory.
What really unlocked the shows potential is A.C. Petersen, played by Mike Pilmaier, walking casually around the governor's office and saying, "Let's steal some stuff." The hilarious part about this line for me is that it came from a character that, for the most part, is silent.
I can't really say anything too bad about the characters, as all of them had at least one moment where they had me crying tears of joy.
Vance is a character that I loved to hate. From the words out of his mouth to the way his character's hair is slicked back, this guy is the epitome of the dark side of politics.
Sara Scheidies did a good job of balancing the show with her portrayal of Paige Caldwell and Jessica Mascarello knocked it out of the park playing a journalist.
I would for sure recommend this show to anyone who wants to have a good laugh. After the year that was 2020, I want to thank the BLT for giving me what I needed in my life.
Due to COVID-19, seating for "The Outsiders" is limited and reservations are required. Reservations may be made by calling by calling 402-291-1554 from 10 a.m. to 4 p.m. Monday through Saturday or online at the BLT website.
COVID restrictions and social distancing will be in place for this production.
Tickets are $20 for adults, $18 for senior citizens and $10 for students with proper ID.