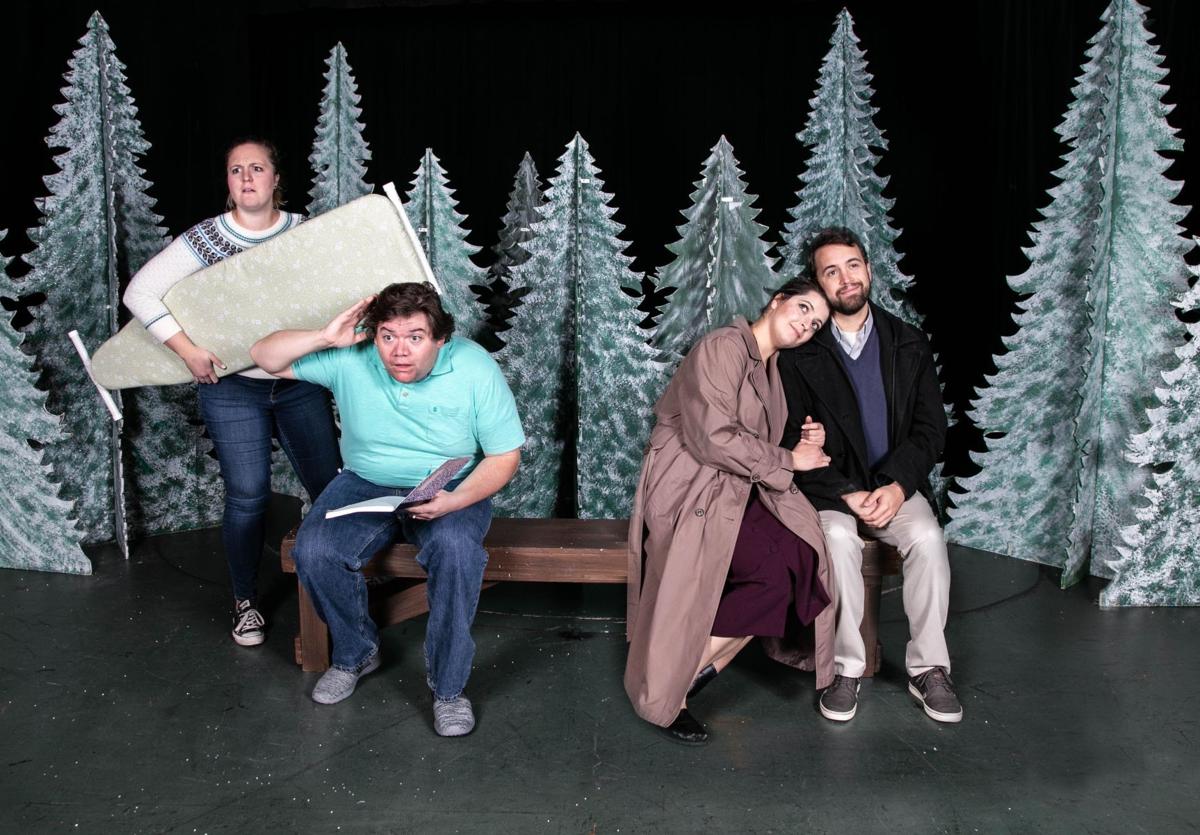 I never start off my reviews with commands but I will this time.
Whoever is reading this, needs to stop what they are doing and get tickets to see the Bellevue Little Theatre's latest production, "Almost Maine."
I have seen several shows at the BLT but this one took me on an adventure on the emotional spectrum.
I was allowed to see the show a week early and because of this, the cast and crew had not had a chance to run through their tech week.
The show I saw featured no music, minimal lighting and no sound effects but this all made me focus on perhaps the most important aspect of theatre productions and that is the actors.
The fictional town of "Almost Maine" provides the setting for this comedy which presents several different stories connected only by the town. The story takes place on a Friday night, with the northern lights hovering in the sky above the little town.
Residents find themselves falling in and out of love in unexpected ways ...some suffer broken hearts, some find love, but the bruises heal, the hearts mend, in most cases, in a fun filled romp on a winter night in "Almost Maine."
Perhaps what the show had going for it before the first line was recited was the chemistry of the actors on stage.
"Almost Maine" features several different stories, all with different characters, so to ask a cast of four to portray all the characters and portray them in a meaningful way, must have been a daunting task for Director Jon Flower.
Scene to scene would come by and after seeing the entire show, I need to say that the cast of four knocked it out of the park with the all the different characters and this was due to chemistry between everyone on stage.
All parts in "Almost Maine" are played by two married couples, Bob and Lauren Gilmore and Jacob and Madison Roman, reducing the risk of exposure possible with a larger cast.
Although I am sure normally this show would feature a larger cast, I think the smaller cast worked in the BLT's favor.
The couples on stage obviously trusted each other and being married allowed for the couples to be more vulnerable and intimate on stage.
The actors in the show did an excellent job of making this 24-year-old laugh hysterically and had tears running down my face at other parts of the show.
It is the genuine human connection, present in all aspects of the show that made me fall in love with the anthology style of storytelling. Too often in today's world of the pandemic, human connection is lost behind a phone or computer screen.
To see other people connect with each other on stage in such a meaningful way kept me invested in the show at all times.
Now there are some stories within the play that are stronger than the others, there is one scene involving an argument around a painting that went on a tad too long for my taste.
Other than that one scene, the show did an excellent job of pacing each scene.
Again I saw the show before the cast and crew went through their tech week so perhaps any pacing issues would be resolved by music or other technical elements.
This show is a must see for everyone that is able and comfortable going out to see a live performance.
Reservations are required, and may be made online at bellevuelittletheatre.weebly.com or by calling 402-291-1554 from 10 a.m. to 4 p.m. Monday through Saturday.
Tickets are $20 for adults, $18 for seniors and $10 for students with id.
COVID-19 protocols are in place to insure the safety of all those attending. Masks will be required, and social distancing is in place throughout the theatre.
The theatre is located at 203 W. Mission Ave., in Olde Towne Bellevue.