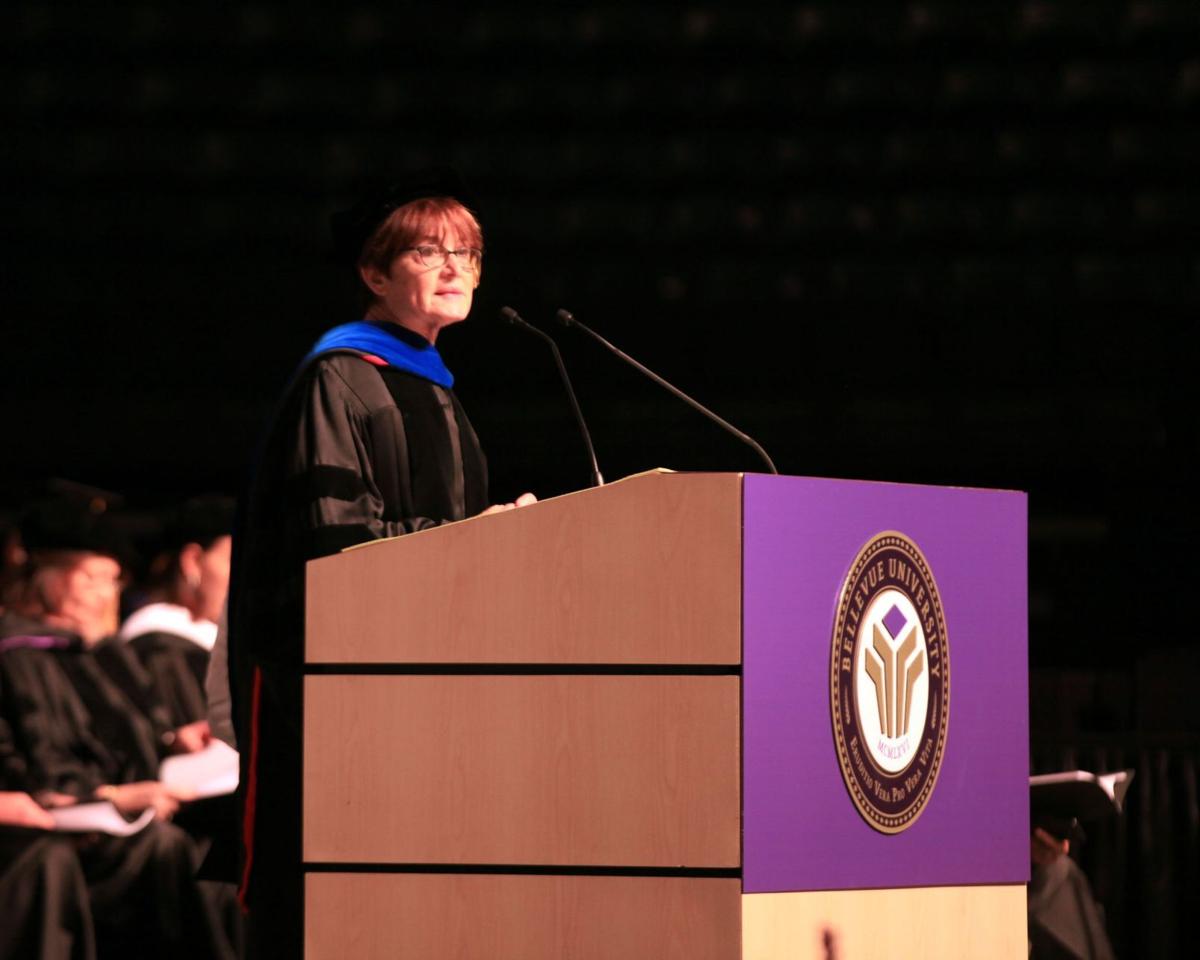 Bellevue University President Mary Hawkins has been named the 2020 recipient of the Ohtli Award, one of the highest awards given by the Government of Mexico to those who work with the Mexican community abroad.
The Ohtli Award is presented to individuals who have distinguished themselves by dedicating their professional lives to advancing the prosperity of Mexican-American and Latino communities and opening pathways that improve the quality of life of the immigrant population. The term Ohtli refers to the Nahuatl word for "path" and acknowledges individuals outside of Mexico who have helped pave the way for others.
"Dr. Mary Hawkins has walked the road, the path, always looking for ways to build bridges of support and understanding between diverse cultures," said Guadalupe Sánchez Salazar, Head Consul of the Consulate of Mexico that serves both Nebraska and Iowa in a press release.
Sánchez Salazar cited Hawkins' ongoing advocacy for the Mexican and Hispanic communities, including spearheading outreach and scholarships for Omaha's South Omaha Hispanic community; providing staffing for the Consulate's Educational Orientation Window to help advance the Mexican community; and supporting IME-Becas, a Consulate scholarship program for Hispanic students living in the United States.
Hawkins said Bellevue University started a program in the 1990's to communicate with communities the university had not connected with before.
"When we look at the various student populations or adult learners who we think could benefit from some of the offerings we've got, or who have contacted us, we always look at each community as unique because there's different characteristics with different groups," Hawkins said.
She said the importance of the outreach initiatives are that in the last 20 years the U.S demographic population is shifting.
"It's really important to acknowledge the shifts, to look at ways to reach communities and by no means do we only advocate for Bellevue university, we really try to work with students and oftentimes, there's other solutions that are better for them," Hawkins said.
She said these other option could include community colleges, vocational certificates or an option could be a college that has a program that Bellevue University does not have.
Hawkins said she was shocked when she learned she got the award.
"We have a pretty diverse student body here and the fact that there was recognition and a realization that our efforts are having an impact, it's always nice," Hawkins said, "Sometimes you work really hard at things, but you're not sure if you're moving the needle."
Be the first to know
Get local news delivered to your inbox!