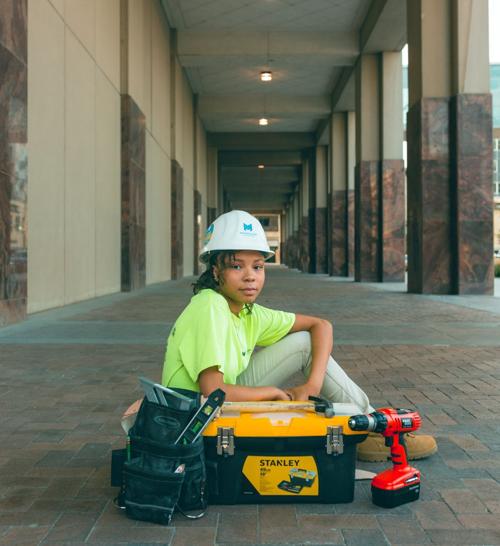 One Bellevue West High School alumna found her love for construction by complete chance.
Keilah Sadler, a 2019 graduate at Bellevue West, participated in the Metro Community College Career Academy for construction her final two years of high school and earned her associate's for construction management this summer.
By the time she earned her high school diploma, she was already halfway done with her associate's degree.
Sadler, who originally wanted to go into the fashion design field, said she never once thought of a career in construction until taking the Metro courses.
"It was nice instructor and student feedback — they always made sure we understood what you were going to be doing," she said.
The courses turned out to be a perfect fit for Sadler, who is a visual and hands-on learner.
"Every class, you're working and applying what they're teaching you," she said. "You're working on the house, working on the roof, you have to be harnessed in and stuff like that.
"You're doing the real world job and concepts. Even though I'm going into the business side of construction, I like being able to be in charge and see the projects grow from start to finish."
Sadler was also excited to enter the construction field because it challenged her to step out of her comfort zone, which also giving her pride in her various accomplishments.
"Being a woman of color, an African American woman, and being small, too, being able to put up a huge wall structure and get up on the roof and different things you thought are more male-dominant, it's really encouraging for me," she said.
Sadler currently works for Grisebach Construction, whom she also had an internship with. Sadler, however, is interested in another internship that focuses on the management side of construction.
Sadler said she's glad to be able to fix things around her house, and to have one more step taken for her career.
"It's been so amazing to see that I've been able to complete this program less that a year after high school," she said. "When I think back to a couple years ago about what I wanted to do, I never would have put myself where I am now and getting on the fast track of having the rest of my life set up the way it needs to be."