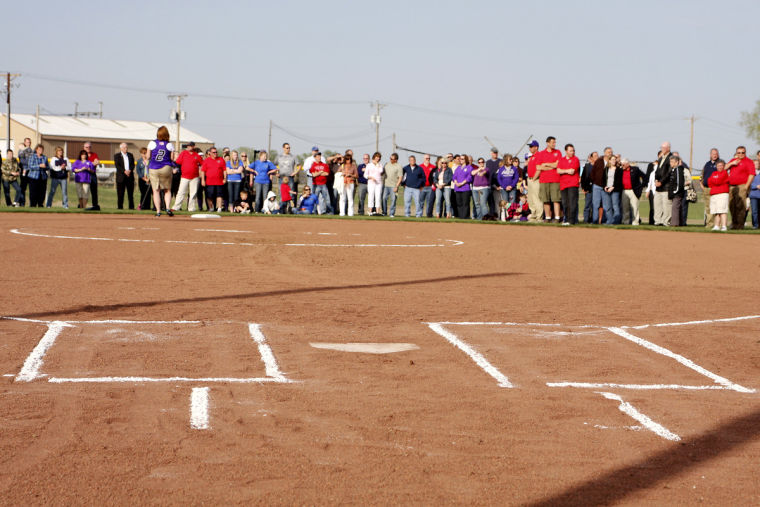 Doug Hill was on his way to Bellevue City Hall Friday to drop off a check for $191,875.
The money, and Hill's upbeat spirit, suggest Hall of Fame Fields complex along Harlan Lewis Road, run by World Baseball Village, in Bellevue might weather a rocky start.
Hill said more teams have already signed up for the June 2014 stay-and-play baseball season than did for 2013.
"It looks great for 2014," he said.
He said the girls' softball season, which occupies July and August, remains a struggle, but that a new marketing approach is being devised.
Hill's optimism balanced a somber memo submitted by City Attorney Patrick Sullivan to the Bellevue City Council Dec. 9 in which Sullivan presented a restructured financial agreement that would forgive four years of team payments due the city and would refinance the $4.5 million bond issue that made the complex possible.
"WBV has had a slow start with recession, flooding and other matters that have essentially pinned them up against a wall," Sullivan wrote in the memo.
"Revenues have been lower than expected with capital infusion by investors (necessary) to make previous payments."
The World Baseball Village, financed primarily by local investors with support from an investment group from Utah, opened in April 2010 as a six-field complex that hoped to use its proximity to the College World Series to draw youth teams from across the country.
Launched in the midst of a historic economic recession, and hit in 2011 with a historic Missouri River flood, the complex sustained two severe blows just as it was trying to get on its feet.
The restructuring proposed by Sullivan recognizes those difficulties.
The new agreement would forgive roughly $40,000 in team fees due the city. Those fees accumulated from 2010 to 2013.
A bond payment due Dec. 15 was reduced from $285,058.75 by crediting money sitting in a reserve fund and by using money held back to satisfy liens which no longer apply. Those deductions reduced the payment to $191,875, the amount Hill delivered Friday to City Hall.
Hill said he is confident better times lie ahead for the complex, and thought is already being given to adding fall baseball, soccer, and lacrosse to its offerings.
"We truly believe we've turned a corner," he said. "Hopefully, the economic situation is behind us, no doubt the flooding's behind us for now, and we had the best year in 2013 not only in the number of teams but in enthusiasm and kids leaving with a big smile on their face."
Hill said 75 teams have registered so far for the June 2014 baseball tournaments, which triples the 25 teams that had signed up by this time in 2012. He said he anticipates about 90 teams will play at the complex in June, up from 62 teams in 2013.
Teams are coming from around the country, he said, including the states of Florida, California, Washington and Michigan.
These are prized arrivals, he said, since they pay to stay at the village dormitories.
Like a similar complex in Cooperstown, N.Y., which uses it proximity to the National Baseball Hall of Fame to draw teams, Hill said the Bellevue complex uses the College World Series to draw teams to the June baseball season.
Every player and coach gets a ticket to a CWS game, he said.
"This last year, between our players, coaches and parents, we bought 2,000 CWS tickets," Hill said.
Although the World Baseball Village offers a complete experience to teams, providing dormitory accommodations and meals to players and coaches, Hill said the parents, siblings and relatives who often accompany players to the tournaments eat at area restaurants and stay at local hotels and motels.
That, too, provides a benefit to the city, Hill said.
Hill conceded the picture regarding girls softball is not as bright.
The complex, from its inception has had difficulty attracting week-long "stay and play" softball tournaments, he said, so much so that last year no such tournaments were held.
He said weekend softball tournaments, featuring local teams, were held, but that week-long tournaments similar to boys baseball have proved elusive.
Managers have learned that high school girls do not like the dormitory environment, Hill said, and so a new approach is being considered that involves inviting college coaches to watch tournament games with a view to spotting potential scholarship candidates.
Overall, Hill said, he remains upbeat about the future.
"I took over as the general manager of this thing last year, and at first I shook my head and said what did I get myself into," he said.
"But now, I'm really excited about next year, we've got all kinds of new things that we're working on."