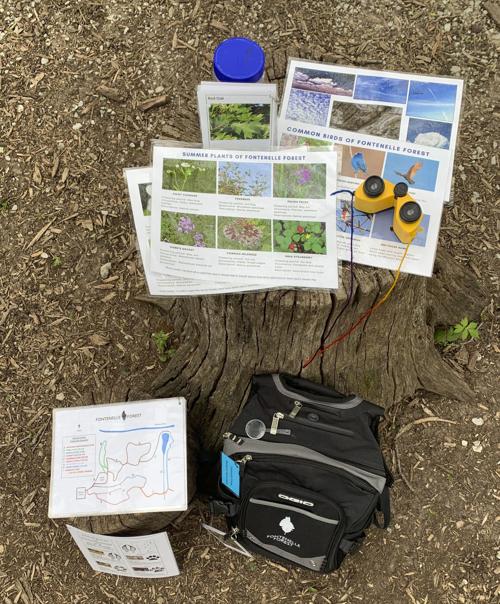 Fontenelle Forest is giving families a new way to explore the outdoors with its new Family Backpack Program.
Through the program, which began in late April, families are able to check out backpacks equipped with nature-related activities.
Backpacks, which are $10 for two hours, include a map, activity sheets, cloud identification guide, flashcards of common trees, plants and birds in the forest, "watch out" cards that identify poisonous plants, binoculars, magnifying glasses, a bug box, crayons, pencils, construction paper and stickers.
There are a total of seven backpacks available for checkout, five of which are general forest activities while two are more bird-focused.
Backpacks must be reserved ahead of time by calling the forest at 402-731-3140 and are available on a first-come, first-serve basis.
Upon return, each backpack and all of its contents are thoroughly sanitized, Miller said. Patrons will be able to keep items that cannot be sanitized including stickers, paper, pencils and crayons.
Hannah Miller, naturalist educator at the forest, said each backpack has something for everyone.
"With the backpacks, we encourage people to get up close and personal with the flowers at Fontenelle Forest and do exploration learning by giving them tools like binoculars, magnifying glasses and a bug box," Miller said.
The forest offered a similar program to large groups such as day camps and schools that visited the forest before COVID-19 put a stop to group gatherings.
Because of this, Miller said the forest wanted to cater the program to people who can use it.
"What we have coming into the forest right now are families," she said.
Miller said this is a great way for children to get out and explore nature.
"Right now, a lot of kids aren't exposed to nature in a meaningful way," she said. "You can go in your backyard but it's not going to be the same experience as walking and hiking with your school group here in Fontenelle Forest. I feel like this is the next best thing right now."
One of the best aspects of the program, Miller said, is that families can go at their own pace.
"I think it's a really good way for kids to really slow down and explore and get the most intimate experience with nature as they can right now," she said. "It's just a really cool way to see the natural world around here."
Fontenelle Forest is located at 1111 Bellevue Blvd. N.