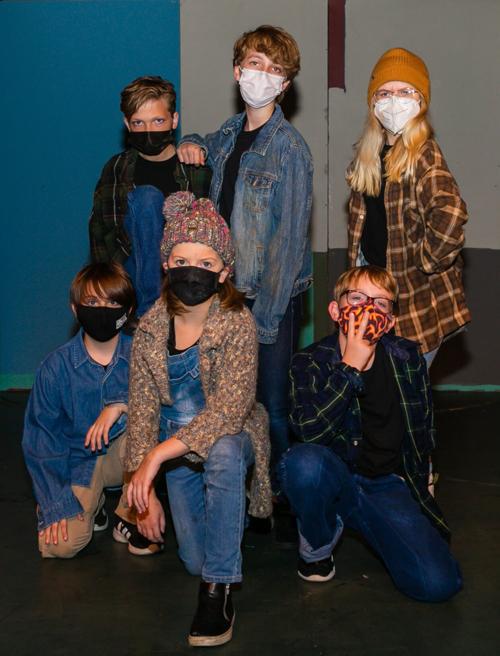 Is there really anytime better than the holidays?
Some might argue that with the holidays comes colder weather and the much dreaded commute with snow flying around.
But I, for one, love Thanksgiving and especially love Christmas.
I am pleased to announce that Bellevue Little Theatre's latest production, "The Best Christmas Pageant Ever," put me in the Christmas spirt early this year.
"The Best Christmas Pageant Ever" is a classic story based on the children's book of the same name by Barbara Robinson.
The Herdman family, notorious for bullying and disruptive behavior, decides to invade a local church Christmas pageant. These children join as hooligans but are reformed and learn the true meaning of the holiday and lead viewers to witness "The Best Christmas Pageant Ever."
I thought the young cast in the show did an admirable job of playing their part. I did have some issues hearing the younger actors on stage when they were in the midst of dialogue or singing some hymns.
This audio issue could be a result from where I was seated, which was way in the back.
The Herdman family was easily the most entertaining part of the show and the drive behind the show's plot.
I think the young actors making up the Herdman family did some of their best work when they were not saying anything at all. I am the type of person that will look off to side characters that are not speaking at the time.
When I looked over to the Herdmans and other actors that were off to the side I can say with confidence that every actors kept in character throughout the show.
My immersion was never once broken and I can truly appreciate the efforts of all the actors on stage.
Matthew Bell is quickly becoming one of my favorite recurring actors on the BLT stage and in this show as Mr. Bradley, he does not disappoint.
Bell is just a natural when it comes to comedic timing and line delivery. The way he moaned and groaned about having to go the local Christmas pageant had me laughing out loud.
Another thing to point out is the short length of the show. The show began at 2 p.m. on a Sunday and I was out of the building at 3 p.m.
I think this a strength of the show because its perfect for families to bring in their kids and enjoy a live performance for an hour.
The musical is ending its run this weekend and will close on Sunday, Nov. 21.
Curtain times are 7:30 p.m. on Friday and Saturday evenings and 2 p.m. on Sundays.
Due to COVID-19, seating is limited and reservations are requested.
Masks will be required for entry.
Reservations may be made by calling 402-291-1554 between 10 a.m. and 4 p.m. Monday through Saturday, or by visiting the BLT website: bellevuelittletheatare.weebly.com.
This story is directed by Katy Kepler. Stage managers are Amy Wagner and Brian Callaghan, scene designer is Joey Lorincz and lighting designer is Homero Vela. Sam Girouex is costume designer and Becca Krause is in charge of props and set dressing.
Several families are performing together in this production. The play lends itself to family participation, both onstage and in the audience.
The adult cast includes Matthew Bell, Christina Bell, Matthew Kischer, Charity Williams, Rachel Olson, Devon Moore and Amanda Stalnaker.
The youth cast includes Sean Bell, Gabe Yaghmour, Olivia Stone, Judson Cloudt, David Olson, Caleb Stanton, Alaina Britton, Ella Stowell, Brynn Stalnaker, Cole Schreck, Creighton Durfey, Braxton McCormick, Kami Stoulil, Evelyn Olson, Callie Durfey, Madalyn Croteau and Ashlynn Cutinella.
The Bellevue Little Theatre is located at 203 West Mission Ave.