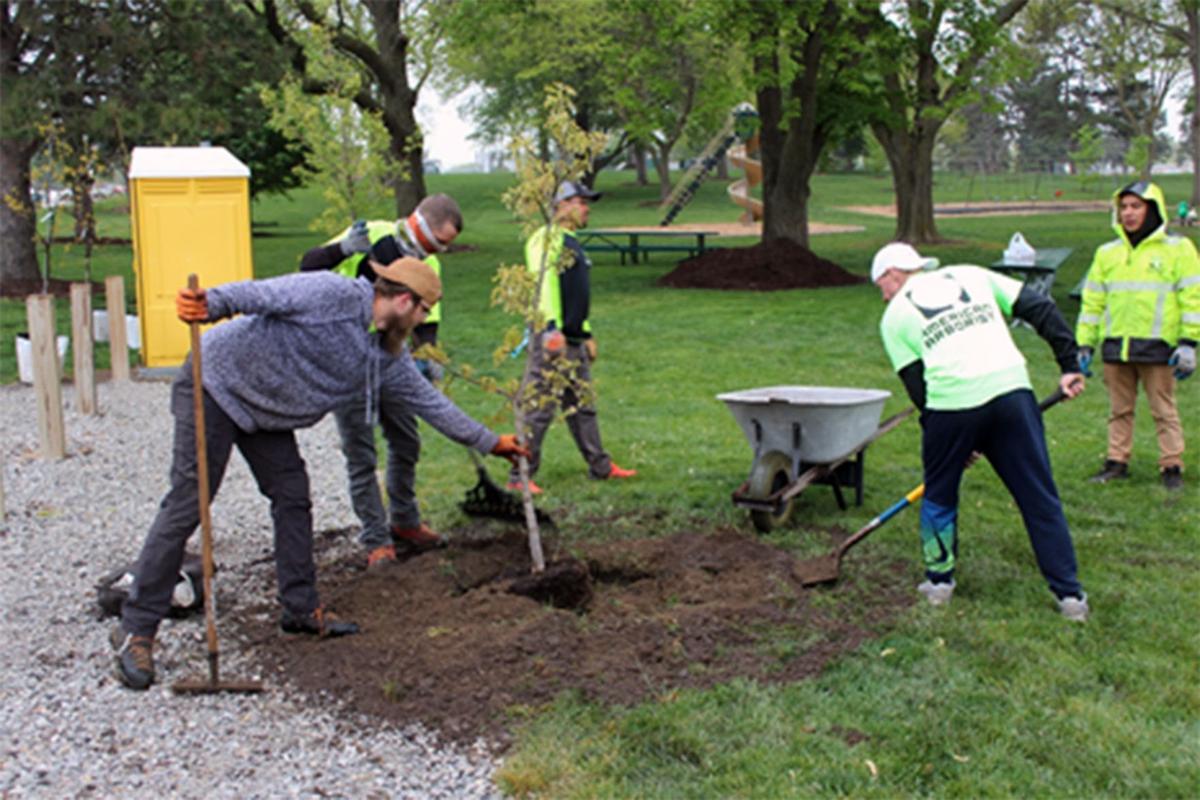 The Gretna Arbor Society (Tree Board) has successfully obtain another Papio-Missouri River NRD "Celebrate Trees Grant Program" for 2021. This marks the 14th year the City of Gretna has received this NRD tree grant. This year's grant totaled $2,500 and it allowed your Gretna Arbor Society to plant a total of 17 trees on May 14 in the rain and the mud in North Park.
Amy Nakai, Gretna Arbor Society member and Certified Nebraska Arborist, spearheaded the NRD grant proposal and directed the planting of the trees in North Park.
This park was selected because a number of mature dead and dying trees have been removed and the ballfields were lacking any shade for attendees at the park's baseball field.
Normally, trees planted by the Gretna Arbor Society take place on a Saturday so more Gretna citizens can volunteer to help with the planting. This year, because of the ball games scheduled to take place on Saturdays and the date required by the NRD to have the trees planted by, it was decided to plant the trees on a Friday.
The Friday tree planting caused a major problem. There were not enough Gretna Arbor Society members or Gretna volunteers to help with the tree planting. Nakai made arrangements though her Nebraska arborist connections to find a Nebraska arborist company willing to step forward and volunteer to help with the tree planting. Mitch Waite, owner and operator of American Arborist, volunteered his entire arborist crew to help with the planting of the trees. So, with the help of Travis Bettenhausen, Gretna Building & Grounds Crew Leader, his crew, Nakai and Jim Keepers, the trees were successfully planted. I must add that Jayna, Mitch's wife, did come out to help but since she is pregnant, she was asked to just provide moral support.
What made the tree planting unique was the arborist crew members from American Arborist had never ever planted a tree before or had the experience of working with trees grown in RootMaker bags. All the trees came from Great Plains Nursery located outside of Weston, Nebraska.
I must include a special thanks to Bettenhausen and his crew for the help they provided in auguring the planting holes, moving the mulch, watering the trees and putting watering bags around the trees.
A great tree planting relationship has developed between the Gretna Arbor Society and Bettenhausen. He is always willing, along with his crew members, to help out with the planting and care of trees in our Gretna parks. I have been on the Gretna Arbor Society for a number of years and I have seen a great improvement in the care our Gretna trees receive since Travis has become a member of the Gretna tree team. He is an asset to the City of Gretna and must be retained on the City's maintenance staff.