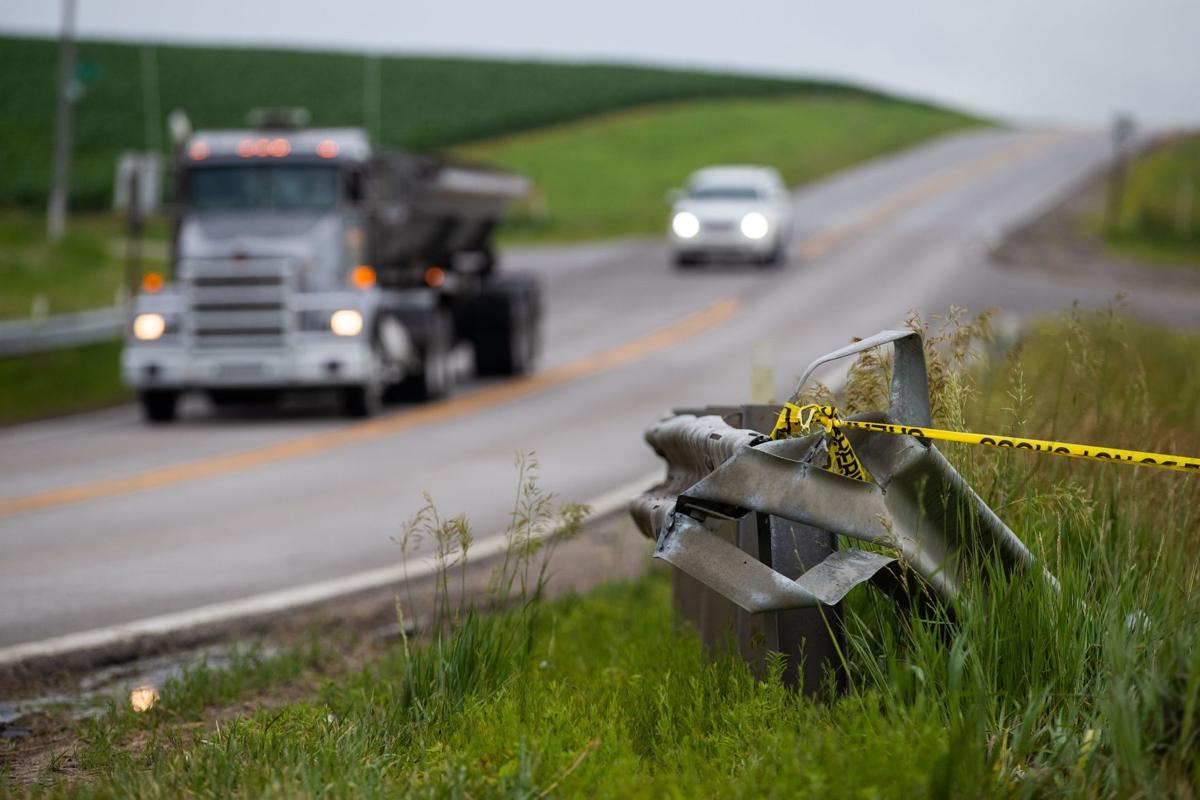 Update: The five teens involved in a fiery crash Monday evening that killed four and injured one were all students at Gretna High School, the school's principal told parents in a letter.  
Counselors were stationed at the school after the one-vehicle crash.
"I was informed last night that five of our high school students were involved in an accident at 180th and Platteview Rd," wrote Gretna High Principal Roger Miller. "Names have not been released yet to the public by the sheriff's office so I cannot share that information with you at this time."
The crash occurred just west of the intersection of 180th Street and Platteview Road, according to Capt. Chris Culler of the Sarpy County Sheriff's Office.
Authorities believe that they know the identities of the deceased but are withholding their names pending confirmation. Culler said authorities may need to use DNA and dental records in the identification process.
The five people in the vehicle are all believed to be 15 to 16 years old. 
"Counselors and staff have been available at the high school since 8:30 a.m.," said Kevin Riley, the Gretna Public Schools superintendent. "We will be there as long as it is necessary."
"It's the worst thing that can happen to a community," Riley said. "Over the years, this has happened, and it never gets any easier."
Condolences have poured out on social media for the families and friends of the teens and the Gretna community. 
Gretna Mayor Jim Timmerman said Gretna is a growing suburban community, but still retains some of that small-town feel. 
"The most important thing right now is the community just needs to show their support and prayers for the families and the young girls involved," he said. 
"Sorry, I get a little teared-up just thinking about it," Timmerman said. "The community has to stand behind the parents right now."
Gretna Campus Life, a faith-based group that meets with students from Gretna High and two middle schools, invited students, parents and community members to come together to pray or talk from 6 to 8 p.m. at The Hub, located at 20362 Husker Drive. 
Monday, deputies were called to the scene at 11:12 p.m. and found a Ford Fusion engulfed in flames.
A Sarpy County deputy tweeted out that it was a "tragic scene."
"Spent several hours at the scene and standing by with parents," wrote Sarpy County Sheriff's Deputy Nick Palmer. "Words can't describe the trauma the families and Gretna community are going to deal with today."
Investigators determined that the Ford was eastbound on Platteview Road when it left the roadway for an unknown reason and struck the end of a guardrail, Culler said.
The vehicle continued down into a ravine and caught fire. 
The four teenagers were pronounced dead at the scene. The fifth teen, a girl, was taken to Creighton University Medical Center-Bergan Mercy with burns before being transferred to St. Elizabeth Regional Medical Center in Lincoln. 
A spokeswoman for St. Elizabeth said no information was being released about the surviving girl.
The crash occurred in a rural location in unincorporated Sarpy County about three miles east of Nebraska Crossing Outlets. 
Monday night's crash happened in almost the exact same location as a December 2006 crash that killed Gretna High School seniors Jacob Hurd and Kyle Lavigne.
In that 2006 crash, driver Matthew Robinson was driving 101 mph, heading east on Platteview Road just west of 180th Street, when he crashed. Robinson had been drinking.
Robinson's case was handled in juvenile court, where he admitted responsibility and received probation.
Hurd, Lavigne and Robinson were all 17 at the time.
Sarpy County Board Member Jim Warren said Monday's accident occurred on paved stretch of a rural road. Because it is asphalt, Platteview Road attracts its fair share of speeders, but the crash site isn't known as a particular trouble spot, he said. 
"I don't know what the cause of the accident was, but regardless, it's a tragic, sad event," he said. "There's a real heaviness — you can feel it — over the city of Gretna."