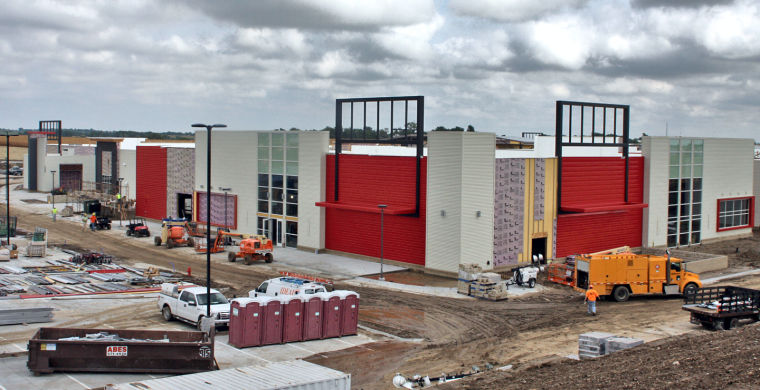 For more than a half-century, Borsheims, Omaha's iconic jeweler, has limited itself to a single store.
But this fall the Berkshire Hathaway-owned retailer will break tradition and open a second location — an outlet store at Nebraska Crossing Outlets in Gretna.
The outlet store, opening under the banner Borsheims Boutique, will occupy a 5,500-square-foot space next to the Coach factory store.
Although a topic of discussion for nearly two years, the decision to open a store at Nebraska Crossing was made less than a month ago and required Berkshire CEO Warren Buffett's approval, said Susan Jacques, Borsheims' president and chief executive.
"Are we jumping in late? Yes, we are. But we'll be there at the ribbon-cutting on opening day," Jacques said.
The outlet concept expands Borsheims' customer base by offering more merchandise targeting younger, value-conscious shoppers and puts it in the company of other upscale retailers with outlet stores.
The Boutique is a new concept for Borsheims, Jacques said, but value is not. She said the main store has always worked to attract value-conscious shoppers, especially since the recession, offering the "Borsheims Price" discount from the listed prices.
"It's not a huge stretch for us," she said.
"With a projected 3 to 4 million annual visitors, introducing a Borsheims outlet location at Nebraska Crossing gives us the ability to reach a larger number of customers and prospective customers," Jacques said. "The size and scale of this development, combined with the other luxury retailers, made this a perfect fit for us."
The new outlet mall not only serves as a "perfect fit" for Borsheims, but is seen as a "huge win" for the city of Gretna.
"This is actually way huge for us," Mayor Jim Timmerman said.
Timmerman said the company's choice to open in Gretna shows a large leap of faith for the success of the outlet mall, noting even Buffett approved of the boutique.
"That says a lot about their faith," he said. "Buffett doesn't put something out there that he doesn't believe in."
Timmerman said he and his wife Brenda recently toured the outlet mall while it undergoes construction — adding some stores are already working on their interiors — and has seen the Borsheims location. He said this experience has only made him more excited for the new mall and its affect on the city.
"This is our signature," he said.
Nebraska Crossing developer Rod Yates of OTB Destination said he's thrilled by the addition of Borsheims to the mall's lineup.
"I'm just over the moon about it," he said.
Yates, who repositioned the Legends Outlets in Kansas City, Kan., transforming it into an upscale outlet center, said he approached Borsheims about creating an outlet store more than two years ago.
"When I started working on the merchandising strategy for the outlets at Nebraska Crossing ... one of the first aspirational brands we targeted was Borsheims," he said. "With other luxury brands at the center such as Michael Kors, Polo Ralph Lauren, Kate Spade New York and Coach, this first and only Borsheims outlet location will stamp Nebraska Crossing Outlets as one of the premier destination shopping centers in all of the Midwest."
Jacques praised Yates and Frank Krejci of Omaha's Century Development, the mall's majority owner, for "doing an incredible job in taking down the old and putting up the new. It's an exciting opportunity for Nebraska."
The look and feel of the Borsheims outlet, including its signature silver and burgundy gift wrapping, will mirror the retailer's 11-times-larger flagship store, located on Regency Parkway. "We want the experience to be a very similar experience as our main store," Jacques said.
There may be some crossover in the stores' merchandise offerings, but the boutique will primarily carry its own unique collections, including diamond jewelry, gold jewelry and pearls with a small selection of watches and gift items, Jacques said.
Borsheims keeps a "very low operations-to-expense ratio" and, despite opportunities, it never made sense to open additional stores, Jacques said.
This time, however, the numbers worked. "They made a very attractive offer to get us there," she said, referring to Yates and Krejci.
Borsheims Boutique will join Helzberg Diamonds, also owned by Berkshire Hathaway, Kay Jewelers and Swarovski Crystals at the outlet mall. Jacques said the mix will give shoppers a range of choices.
Concern that opening an outlet store might affect Borsheims' image was a consideration, said Jacques, but other upscale brands such as Polo and Swarovski have successfully created outlet stores without tarnishing their reputations.
With the decision to open a Borsheims Boutique, the next step is a "long checklist" that includes ordering and installing custom cases and vaults for the store's mid-November debut, she said.
Although a manager for the Nebraska Crossing outlet store has not been named, a specific team, including buyers, is focusing on the outlet store, Jacques said.
As for "Mr. Buffett," she said, "he's very excited about the opportunity."
So far, four eateries and nearly 50 retailers have announced their intention to open factory or outlet stores at the reconfigured mall, which will feature 1-gigabit Internet service provided by CenturyLink and a sophisticated software platform connecting retailers to customers. The new $112 million, 350,000 square-foot open-air shopping center is set to open on Nov. 15.
– Breeze Editor Vince Mancuso contributed to this report.