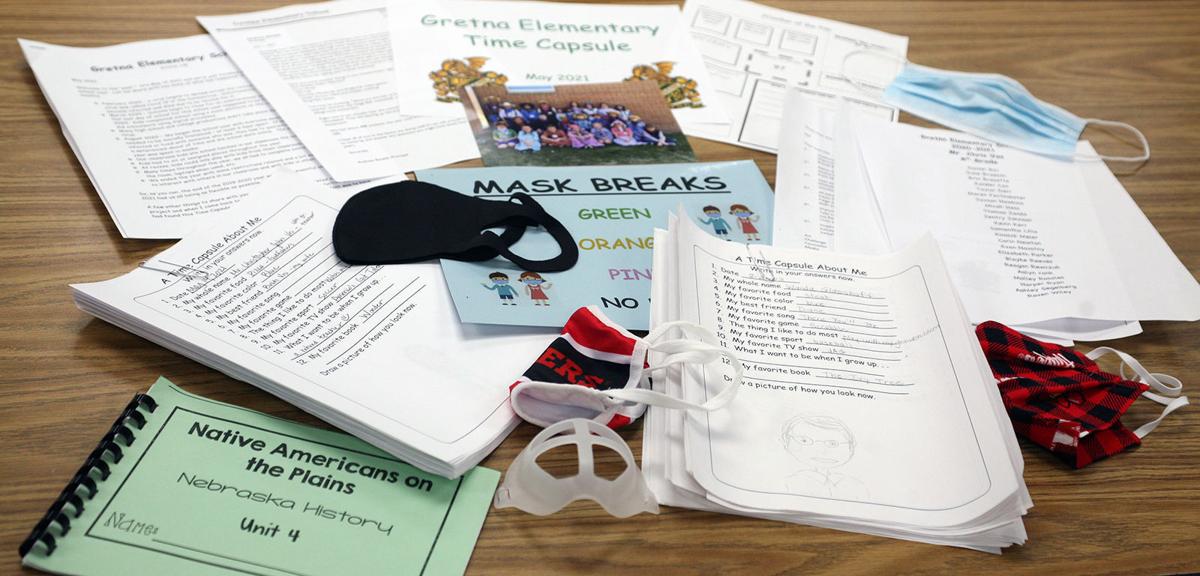 Fourth graders at Gretna Elementary School always study Nebraska history, but this year was made special as a time capsule from a former class was uncovered in their classroom.
Following summer renovations in 2019, fourth-grade teacher Chris Vos returned to his classroom, where a construction worker let him know they had found something in his classroom ceiling during construction.
Inside the shoe box were a number of All About Me info sheets, filled out by students in Wanda Glasshoff's class in August 2003.
The capsule had remained undisturbed in the classroom ceiling for 18 years.
Vos said he intended to have his class add to it at the end of that school year, in May 2020.
Instead, the coronavirus pandemic caused schools to shut down and students were attending classes virtually from home.
Vos hung onto the time capsule and his idea, instead inviting his 2020-21 class to participate in the project.
This year's additions to the time capsule include a letter from Gretna Elementary School Principal Andrew Rinaldi, who shared information about the school, how many students attended GES this year, how COVID affected cleaning procedures and some of todays popular books, etc.
Vos shared information on how they found the time capsule as well as a timeline of how schools navigated the pandemic.
"I thought it would be interesting to add some stuff about the pandemic, how we started the year and what we had to do to get through the year," Vos said.
"Almost 20 years later, this was found. In another 20 years, if people read about the pandemic, I thought this would be kind of a learning opportunity."
Both disposable and washable masks were included, as was a mask bracket, used to keep the mask from touching your face and making it easier to breathe.
"It would be exciting to be around when this is opened," Vos said. "We talked about the 1918 pandemic, which feels so far removed. We were the only class at GES that ate in our classroom all year long. It would be cool, when someone finds it, to say, 'I remember him telling how they ate in their classroom' or couldn't intermingle at recess. Who ever thought that would happen.
"To be a bug on the wall and to hear those conversations about what we lived through would be interesting."
The class also included their own All About Me sheets after comparing some of their favorite foods, movies and books to those popular nearly two decades ago.
Blank copies of the All About Me form were left for the future class to add on.
A class picture of students dressed up for Nebraska Pioneer Day was added, as was a flip book about Nebraska history and examples of other class work to highlight some of the things students were learning in 2020 and 2021.
"You never really hear about time capsules anymore, for people of the future to find," Vos said. "As we talk about Nebraska history over the year, we talk about how the pioneers didn't have cell phones or video games. We talk about how they didn't know what those were; they didn't know any different.
"Thinking 20 years down the road, when they go, 'How did they do that?' they could have the same reaction we have with the pioneers. It's kind of a teachable moment in terms of history."
Newspaper clippings recognizing fourth graders achievements over the last year were put inside and plans were made to include this article about the project alongside lists of current GES staff, Gretna Public Schools administrators and members of the class.
"It was a fun end-of-year project," Vos said.
He plans to put the time capsule back in the ceiling above his storage cabinet, where it was originally found. The hope is that, down the road, if there is future construction or renovation at GES, it will be found again.
"Hopefully, if it's found, some of us will be around to say, 'We were in that class, we were part of that group,'" Vos said. "Maybe someone will go, 'Oh my gosh, that's my dad' or 'My grandpa was in that class.'"
Students wondered if 20 years from now there would still be Pioneer Day, or if dress-up days would shift to say, 1980s Day.