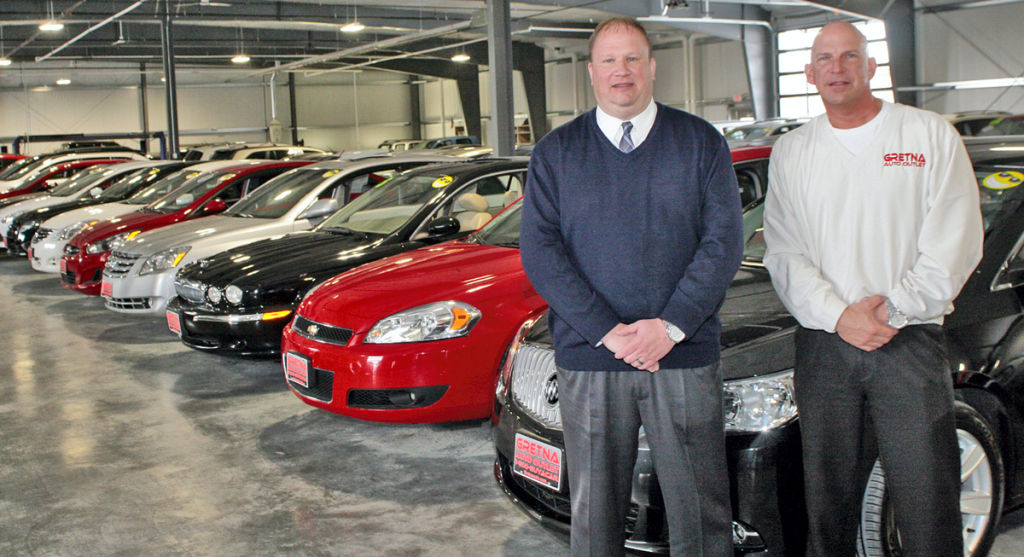 Car shopping just got a lot cooler.
The new indoor Gretna Auto Outlet opened Feb. 8 at 11808 Standing Stone Dr., just off Highways 6/31 and Schram Road. The former Blair Auto Mall is now making its home in its new location in Gretna.
"I like the location where this is at because we're really close to the interstate," owner Brian Gibbs said. "We deal with a lot of people from Lincoln, Kearney, North Platte, Hastings, places out west. It was hard over the years directing them to Blair.
"I thought I'd be in Blair forever. When I heard more and more and more stuff about Gretna expanding, we decided to move our operation to Gretna."
Gibbs said he thought about the Gretna location being a satellite office but decided against it.
"The problem with that is the quality help you need to run a business," he said. "We can't clone ourselves and be both places. I would rather concentrate 100 percent on one place. I think the business would be run better if we could concentrate on one instead of two places."
While the new location has several vehicles parked outside for sale, the indoor showroom is a unique experience. Many showrooms only hold a handful of cars. The Gretna location will hold up to 80 vehicles indoors. It makes browsing for cars easier in freezing temperatures and extreme heat.
Gibbs said the business, which is still putting the finishing touches on parts of the building, has seen some good traffic in its first week.
"We've had a lot of neighbors stop and say they've watched the place get built from the ground up and they want to peek around," he said. "They can stop by and drink coffee and cappuccino every day if they want. Maybe they buy a car down the road, but we don't care."
General manager Rob Merwald said the response is surprising since they haven't started advertising yet.
"It's more of a soft opening," he said.
The Gretna Auto Outlet will carry a wide range of vehicles, hoping to supply everything from a first-time school car to dream car for high-end buyers.
"We'll have anywhere from a $3,000 vehicle up to a $30,000 vehicle," Gibbs said. And if they don't have it, Gibbs said they can find it for a buyer.
"We have a lot of avenues to locate vehicles," he said. "We have finance options for everyone as well. We try to give everybody the red carpet treatment. We're here to help them."