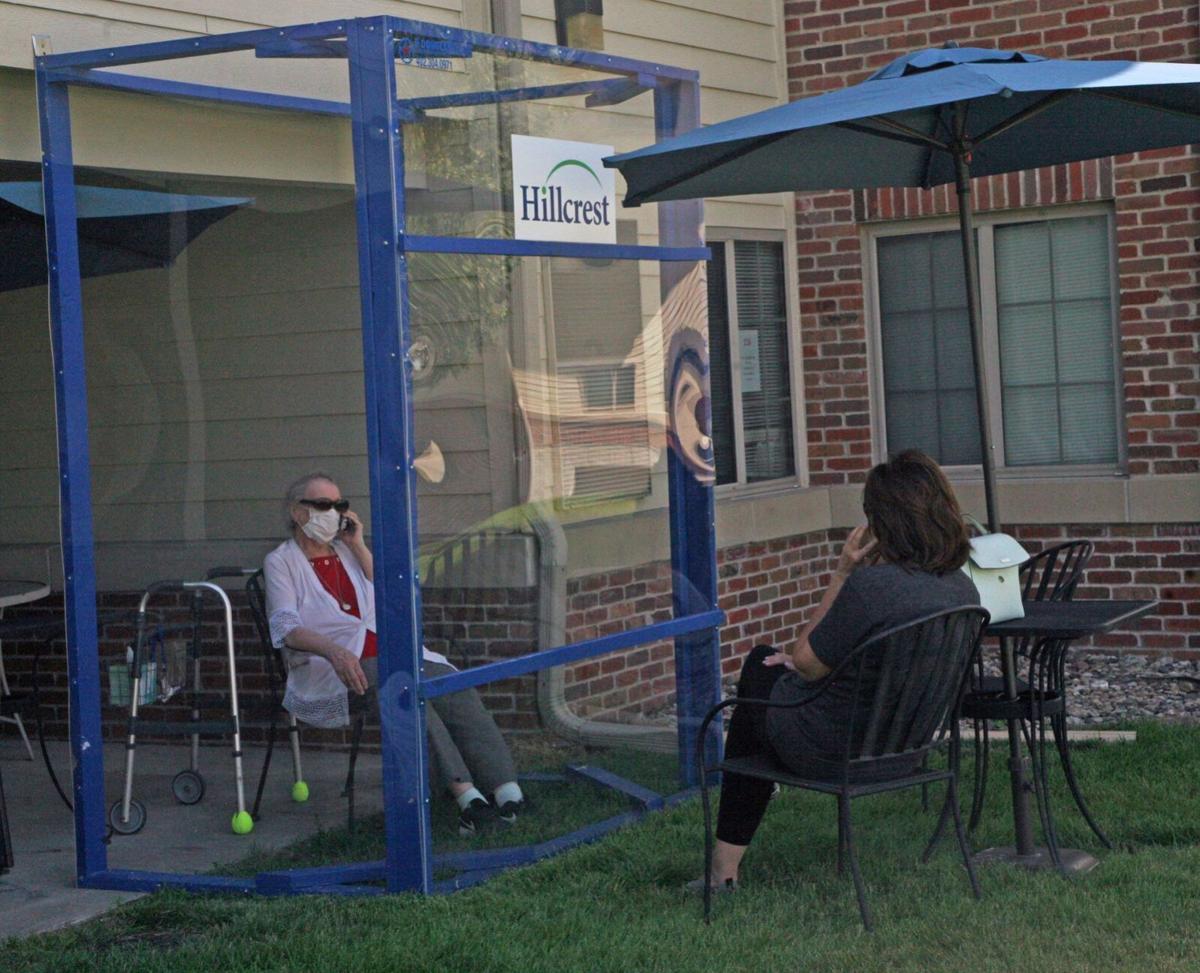 Hillcrest Health Services is working to open its doors for visitors again. But until then, the facilities have invented a new tool that will help bring families and friends closer.
Partnering with local B Douglas Construction Solutions, Hillcrest Health Services created Plexiglass safety windows for outside the buildings.
These windows allow residents and their loved ones to be closer than they have been since the COVID-19 pandemic forced Hillcrest to shut its buildings down to visitors.
Liz Stratman, director of communications for Hillcrest Health Services, said the windows will "enhance the visitor experience."
"We think this is the safest option because you still have to screen individuals with PPE (personal protective equipment), they'll practice social distancing and there's a solid Plexiglass in between," she said.
Since March — when Hillcrest Health Services closed to visitors — residents and their families have relied on window visits, where they call each other on the phone while looking through the windows in the buildings.
Though this has worked well for the past three months, Stratman said it's been difficult because the windows are semi-tinted and people can only hear each other over the phone.
"Instead of window visits, you actually get to see your loved ones up close and hear them," she said. "It's very exciting — we really believe that people will benefit from seeing their loved ones in full view and it's much better than what we've been doing with window visits."
The safety windows are set up outside of Hillcrest Health Services buildings, including Hillcrest Silver Ridge, which received its safety windows in recent weeks.
Appointments are required for safety window visits and can be scheduled by calling the main Hillcrest Silver Ridge phone number: 402-332-4280.
Appointments will be available Monday through Friday from 9 a.m. to 6 p.m. Visits will be limited to 30-minute increments to accommodate all requests and one weekly visit per resident will be allowed to start. No more than two visitors can visit a resident at one time through the safety window.
"We'll have a team member bring out their loved one and place them behind the Plexiglass window," Stratman said. "A team member would sit back a ways away just to monitor the visit.
Stratman said Hillcrest is looking forward to the windows and easing visitors back into the buildings.
"We really think the safety windows will enhance the visitor experience," she said. "We can't wait to eventually let people visit our buildings, but this is a really great next step as we wait for the time we can open back up."
Hillcrest Silver Ridge reserves the right to ask visitors to leave if they are not following infection control and visitation policies. The safety window and chairs will be thoroughly disinfected between uses.
— Rachel George contributed to this report.
Be the first to know
Get local news delivered to your inbox!