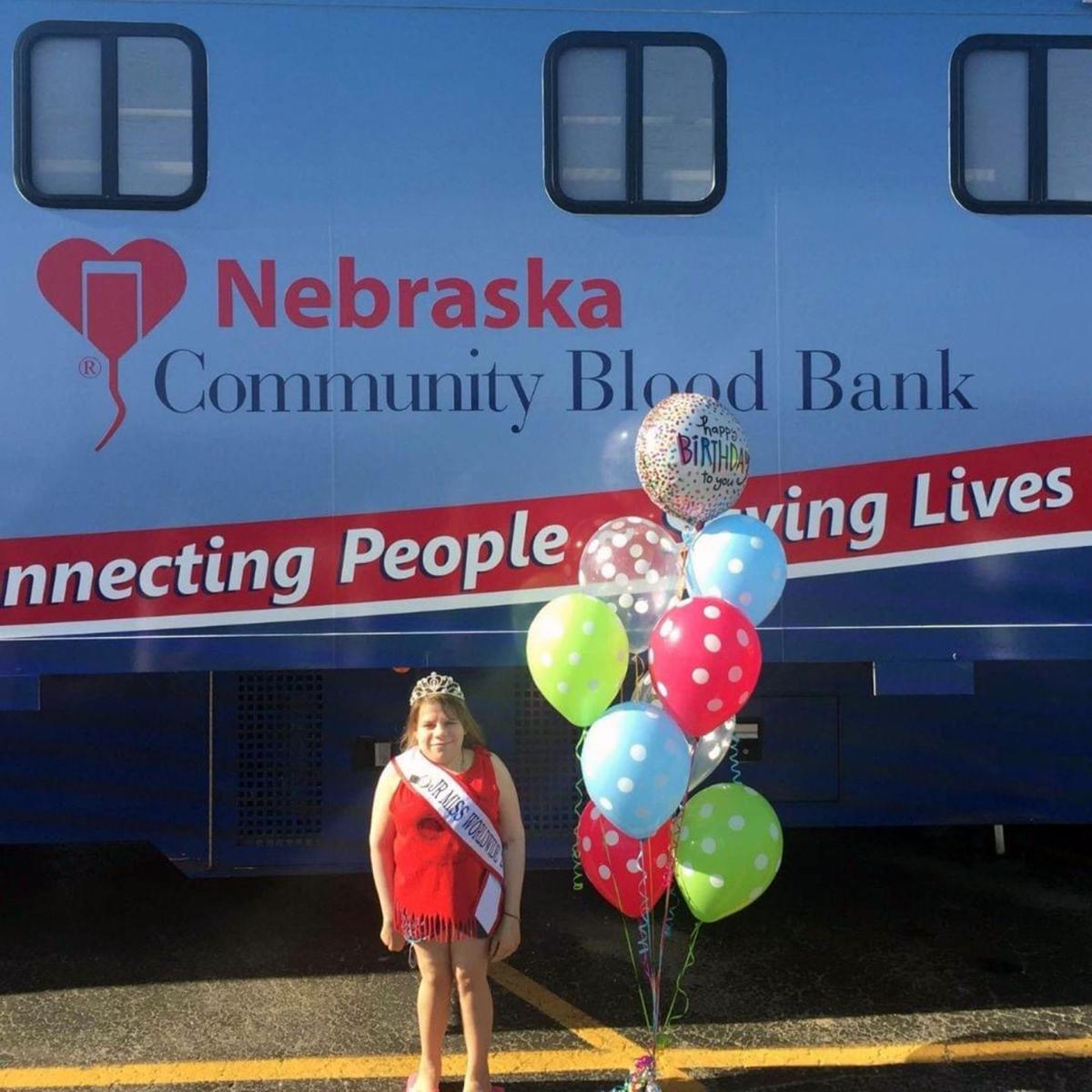 Gretna teen Emily Koesters is asking for a unique gift for her birthday this year: blood.
The Koesters family will commemorate Emily's 18th birthday (July 8) with a blood drive from 9 a.m. to 2 p.m. on Saturday, July 10.
The Nebraska Community Blood Bank's bloodmobile will be on site in Village Square, at the corner of Highways 6 and 370.
The drive has become a tradition for the Koesters family, held annually since Emily's 15th birthday.
Last year, donors had to visit the blood bank to donate, due to the coronavirus pandemic. This year, things will return to normal with the bloodmobile on site.
"We'll be celebrating Emily's 18th birthday," said Erin Koesters, executive director of the Little Giants Foundation and Emily's mother. "We were told she wouldn't live past 9. This is pretty miraculous and we're glad we can celebrate in style by helping others, helping Emily and having the community support.
"Even if you're not able to give blood, swing by and celebrate with us."
A "hometown heroes" drive, the event aims to collect 30 units of blood products. Once the goal is reached, the blood bank makes a donation back to the Little Giants Foundation in an effort to further both organizations' missions.
"As soon as we hit that 30 mark and beyond, not only are we helping save lives with blood, the Little Giants Foundation also gets money in return," Koesters said.
"We're really close to hitting a goal for a research project for SIOD, so we're really excited to put that funding toward it."
SIOD, or Schimke immuno-osseous dysplasia, is an incredibly rare genetic disease that affects multiple systems in the body, including the kidneys, growth plates and cartilage, heart and arteries, lungs and immune system. Emily is one of five in the United States and 50 in the world diagnosed with SIOD.
"Blood is so important for so many people, including our family," Koesters said.
"Emily had a kidney transplant 13 years ago from her dad, Joe.
"She needed blood transfusions from surgeries. She then got lymphoma, not once, but twice, and needed transfusions, platelets, etc."
Emily also receives regular IV transfusions to increase immunoglobulins. These treatments are derived from a blood product.
"Blood is extremely important to our family and to keep Emily going, but also to help other people and children with immune-suppressive diseases especially, but anyone who receives blood," Koesters said.
Nebraska Community Blood Bank keeps its donation in the state of Nebraska, working as a primary supplier for Methodist, Children's Hospital and the University of Nebraska Medical Center.
Koesters said LGF may host another drive, depending on interest, as the need for blood is so big, as is the need for funding SIOD research. LGF's annual Farm Run fundraiser is set for Oct. 10.
For the July 10 drive, appointments are required and can be made by visiting buff.ly/35TdDJS and entering the sponsor code "LGF" or by calling 402-486-9414.
Masks are required at the blood drive.