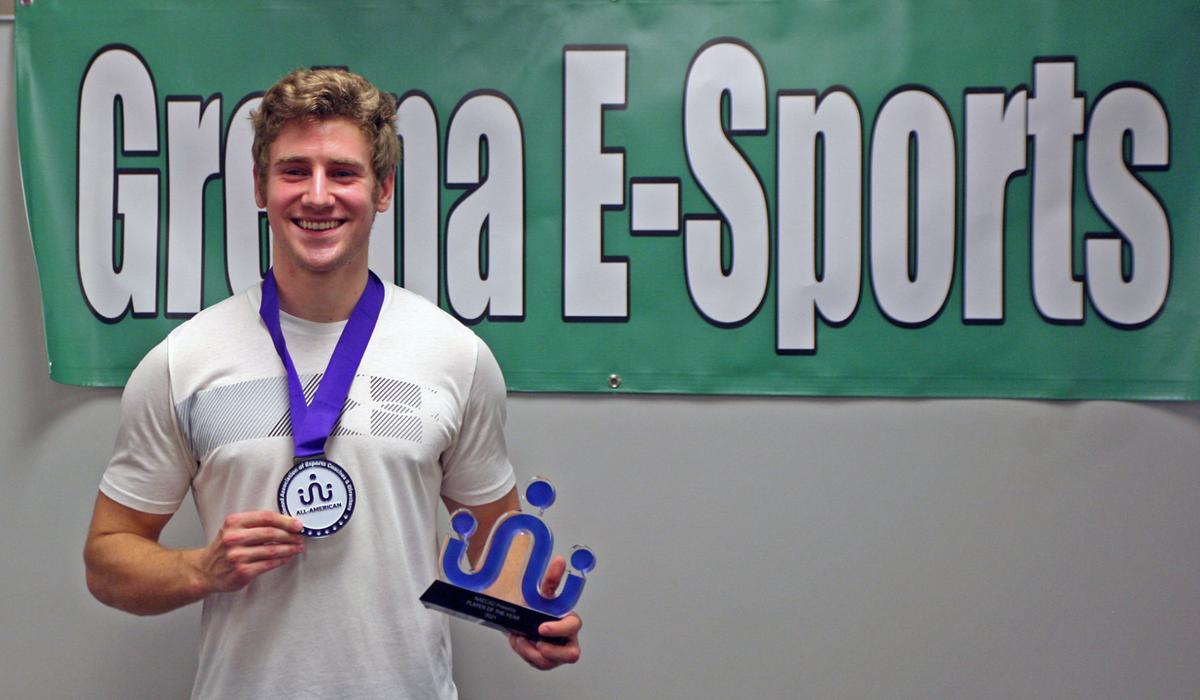 Jared Nicholas — a 2021 Gretna High School graduate — is putting Gretna on the map.
The former GHS esports "Overwatch" team captain was named the 2020–2021 High School Esports Player of the Year by the National Association of Esports Coaches and Directors in June.
Founded in 2019, the National Association of Esports Coaches and Directors said it is the primary professional organization for competitive esports coaches and directors at all levels of competitive play.
NAECAD's vision is for esports to be viewed as a prominent competitive sport.
Nicholas was among six High School All-Americans named by the NAECAD for 2020–2021 and the only to be selected as Player of the Year.
The awards recognize individuals for a balance of athletic achievement, sportsmanship and citizenship.
While elite performance in the game is important, these awards are aimed at recognizing the overall impact the individual has made, according to the NAECAD website.
Example characteristics include notable in-game performance, evidence of good sportsmanship and teamwork, community service, superior academic achievement and overcoming personal obstacles.
Nominated by GHS esports sponsor Kimberly Ingraham-Beck, Nicholas was described as focused, determined and friendly.
"He wakes up at 4:30 a.m. every morning to work out, participates in the esports program and on the track team," Ingraham-Beck wrote in her nomination letter. "After school he works at Goodwill, maintains excellent grades and still manages to spend time with his friends.
"It takes a very dedicated, very organized person to keep a schedule like his while also doing a good job in school," the letter further read. "Jared is quick to help others and instantly befriends anyone and everyone around him.
"He has made a huge difference in our esports program. His enthusiasm for helping others and making them feel welcome has greatly benefited our program. Jared is not just a member of our top 'Overwatch' team, he is the captain. When it came to decisions, this was the easiest decision I made this year. Jared is the perfect captain. He is just the kind of person we need to lead our team. Jared does not demand from his teammates, he leads by example. He practices outside of the team practice sessions, he researches strategies and patch updates, listens to his teammates, welcomes their opinions and ideas, strategizes for upcoming matches, plans his teammates' practices/scrims, etc. He is very well respected by the other students on his team as well as students on the other teams."
Ingraham-Beck presented the award to Nicholas last week.
"I didn't even know Ms. Ingraham submitted that for me, that I'd even won Player of the Month or proceeded to win Player of the Year," he said. "I looked myself up, like, 'Wow, this is really cool.' It's such a big honor. I'm completely surprised and grateful that it was even an option for me to win."
Nicholas joined the esports program during his junior year, also the program's first year.
"A lot of my senior friends started doing esports," he said. "They were a couple members short and asked me to join. I thought, 'Sure, why not?' It's pretty much just playing video games with friends."
In 2019, the team did well, winning the Nebraska state competition.
Nicholas continued on the team in the fall of 2020, his senior year, dedicating the spring to running track. Though no tournaments were held due to the COVID-19 pandemic, the team did place in nationals.
Nicholas will attend Morningside College in Sioux City, Iowa this fall, where he plans to pursue a degree in business.
He will run track at Morningside and said he might check out the esports program once he's there, upon recommendation from a friend and former GHS teammate.